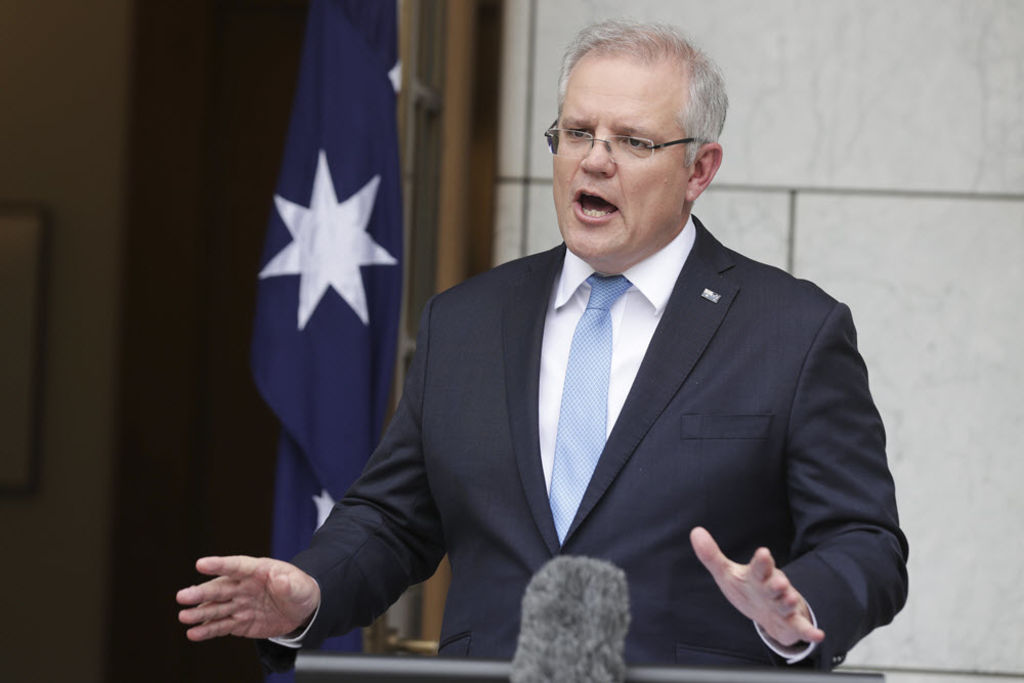 Prime Minister Scott Morrison flags rent reductions for commercial tenants who have lost revenue due to coronavirus
Relief could be on the way for cash-strapped commercial tenants and landlords after Prime Minister Scott Morrison announced on Friday that the industry was working on a mandatory code of practice to deal with the fallout from the coronavirus crisis.
Mr Morrison said there had been progress so far in coming up with a code acceptable to the national cabinet, but the details were still to be hammered out.
"What we are seeking to have happen is for the industry to complete their code and that code would be made a mandatory code incorporated into state and territory legislation, where appropriate," Mr Morrison said.
"It will be mandatory for tenancies, that is the tenant and the landlord, where they have a turnover of less than $50 million, and they are a participant in the JobKeeper program."
The foreshadowed code is being urgently formulated as many retailers have been forced to close their doors as a result of the national lockdown, with only supermarkets, food stores, pharmacies and cafes and restaurants providing takeaway food continuing their operations.
Some hotels have been repurposed as quarantine centres, or are offering special deals for people self-isolating, while others have shut up shop. In addition, many fashion and other stores finally closed their doors on April 1 after limping along with fewer and fewer customers.
The Prime Minister said he hoped the code – which would again be considered at the next national cabinet meeting early next week – would include some kind of formula to help tenants and landlords to reach agreement on rental reductions in case of hardship, so rents could be reduced in proportion to the fall in a business' revenue.
"If, for instance, there was three to six months where a tenant would have had to close their doors, and no money is coming in, then one way would be to extend the overall lease by six months on the other side," said Mr Morrison.
He also flagged that there would be mediation available in cases where an agreement was unable to be reached.
Those not signatories to the code would remain "out in the cold", he declared, after Friday's three-and-a-half-hour meeting with federal and state and territory leaders.
But it may not be enough for some, with at least one small business group calling for payments from the government towards rent relief.
Anne Nalder, chief executive of the Small Business Association of Australia, said that while she would reserve judgment until she had seen the specifics of the framework, pegging rent reductions to the profit margins of businesses had the potential to get "messy".
"With all of this business about reducing a third of this and a third of that, it becomes a very messy situation. You have to take some of that red tape out, it makes it too hard if you need proof of something or help is conditional. [For example] there are people who may not qualify for the JobKeeper program but need relief. I think it should apply to everybody," she said.
She was in favour of the government making a regular capped payment to all businesses for the duration of the crisis instead of individually negotiated arrangements.
"I think there has to be a financial contribution [from the government] towards the rent – it can be easily approved. They have to do a moratorium that will benefit landlords and tenants," she said, adding that the government couldn't "cut back on particular areas" when it came to spending.
The promise of a code comes on top of various new state and territory government aid plans. These include, in NSW, $10,000 cash grants for small businesses like cafes, gyms and corner stores with a turnover of more than $75,000 and fewer than 19 employees to cover overheads and bills.
But Steve Urwin of Kernel Property said it was unlikely the proposed code would be as prescriptive and watertight as the Prime Minister hoped because of the huge diversity in the nature of landlords and tenants.
"They try to dress up statements like this as putting flesh on the bones but, at the end of the day, how will it pan out?" he asked.
"Established landlords are most likely to put committees together – and some already have – to grade tenants into type A, B, C and perhaps D, and then simply try to set parameters within which deals can be done, and they'll all be confidential anyway.
"And tenants face real difficulties as they're having to demonstrate changes in their circumstances which is fine for some, but for others, their income is so spaced out, it's virtually impossible.
"They might be working in mergers and acquisitions, for instance, and they spend 12 months doing a deal and only get paid at the end of it.
"They might be fine at the moment, but not in a few months' time."
Some landlords also might be billionaires with no mortgages; others could be those with single properties and 90 per cent mortgages. "It's so complex," said Mr Urwin.
Mark Lockwood, director of transaction management at Tenant Representation Services, also predicted it would be hard to pin everyone down under a simple mandatory code that would be there for the long-term, when circumstances were changing daily.
Instead, he's advising individual tenants to be open and honest and communicative when dealing with their landlords. "I'm telling them to be careful that short-term reactions might lead to long-term consequences," he said.
"Some landlords are now asking for two years' statements to show revenue before this, while for others the revenue impact won't even have hit yet. It's just important for everyone to be open and honest and collaborative and then they're more likely to have reasonable outcomes for everyone."
The announcement of work on the code follows other help declared for commercial tenants, like deferrals of rent in government-owned buildings for businesses with fewer than 20 employees, of payroll tax for those with payrolls over $10 million for six months, and an extension of the three-month waiver for businesses of less than $10 million to six months.