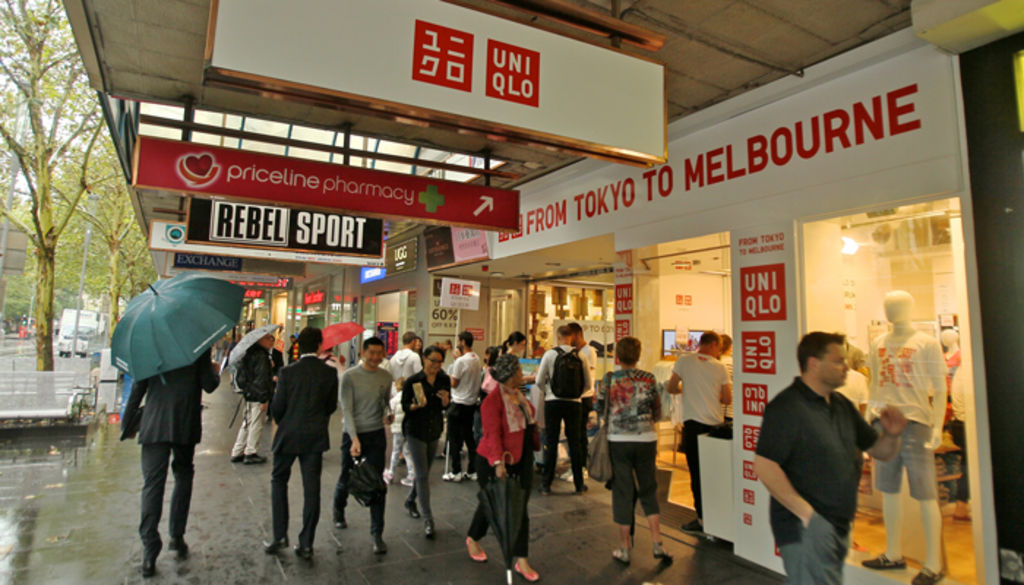 Pop-up shops: There's no stopping Australia's latest retail boom
When an American burger chain launched a pop-up store in Sydney this week, it sold out of food before its doors even opened.
In Melbourne, Japanese retail giant Uniqlo was swamped when it popped up during the 2014 Australian Open in Swanston Street before its major store opened nearby. And on the Gold Coast, a car dealer's pop-up in a shopping centre was a major hit with women wanting to actually buy and drive home from the store.
Pop-ups made their first appearance in Australia about 10 years ago, but the boom shows no sign of slowing down any time soon. "I'd say their number has easily doubled in the last two years alone," says Tom Bilinski, of shopfitters The Retail Factory.
"We're getting more and more inquiries all the time. The only limit they're facing is the lack of vacant spots to set up in."
The Uniqlo pop-up shop in Swanston Street, Melbourne. Photo: Ken Irwin
The short-term businesses that started out as sexily impermanent presences in high streets and shopping centres, mostly in the Melbourne and Sydney CBDs, are now reactivating laneways, transforming squares and migrating to further suburbs and towns across the country.
And those temporary players are now, ironically, definitely here to stay. "They're a permanent part of the retail genre now," says Scott "The Pop Up Guy" Williams, who organises hire and logistics for pop-ups through his company, Instant Retail.
"Yes, they're temporary outlets but, together, they've changed retail business."
Sha Sha Barclay feels exactly the same way. After a life-long retail career in homewares, sold in stores, through a Tupperware-like sales model and online, she's embraced the pop-up lifestyle with zeal.
She now sells her Vietnam-sourced eco-friendly homewares from one section of a pop-up store set up two weeks before Christmas in Sydney's Potts Point, and due to run until the end of February.
Barclay, 59, shares the Macleay Street space with friend Mary Collier, 61, who sells Indian textiles, and colleague Gill Cook, 66, whose passion is furniture from around the world. Cook's collection includes two vintage Louis Vuitton trunks, priced at $25,000 and $28,000 respectively.
"I just think it's the way retail is going," Barclay says. "After this, I'll do another buying trip to Vietnam as stocks are getting so low – which is what I love – and then maybe go to the northern beaches and go out to the country somewhere for a week or so.
"It means you're always fresh and new in an area and people love the novelty of it. It's great to be flexible and not need to be in a shopping centre seven days a week with a five-year lease. It's lovely being able to up and leave before people get too used to us."
While it's a lifestyle for some, those individual sellers are increasingly being joined by the big companies, eager to try out different geographical areas or concepts, to test new products or even conduct branding exercises for very little outlay, no long-term commitment and minimal risk.
Hence Uniqlo, Nestle, Nike, Coca Cola and, this week, In-N-Out "animal-style" burgers where 300 people turned up after social media notifications to buy up all the available stock, have all had a turn.
The pop-up shop for The Daily Edited monogrammed leather wares. Photo: Chloe Paul
Meanwhile, Westfield, in another sign of the increasing corporatisation of pop-ups, has transformed "casual leasing" division to a "Pop-up department" in its centres, since it's a much racier title.
"Pop-ups are great for everyone," says Ben Tremellen, Colliers International director of retail leasing Victoria. "It's good for retail in terms of activating empty spaces, so there are no holes or unattended spaces in streets – there's an average 20 per cent pop-ups on high streets now in both Sydney and Melbourne – and it's good for landlords who can get revenue while they're negotiating for a long-term tenant.
"They'll usually charge a pop-up exactly the same rent as a long-term tenant too, because for them, there is a risk involved.
"The pop-up tenant could cause damage, or change consumers' perception of what the space looks like, or their business could fail. But there's always more demand for spaces than there is supply, particularly with low vacancy rates in the CBDs."
Yet with so much residential development happening around Australia, there are opportunities for pop-ups to set up in buildings whose owners are awaiting plans to be drawn up or approval for those plans.
"It means they don't have to go without an income," says Zelman Ainsworth, head of Victorian retail leasing at CBRE. "But typically landlords will always prefer a long-term tenant for a more secure, stable, long-term income."
Food trucks are some of the most successful pop-ups around, especially since they can move off if one area doesn't suit and quickly service another. Councils are increasingly using those, says Ainsworth, to activate different areas, communities and stadiums, to change the mood and landscape of a place.
A major driver of pop-ups is social media, with the new entrepreneurs using it to alert "the connected" to new openings and offerings, and excite interest.
PR guru Roxy Jacenko launched her new business of creating headwear bows through her tiny daughter Pixie Curtis's Facebook and Instagram accounts, which led, in turn, to the birth of her first pop-up store in her offices in Sydney's Double Bay.
"That became a great tester for the products," says Jacenko, who's now planning a pop-up store in Westfield in March, and a launch in Myer. "It was a really good way of gauging, before going to market and spending thousands of dollars, the scope of the business and what people wanted to spend."
"It proved a great way to test the market." The Daily Edited founders Tania Liu, left, and Alyce Tran. Photo: Chloe Paul
Online businesses are also trying out pop-ups as a way to see if their wares have enough weight to sell in real bricks-and-mortar stores.
When Alyce Tran held two five-day pop-up shops in August and September in Sydney to sell her The Daily Edited monogrammed leather wares, she found more than half of her customers already knew her brand from the internet.
"It proved a great way to test the market," she says. "You see how people react to the product and work out how to present it. Because of the success of the pop-up shops, we're now opening in David Jones later in January."