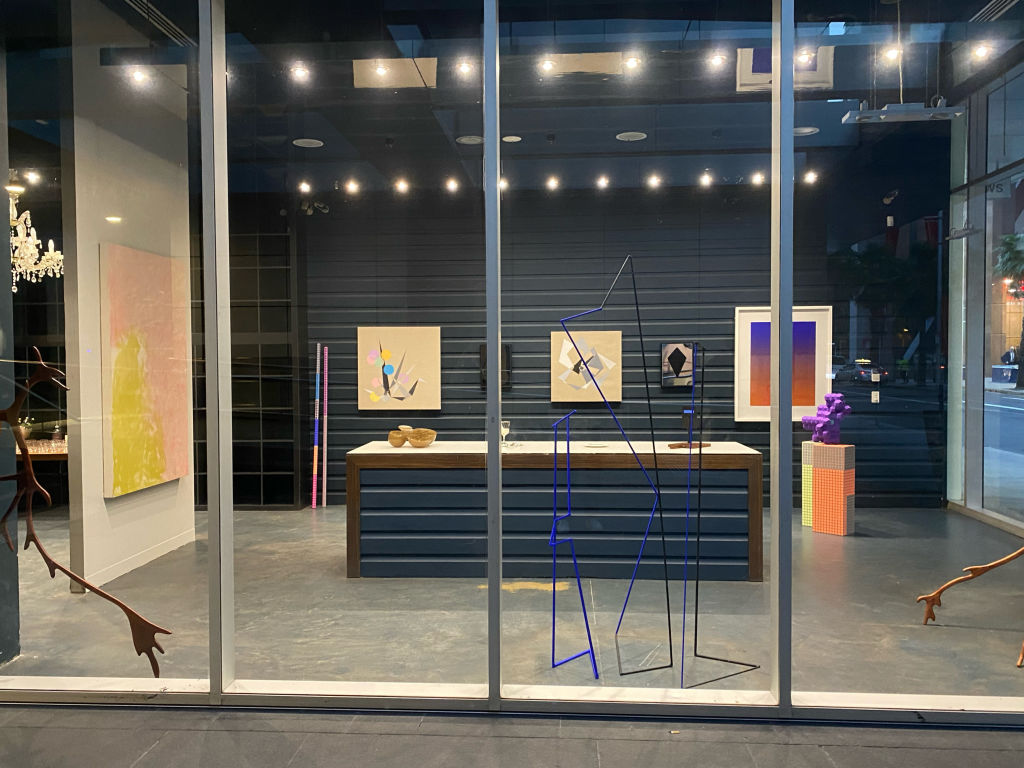 Pop-up art installations breathe life into vacant CBD retail spaces
To some, the empty retail spaces dotting our CBDs conjure up vistas of pandemic-ravaged businesses and broken dreams. To others, they present a vision of potential opportunity.
James Dorahy falls into the latter camp. Noticing so many boarded-up shops and vacant premises for lease, he asked a friend in the commercial real estate industry if they could perhaps be used, between tenancies, by another group also struggling as a result of COVID: artists.
As a result, an empty former florist shop on the ground floor of one of the Sydney CBD's most prestigious premium-grade office towers has come alive once more with a colourful pop-up display of the work of independent artists, curated by Dorahy, a contemporary art specialist and former gallery owner.
"It's a wonderful way of reactivating some of those spaces and reinvigorating the city streets," said Dorahy, who is now working from that 89-square-metre space at Sydney's Deutsche Bank Place at 126 Phillip Street. "It's a great way to display the works of artists and perhaps bring a whole new audience to them.
"The aim of the project is to activate spaces that are sitting empty and to inspire through creative enterprise and innovation, to make our city a more exciting and interesting place to be. And, at the same time, we've had people in the building come down and buy some of those works, and ask about the artists, so I think they're really enjoying their presence too."
The works now on show in that corner retail space make up the exhibition This is the New Black 2.0, with installations like Sherna Teperson's Purple (The Seer), a vivid paper construction that catches the eye from outside, a Catherine Clayton-Smith acrylic on canvas and abstract works by Paul Donald, Emily Ebbs, Marita Fraser, Jenny Herbert-Smith and Alex Lawler. All are for sale and can be bought with Art Money, a finance scheme that allows buyers to make 10 payments in 10 months for an artwork, with no interest payable.
The owners of the building say the pop-up exhibition arrangement is working very well. "Investa is proud of this initiative," said Investa Property Group general manager Danielle Bryan. "We see this partnership as being mutually beneficial; it allows James Dorahy to showcase his unique art advisory, which in turn is creating a point of interest for not just passers-by but our tenants.
"It also brings to life what would otherwise be an empty space at our front door, while we undertake our marketing campaign."
It's the kind of meeting of minds that's gaining traction throughout Australia as commercial property groups wrestle with the issue of empty retail spaces lingering after the pandemic, waiting to be taken up.
Commercial real estate group Dexus is also increasingly exploring these kinds of possibilities. Its Rialto Towers at 525 Collins Street, Melbourne, one of the largest office buildings in the CBD, activated empty retail windows for seven months last year with a display of artwork and wallpapers, helped by a grant from Melbourne City Council.
Another vacant floor at 52 Collins Street accommodated a school holiday workshop program that was offered to tenants in April this year, while other nearby empty retail space owned by Dexus may be used for a major city event in later months. In Perth, there are plans to install a temporary games arcade into a vacant shop.
"If a space is temporarily vacant, and it is suitable, we like to activate it in a range of ways," said a Dexus spokesperson. "This can range from collaborating with the city in Melbourne to showcase art by renowned Melbourne artists, Rhett Dashwood [Mankind], Mark Inducil, Justine McAllister and Nate Hill in our building Rialto on Collins Street, to allowing a space in a building in Sydney's Kent Street to be used for school holiday workshops.
"It's great to be able to utilise temporary spaces to provide services and experiences for our customers and communities."
In Sydney, another empty retail space on Darlinghurst's Oxford Street was used for an arts program, while in Newcastle, there have been a number of "art in empty retailers" projects curated by Renew Newcastle and Renew Australia founder Marcus Westbury. His creative and community projects have reopened more than 100 vacant properties across the country.
Art consultant Art Pharmacy has also undertaken such projects in the past and is currently talking to agency CBRE and Dexus about another activation in Melbourne.
"It's a great idea," said founder Emilya Colliver. "That's actually how I started my business 10 years ago, and it's insane how many artists could benefit from that kind of exposure. It can be a very worthwhile partnership."
Meanwhile, James Dorahy is now also in talks with other properties about installing pop-up art displays in their vacant retail spaces.
"It can make empty spaces come alive and suddenly be filled with colour," he said. "We have the lights on here from 7am to 7pm so it's really visible and attractive instead of being dark and dead. I think this is the first step in many more to come as it's proving so popular."
Get a weekly roundup of the latest news from Commercial Real Estate, delivered straight to your inbox!