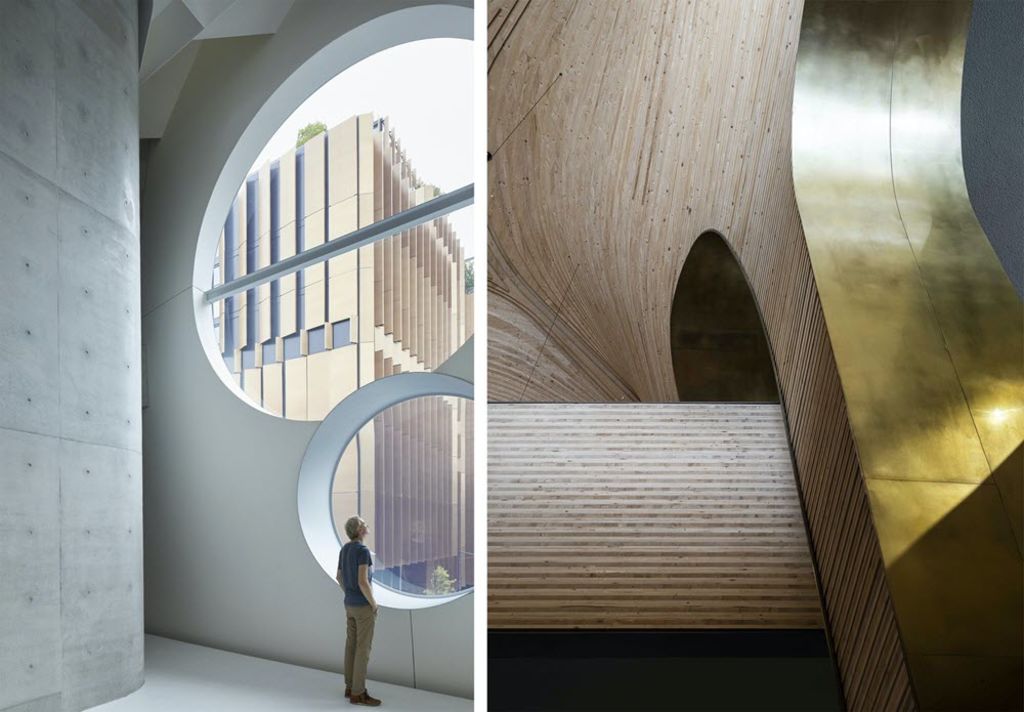 Phoenix flies to top national architecture award
Rich Lister Judith Neilson's $32 million Phoenix Central Park performance space and gallery in Sydney, a project that blurred the line between private and public space, won the country's top awards for commercial and interior architecture.
Philanthropist Ms Neilson's building, which incorporates two distinct wings designed by two different architects – John Wardle Architects and Durbach Block Jaggers – replicated at national level the gongs it took out earlier in the year at NSW state level for top commercial and interior architecture.
It won on Thursday night for the way it combined two very different spaces – a bell-shaped performance area by Sydney firm DBJ and gallery with large flexible spaces and small, intimate ones by Melbourne-based JWA – said national jury chairwoman Helen Lochhead, dean of UNSW's faculty of the built environment.
"The spaces by their nature are quite different," Professor Lochhead said.
"You had two great architects. They had to dance to make something which was much more than the sum of the parts. It's a composition with two parts which have been unified through a common entry and welcoming courtyard."
But the cultural building that was pitted against other winning designs from across all the state-level awards earlier in the year – including office buildings in Melbourne and Sydney and walking track lodges on the Tasman Peninsula, south of Hobart – also raised concerns that the category for commercial architecture was too broad, Professor Lochhead said.
"You get something like Phoenix and go 'This should be in the public building [category]' but it is a private building," she said. "We were all struggling with that."
The country's most prestigious architecture awards faced a number of challenges this year, principally because the pandemic prevented in-person visiting of buildings by juries – one aspect that sets the Australian Institute of Architects awards apart from other competitions.
In consequence, the national jury took the unusual step of jointly awarding two awards to more than one recipient.
The top award for new house residential architecture jointly went to two very different homes – a high-end house for a wealthy client at Basin Beach in Sydney's northern beaches and also to a modest home for a downsizing couple in Albury on the NSW border with Victoria.
The Peter Stutchbury-designed house comprises three bedrooms and living space under a 25-metre-long copper shell curving over it, close to the ground on the southern side, to create privacy from the adjacent block of flats.
"This one was an expensive house. But this client believes he got value for money," Professor Lochhead said.
"It has a big block of flats on one side – the ugly Sydney brick three-storey textured brick flat. You want to turn your back on it in a way.
"It brings in light like when you have tarpaulin strung over a rope. Ventilation comes in, almost like a boat. You have that view framed out to the ocean – your heart races."
At the other end of the scale, the "exquisitely simple" house in Albury by Kerstin Thompson Architects was a low-budget dwelling, with simple materials such as concrete bricks, plywood and cement sheeting. It is oriented to be cool in summer and warm in winter and to allow the house to be used differently, with sections that open up or can be shut off.
"It exemplifies how great architecture can be achieved through modest means and is within the reach of everyone," Professor Lochhead said. "You don't need to be a gazillionaire to have beautiful light and beautiful qualities."
The country's top award for public architecture was also jointly awarded to two different buildings – the Anzac Memorial Centenary Extension by Johnson Pilton Walker with the NSW Government Architect in Sydney and Marrickville Library by BVN Architecture, part of Mirvac's masterplan for the area.
Both projects reused existing buildings, boosting their environmental sustainability but also boosting social sustainability for being facilities that were accessible and open to their surrounding local community, Professor Lochhead said.
The jury awarded a commendation in the public architecture category to the redevelopment of the State Library of Victoria by Architectus and Schmidt Hammer Lassen Architects.
The project, which de-cluttered a "rabbit warren" of 23 separate buildings, opened up connections between buildings and created new public spaces in the Swanston Street library through the use of good engineering and architecture skills, Professor Lochhead said.
"What it did was open up space," she said. "It was less architectural merit as opposed to utility. It was of merit, but wasn't transformative in terms of its architectural insertions."