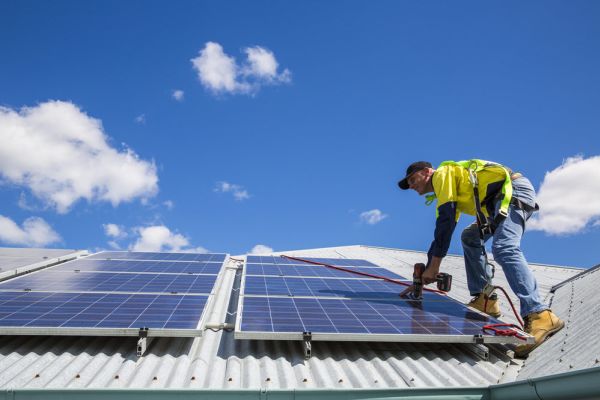 Online solar power calculator shows how homes and businesses can generate their own energy
Australia is a world leader in generating energy from roof-top solar panels, but Sydney is way behind cities like Brisbane, Perth and Adelaide in making use of available space on top of buildings, a new report has revealed.
University of NSW researchers have found that 40 per cent of Sydney's vacant roof surfaces could be easily used for solar photovoltaic (PV) cells, which would add an extra 22 per cent to the city's current energy supply.
In addition, that electricity generated from solar would save 403 kilotonnes of carbon dioxide emissions a year, which is the equivalent of 14 per cent of the CO2 emissions from electricity generation in the cbd.
Now, working with the Australian Photovoltaics Institute, the university on Thursday unveiled a new website that can be used to calculate the solar power potential of any rooftop in Australia, whether houses, businesses, offices, factories or schools.
[dm-listing-recommendation experimentname='midcontent-listings' positiononpage='midcontent']
"There's no doubt there's huge potential in Sydney for generating solar energy," says UNSW dean of engineering Professor Mark Hoffman. "It could have a huge impact, but there's been virtually no planning done in terms of energy generation and use up until now.
The data that can be generated about PV usage on individual roofs from the SunSPoT website. Image: SunSPoT
"It's been left to people on their own to try to find out about opportunities and then work out schemes and decide between different arrangements for the best outcomes. But this new online platform looks at the potential of every building in Sydney and says, 'This is how you can produce energy from your rooftop'.
"It could make a very significant difference in terms of energy in Sydney, with the increasing threat of brown outs, the closure of power stations, the increasing number of buildings that aren't energy-efficient, and the rising use of airconditioning."
The SunSPoT online platform looks at the potential for electricity generation from rooftop solar panels on all buildings in Sydney.
It takes into account the amount of sunshine each site receives, its available area, tilt, orientation, shading from nearby buildings, vegetation and obstacles such as antennae or existing structures on the surface.
On each rooftop there's an estimate of usable space, of annual possible electricity generation, financial savings and emissions offset from solar.
It was unveiled by the federal Minister for Urban Infrastructure and Cities, Paul Fletcher.
The study, Spatial Analysis of Solar Potential in Sydney, found, for example, that by using the rooftops of just three buildings, the Art Gallery of NSW, the Overseas Passenger Terminal at Circular Quay and Central Station, the panels could supply the equivalent of power use for 691 average households, and save 3.7 kilotonnes of carbon emissions each year.
It also named the top Sydney suburbs for potential energy generation from rooftop solar as being Alexandria with a PV capacity of 109.57 megawatts (MW); Sydney CBD with 47.52 MW; Rosebery with 47.40 MW; Waterloo 33.10 MW; Surry Hills 30.65 MW; Redfern 25.94 MW; Glebe 24.50 MW; Pyrmont 21.54 MW; and Camperdown 20.59 MW.
Associate professor Renate Egan, the chair of the Australian Photovoltaics Institute and the leader, UNSW node, of the Australian Centre of Advanced Photovoltaics, said the online site, funded by the Australian Government's Smart Cities and Suburbs program, would help add to the number of rooftop solar panels in NSW.
"There's a great opportunity in NSW for more solar on rooftops," she said. "This online tool has so much functionality, it gives people the information they need, and the understanding, to make good decisions.
"Australia's now leading the world in rooftop solar, but while we have a lot going on in solar in NSW as a whole which is ahead of the other states, residential rooftops in Perth, Brisbane and Adelaide are leading Sydney. Hopefully this will help."
 The SunSPoT online platform can be found at here.
[dm-listing-recommendation experimentname='below-content-listings' positiononpage='belowContent']
Keep up with Commercial Real Estate news.
Keep up with Commercial Real Estate news.