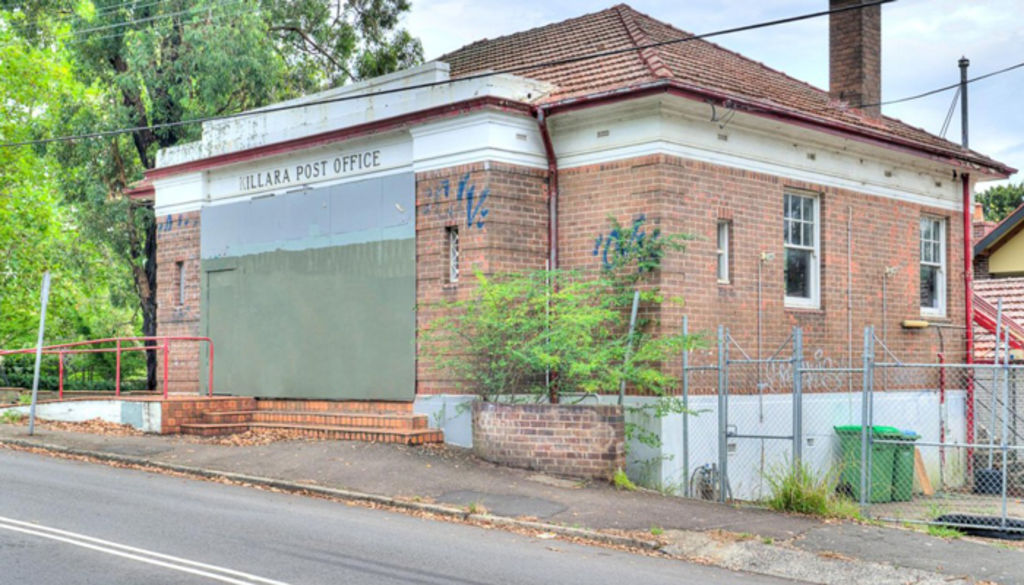 Old Killara post office sold for $2 million
The old Killara post office is on track for restoration or redevelopment after the site was sold for $2 million.
Agent Ari Akbarian, of Ray White Gordon-St Ives, said the off-market buyer was considering options for a cafe business or to develop the 1081-square-metre site for residential use.
The old Killara post office in December 2015. Photo: Ari Akbarian / Ray White
"To sell the Killara post office was not only a job but an opportunity to add value and regenerate this landmark historically listed building," Mr Akbarian said.
The post office on Werona Avenue, opposite Killara train station, opened in November 1904.
It closed in 2001 and the site was sold by Australia Post.
The old Killara post office in 2003 before boards covered the facade. Photo: Phil Carrick
Since then, the facade and its columns have been covered by boards. The building has become a graffiti target and is considered an eyesore.
The buyer, an Australian-Chinese investor who is part of a conglomerate, had "jumped at the chance" to buy the property, Mr Akbarian said.
Settlement would be delayed for five months to allow a community group to continue using the building.
Mr Akbarian expected there would be significant community discussion about the future of the site and had already fielded inquiries from people with an interest in ensuring its historical value was preserved.
The old Killara post office building is on a 1081-square-metre site on the corner of Werona Avenue and Locksley Street. Photo: Google Maps
In 2005, the Ku-ring-gai Council approved a development application to convert the post office building to a dwelling and build four more units for over-55s, subject to meeting a detailed list of 144 conditions.
However, the project did not proceed and the approval lapsed after two years.
A spokeswoman for the council said the site had been listed as a heritage item in the Ku-ring-gai Local Environmental Plan 2015 earlier this year. There were no active development applications associated with the property.