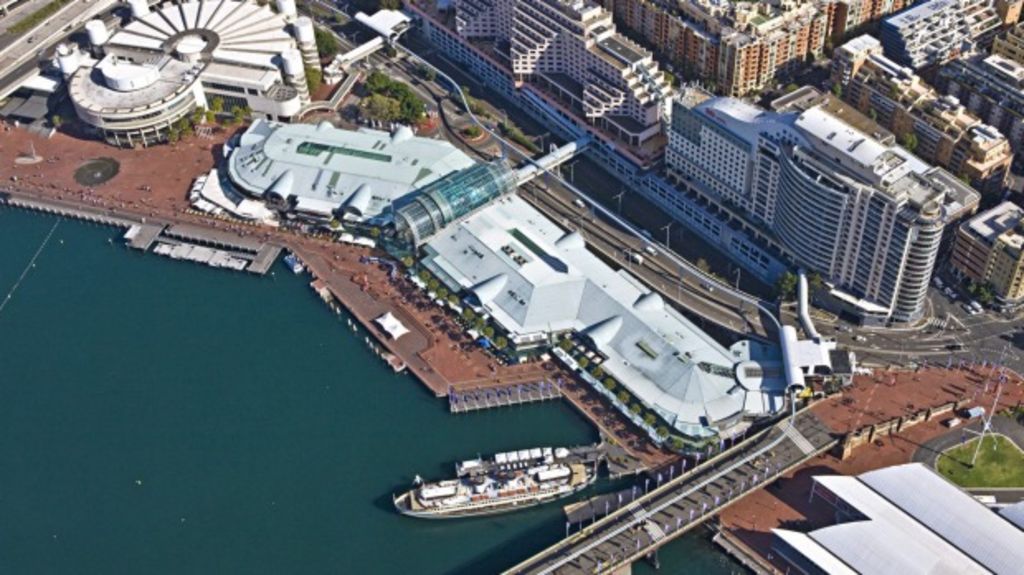 Office tower proposed as part of Harbourside Shopping Centre redevelopment
Another new tower could soon loom large on Darling Harbour's skyline as part of a redevelopment of the much-maligned Harbourside Shopping Centre.
Mirvac, which bought the centre for $252 million in 2013, has lodged a preliminary concept documents setting out its ambition for the waterfront site.
"Mirvac is considering its options for the site, including a significant new retail shopping centre and commercial office tower," documents, lodged with the Department of Planning and Environment, said.
The nominal development envelope for the Harbourside Shopping Centre, as submitted with Mirvac's preliminary concept lodged with the Department of Planning and Environment. Photo: Supplied
The Harbourside Shopping Centre was opened by Queen Elizabeth in 1988 but has faced difficulties, including financial problems and tenancy disputes, in the years since.
It was more recently criticised as a "tired tourist trap" that risked hampering the transformation of the $2.5 billion convention, exhibition and events precinct due to open from next year.
The centre is next to Darling Harbour's new convention centre and the Sofitel Sydney Darling Harbour, which are now both under construction.
Mirvac's application states the "outdated" centre did not integrate well with the surrounding developments or the public domain, and provided poor pedestrian access to the waterfront.
"The functionality and experience of the centre as a shopping destination is in decline," it said.
"Improved public domain and pedestrian connectivity will be a fundamental aspect of the redevelopment."
The proposed office tower, although "still in its preliminary stages", would be located next to Pyrmont Bridge and comprise 45,000sq m of commercial floor space, it said.
The tower would have "a minimum height that accords with that of the adjoining Sofitel Sydney Darling Harbour," which is to be 35 storeys high.
The Department of Planning and Environment received the application on November 9.
"The department has 28 days from this date to respond to the applicant," a department spokeswoman said.
"In this time, the department will consult with the council and relevant agencies to prepare the [Secretary's Environmental Assessment Requirements]."