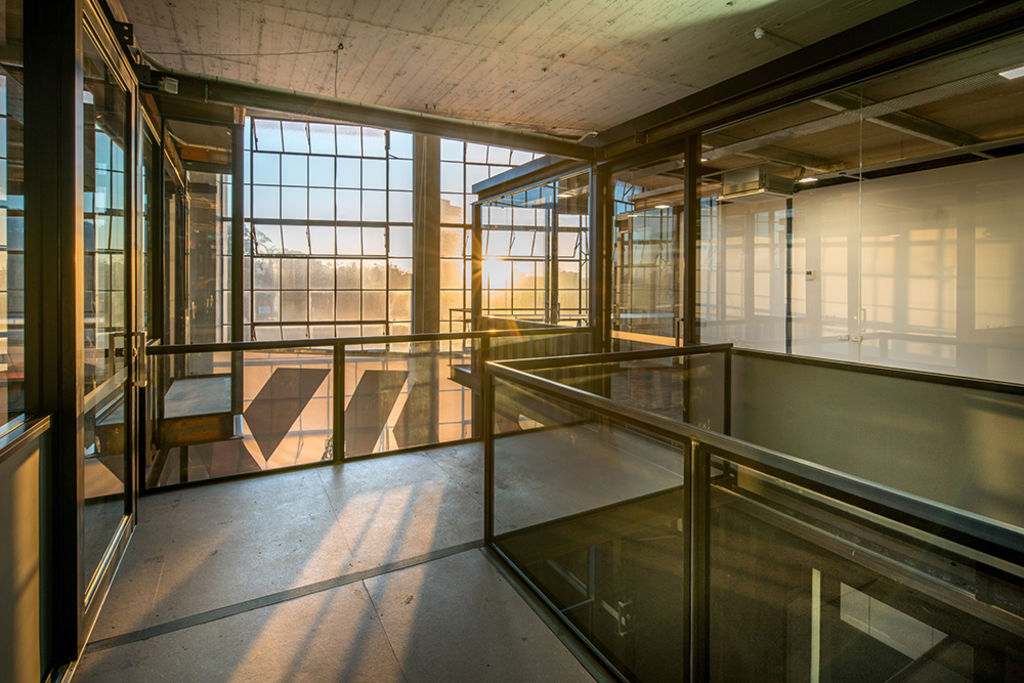 North Sydney heritage warehouse offices Bay 9 built on history of Sydney Harbour Bridge
In the foundations of Sydney's greatest icon, the Harbour Bridge, lies what are possibly the city's coolest new work spaces.
Ninety-odd years ago Bay 9 housed the men and machinery that built the Sydney Harbour Bridge, now it will be the home to Australia's new breed of workhorse – the start-up business.
The groovy green shipping container elevator shaft, glass and steel office pods and the industrial levered window frontage are worlds away from the sterile glass and concrete office towers where Sydney's business is usually done.
A shipping container has been turned on its side to create the lift shaft and the base of each office pod. Photo: Michael Chorley
It was a completely calculated move by developer and entrepreneur Mark Davidson who has designed Bay 9 with creativity and start-ups in mind.
"Your standard office is a dead zone for creativity and says nothing about your culture or your identity," Davidson said.
"The physical space is equally important to building a business. You have these soaring heritage walls, light flooding in through windows that are nearly a century old and a real sense of the guts and determination that Sydney mustered to span the harbour with the bridge."
The physical space is important to building a business, says Mark Davidson. Photo: Michael Chorley
So to not tamper with the heritage structure of the bay, located in Middlemiss Street at Lavender Bay, repurposed shipping containers form the base of each glass-walled office pod.
At the top third level is a floating gantry that lends drama and scale to the space.
Front and back there are gallery spaces for tenants to hold exhibitions, presentations or gatherings as well as break-out spaces on every level.
Many of the office pods have already been leased. Photo: Michael Chorley
"The pods are all glass-walled with an open feeling and there are places where the community can gather such as the indoor-outdoor kitchen," Davidson said.
"Collaborative and exhibition space is shared and we encourage cross-fertilisation of ideas and creativity amongst our members.
"They can see each other but when they need to they can sound-proof their work space."
Collaboration is encouraged but privacy is also possible. Photo: Michael Chorley
Tenants can choose to rent one of the 22 private offices, or a desk – 90 in total – on terms from weekly to yearly with no fit-out required.
Seven office pods have already been leased to media, film and television, brand management, architecture and online retail businesses.
"It's been designed so that you can simply walk in and work; take as much space as you need right now but have the flexibility to grow," Davidson said.
Construction of the railway lines leading to the Sydney Harbour Bridge in the 1930s. Photo: National Library of Australia
Architectural detail of the Harbour Bridge, pictured in the 1930s, can also been seen in the facade of Bay 9, below. Photo: National Library of Australia
"New businesses don't always have consistent work flow so they may want to staff up for a period without making a long-term commitment to a lease which carries financial risk.
"We have brought a huge of amount of business insight into the tailoring of our leasing structures to make it easier to focus on building a sustainable business."
About 90 years ago, Bay 9 housed the men and machinery that built the Sydney Harbour Bridge. Photo: Supplied
The tone and design of the new office space fits North Sydney's entity as the new silicon valley, and Prime Minister Malcolm Turnbull's Ideas Boom.
"Work space like Bay 9 is to the office sector what GoGet cars are to transport," Davidson said.
"The Bay 9 model is a cross between renting your own space but having a full-service delivery partner looking after the space."
There are 22 private offices and 90 desks available to rent at Bay 9. Photo: Supplied
Davidson also wants to target big corporates who want creative work space for their innovation teams with Bay 9.
"The trend is growing where big companies take a small team outside the office environment so you don't have them stunted by the corporate culture and silo mentality," he said.
"Instead you put them with a bunch of like-minded people. This is a worldwide trend and we are just at the start of it."
Leasing structures are designed to make it easy for businesses to focus on their sustainability. Photo: Supplied
Davidson hopes Bay 9 will emulate the success of Bay 10, where he established his head office in a glass box mezzanine and then adapted the ground floor for the hugely popular Bay Ten Espresso and The Body Mechanic, a specialist physio and bike fit operation run by elite athletes.
Big corporations who want separate office space for innovation teams are possible tenants. Photo: Supplied
Bay 10 was also where the seed for Davidson's enthusiasm for tech start-ups was planted after he let excess office space to Pod Trackers, which developed the world's smallest GPS device for pets.
He was so impressed by the concept and the work ethic of the young entrepreneurs that he provided business counsel and invested in the company.