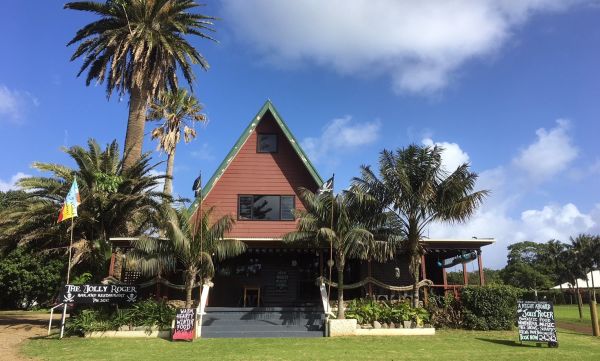 Norfolk Island's most popular restaurant on the market as owners need to return to Australia
Ever felt like getting away from it all? Here's the perfect opportunity: a piece of business real estate, complete with a live-in apartment, in the middle of the Pacific Ocean.
Norfolk Island, half-way between Australia and New Zealand, and once the perfect refuge for the descendants of the HMS Bounty mutineers, is now offering others a chance to escape the rat race.
One of its best-known attractions has been quietly put on the market, the Jolly Roger Restaurant, and for little more than the price of a unit in Sydney or Melbourne's outer suburbs.
"It's a great business and a wonderful place to live in a really caring community," says its owner, musician Matty Zarb, who's offering it for sale freehold for $360,000.
[dm-listing-recommendation experimentname='midcontent-listings' positiononpage='midcontent']
"Last year, we had a turnover of well over $600,000, and there are lots of opportunities to improve that still further. It's a lot of fun and we only open five nights a week and have not explored the lunch time options at all. I am certain in the right hands it will be a win-win situation."
The Jolly Roger owners, Matty Zarb his wife Leslie and their son Marli. Photo: Supplied
Zarb, 52, his wife Leslie, 39, and their son Marli, now seven, moved from Queensland to Norfolk Island two years ago, after he played a gig at the restaurant and fell in love with both the premises and its location.
As well as owning and running the venue, he also plays there every night, and brings lots of musicians over from Australia to perform. He has, in addition, improved the food and atmosphere to the point where it's now the top-ranked restaurant of the 27 on the island.
Young Marli, however, is autistic and, as he grows, needs access to more care and facilities than he can't get in such a remote place.
"I think this is a fabulous place, but it's come at the wrong time in our lives," Zarb says. "My son is my priority and I can't give him enough time and support with running this place and playing five nights a week. It needs someone who's hands on, but I just don't think it's fair to him at the moment.
"Someone's going to pick up a real bargain, and I'll be very happy to show them how everything works and, of course, I'd love to be invited back to play in the restaurant from time to time. That'd be great."
The Jolly Roger seats up to 90 people, serving up the likes of 'Scurvy Busters' chips and 'Me Hearties' Norfolk Island beef pie, and has entertained the likes of broadcaster and journalist Ray Martin and featured on the Sydney Weekender TV show.
The crowd at the Jolly Roger during one of its nightly concerts. Photo: Supplied
The island's best-known resident, TV personality and writer Sorrell Wilby, says Zarb will be hugely missed. "He added such a vibrancy to Norfolk, not only for visitors but for locals as well," she says. "He's one of the most extraordinary people, with a real passion for the restaurant and the island.
"Hopefully someone with an equal passion will come over, buy the restaurant and try to step into his size 879 shoes. They're big ones to fill."
Norfolk Island is going through an upward swing in its fortunes, with a big investment in its tourism budget after becoming much more closely allied with Australia in June last year.
Les Quintal, of LJ Quintal Real Estate, says Norfolk Island is fast becoming a mecca for a sea or tree change, with there being no longer any restrictions for Australians to own property or operate businesses. Australia has also extended its social services, Medicare and taxation system to Norfolk, which makes any move far easier.
"The place is really on its way up now," says Zarb. "And if we were able to stay longer…we would. But it's just not fair at the moment on the little fella. So it's time for someone else to come over and have a whole heap of fun."
[dm-listing-recommendation experimentname='below-content-listings' positiononpage='belowContent']
Keep up with Commercial Real Estate news.
Keep up with Commercial Real Estate news.