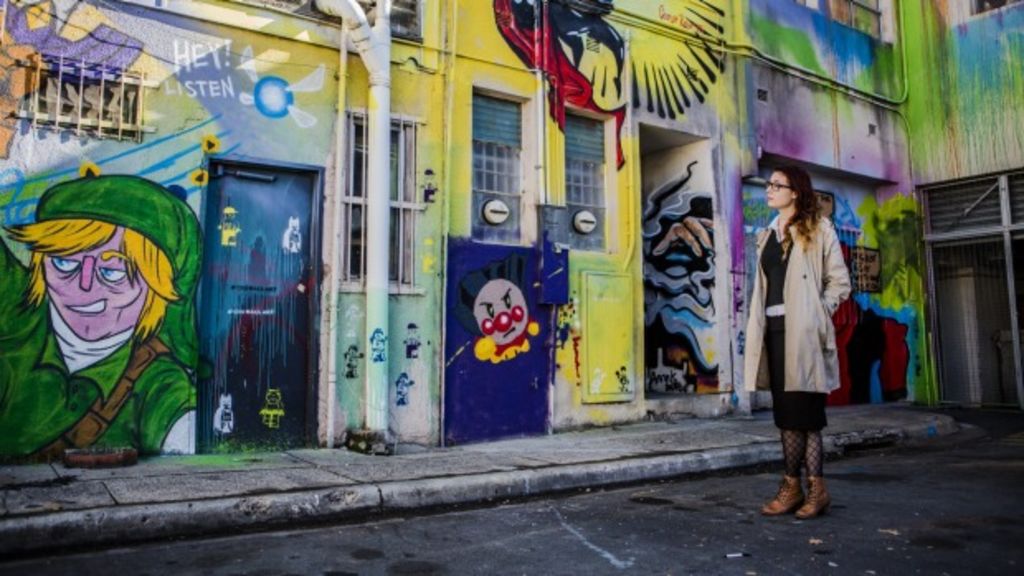 New agenda calls for action to transform Canberra's struggling CBD
Installing a big screen in Garema Place, overhauling drab laneways and developing population density targets are among a sweep of measures proposed to transform Canberra's struggling CBD.
Changes to planning laws, moving the city's carousel to Glebe Park and creating the honorary role of "city curator" are also outlined in Turn On. Transform. – a collective action agenda of ideas to breathe life into the city.
The Property Council of Australia, Canberra CBD Limited and the Canberra Business Chamber have joined forces to develop the string of measures, launched on Monday.
Pedestrians in Bunda Street, Civic. Photo: Jay Cronan
It comes on the back of a discussion paper and survey in March and a forum in September to consider the challenges and ideas facing the city's transformation.
Putting people first, maintaining authenticity, creating more density and action, and encouraging Canberrans to help drive change were among the key themes raised by the forum's panel of planners, architects, economists and policy-makers and the contributions of a 300-person audience.
The new collective action agenda builds on these ideas by developing steps to achieve them, while acknowledging the hurdles facing change, such as office space vacancies.
"If anything, the ongoing rationalism of Commonwealth public service office leases has led to further uncertainty for the city centre in the face of climbing commercial vacancy rates," the document says.
"Despite these challenges we remain confident in Canberra's future and more committed than ever to the revitalisation of our city centre. Now is the time for action."
Among the agenda's recommendations is a city audit to investigate how people use the city, its places of significance, its infrastructure and the red tape that might be hindering change.
It proposes liaising with building owners and traders to create cleaner and safer laneways. Bible and Tocumwal lanes and Brisbane Place could be used for trade, play, art and music, according to the document.
The installation of a "big screen" in Garema Place could draw revellers together for large public events, while a pool of public and private donations could fund small-scale place-making, or the creation of community places.
The agenda recommends creating a two-year, part-time "city curator" position to "promote the city centre, to be the public advocate for transformative change and to curate events and activities".
The city curator would lead a Canberra City Coalition, a community group that would prioritise and initiate development in the city centre.
The agenda outlines the need to "stay true to what makes our city unique" but calls for a review of Territory Plan requirements, such as building heights, solar access, pedestrian malls, arcades and shelter, to allow for more flexibility when redeveloping central space.
Introducing population density targets and altering planning laws to increase the number of people living in Civic are among the suggested measures to boost density and activation in the CBD.
The report also proposes re-establishing Glebe Park as the "city playground" by upgrading play equipment and moving the city's carousel to the park.
Young Canberrans could help lead the charge with a proposal to work with University of Canberra students studying urban design, planning, marketing or tourism and encouraging them to use the city as a "platform for research, engagement and urban activation".
Other ideas included the establishment of temporary public spaces, using vacant shopfronts for short-term, low or no-rent tenancies, co-trading in single retail spaces, and converting ugly or underutilised open areas into "pavement plazas".
Outgoing Property Council of Australia ACT executive director Catherine Carter said it was time to translate ideas into action items to "enliven Civic and bring the beat back to its heart".
"Despite strong desire among the community, and despite multiple government reports promising action, we are yet to see any meaningful, positive change in our city centre," she said.
Similarly, Canberra CBD Limited chief executive officer Jane Easthope said Civic remained a place of "untapped potential and economic opportunity".
"Successes on the fringes of our city centre – such as those in Braddon and New Acton – hint at the potential of our city centre," she said.
While the agenda's proposals encouraged community action, Canberra Business Chamber chief executive Robyn Hendry said the ACT government's leadership was a key driver of change.
"We have an engaged and committed community with a deep interest in seeing our city centre flourish," she said. "It's time to work together to translate this enthusiasm into community action."