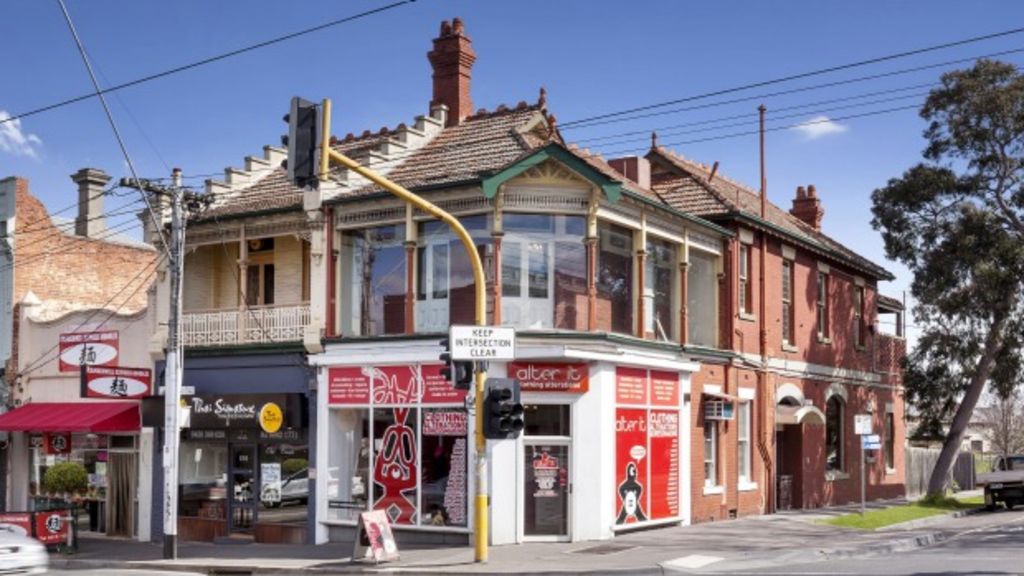 Market Wrap: Landmark corner shop in Camberwell sells for $2.12m
About 50 people watched a landmark corner shop at 933 Burke Road being sold at auction for $2.12 million. Ian Angelico and Jarrod Moran of CVA Property Consultants sold the prominent building to a local investor on a per square metre rate of $9860.47 and 3.7 per cent yield. The building was leased to Alter It on a 5+5 year lease and Haim Real Estate on a 3+3+3 year lease on a combined rental return of $79,320 per annum.
A private super fund has snapped up a property leased to state MP Colleen Hartland for $631,000 on a net yield of 4.5 per cent. The ground floor strata office at 75 Victoria Street was sold by Beller Commercial's Liam Rafferty.
Two adjoining warehouses at 26 Cambria Road have sold at auction for $685,000 to an owner occupier, Facey Industrial Commercial's Ian Kilgour said. Mr Kilgour also sold a warehouse at 8 Dallas Court in Hallam at a mortgagee auction. It attracted strong interest from both investors and owner occupiers and sold above the reserve price, he said.
A start-up business has forked out $2.5 million for a ready-to-go food production warehouse and office at 6 Jayne Court. Crabtrees' Megan Miles said the owner occupier from China was a new business looking to set up in the 2010-square-metre (323 office and 1687 warehouse) building. "The food production fit out means most of the hard work in setting up is already done so the new owner can walk in and start business straight away," Ms Miles said.
An office warehouse at 1-16 Monterey Road has sold for $1.07 million. The two-level 1469-square-metre building has a high clearance warehouse with three roller shutter doors. It sold with vacant possession to an owner occupier, said Knight Frank's George Linn and Gross Waddell's Jamie Stuart. Mr Linn said the buyer was attracted to the high profile location on the corner of Monterey and Kitchen Roads.
The exclusive agent for well-known brand RedBull Racing Eyewear has signed a 10-year lease for its new headquarters at 3/66-74 Micro Court. RedBull's agents CR Surfacing Laboratories wanted more space, Crabtrees' Andrew Loudon said. "CR wanted to find the right location with enough space for its high-tech equipment and also an office area that provided the right corporate synergy. They have signed for 10 years at $180,000 per annum to ensure security of location," he said. In another deal, Ms Miles said HoMedics has signed a five-year lease for $80,000 at 14 Kingsley Close Rowville. Crabtrees' Rodney King has also signed Bank of Melbourne to a seven-year lease in the Pinewood Shopping Centre at 411 Blackburn Road for $55,000 per annum.
Medtronic, a global healthcare solutions company have leased 807 square metres at 678 Victoria Street on a five-year term for $340 per square metre net. JLL's Josh Tebb and Matt Brown-Greaves negotiated the deal for Salta Properties. "The commitment from Medtronic continues the strong push for A-grade accommodation in the inner east office market," Mr Brown-Greaves said.
Cameron Industrial's Al Armstrong and Angus Clark have signed national shopfitter Ramvek to lease space in 38 Kitchen Road. The 3251-square-metre industrial warehouse with a large rear yard was leased for $236,000 per annum.
24×7 Direct have leased 525 square metres at level 4, 271 Bourke Street for five years at around $175,000 (gross) per annum, JLL's Zak Seccull said. The building, on the corner of Bourke Street Mall and Swanston Street, was originally constructed in 1912 for the Leviathan Clothing Store. "The tenant outgrew their previous building nearby and wanted to remain within the precinct," Mr Seccull said.
Robert Cubelic from CVA Property Consultants has leased a stand-alone office warehouse about 200 metres from the beach at 53 Nott Street to a fabric wholesaler. The building, one of the last original warehouses in the area, was leased for $44,200 per annum.
A large 2576-square-metre industrial office and warehouse at 4 Zenith Road has been taken by bathroom supplier KDK Bathroomware. The property included a 350-square-metre office, 2226-square-metre warehouse and 2000 square metres of yard, said JLL's Andrew O'Connell and Jordie Cassidy. Mr Cassidy said the site was rare in the Dandenong market as it boasts a large fully-secure paved yard.
CBRE has boosted its industrial and logistics business appointing Amanda Traficante and Philippa Bordonaro. Ms Trifacante joins the northern industrial team in a senior negotiator specialising in land sales, leasing and vacant possession sales. Ms Trifacante joins CBRE after three years as a tenant representative.
Colliers International has appointed Milly Stockdale and Stephanie Hawkins to its office leasing team as senior executive and executive respectively. Ms Stockdale joins from CBRE where she was a CBD leasing agent for the past two years while Ms Hawkins was promoted from an analyst position.
Knight Frank has bolstered its metro commercial team in Glen Waverley, appointing Andrew Greenway (previously with Gross Waddell and Kelly and Kelly) as associate director and Paul Pellegrino (previously with Phillip Webb Real Estate and Jellis Craig) as a leasing executive.
Submissions to sjohanson@fairfaxmedia.com.au