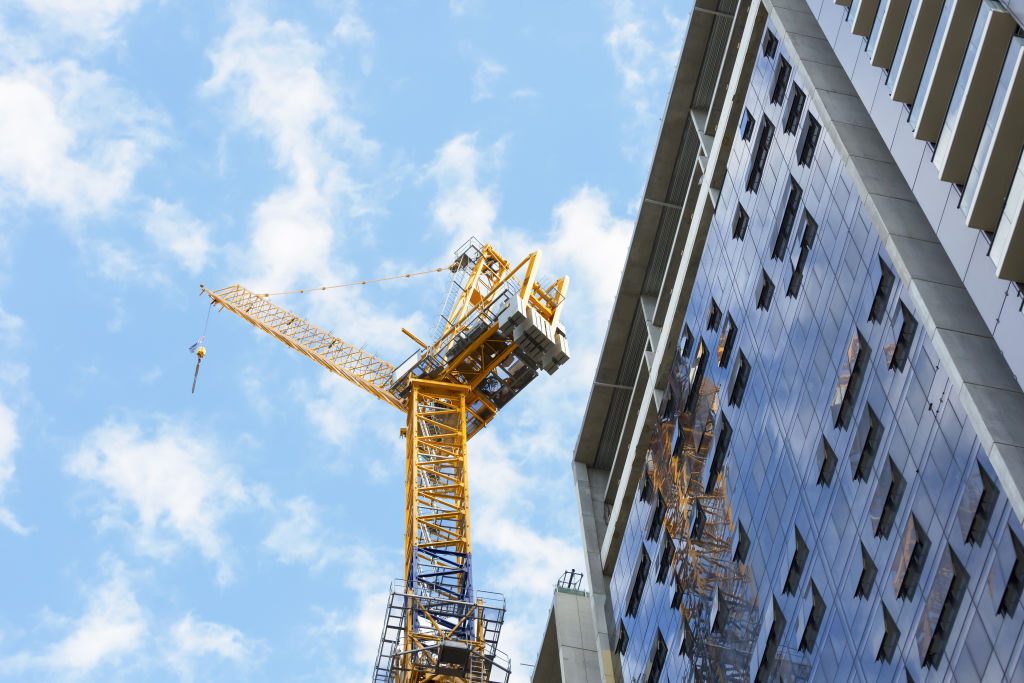 New office spaces meet tenant needs
New office construction seemed unthinkable in early 2020, with stay-at-home orders torpedoing workplace attendance.
But now, new office demand is surging among tenants.
Will Hamilton, head of office leasing NSW at JLL, says new builds are meeting tenants' expectations more effectively than older stock.
"It's a flight to quality, with a better user experience and superior ESG [environmental, social and governance] offerings. New product usually ticks a lot more boxes than older office space, so it's very much in demand now.
"Developing during COVID has also delivered some developers a bit of an edge because they've been able to adapt and amend their offering during construction.
"For example, implementing touchless technology while the building is under construction rather than having to retrofit."
Paul Chapko, research director with JLL and co-author of the company's first-quarter 2022 Office Market Overview report says businesses are drawn to the high-quality floor space new construction offers.
"There are some exciting projects out there," he says. "We're at a stage where developers are re-engaging with tenants to determine what employees want in their workspace.
"Health and wellbeing within the building are important, making it almost a lifestyle element where employees will come and enjoy their time there."
Chapko sets out for us some telling construction metrics in major office markets across the nation based on his Q1 report metrics and additional numbers current as of June 2022.
There are nine projects under construction across the CBD totalling 326,800 square metres, with an aggregate tenant pre-commitment rate of 52 per cent.
The Q1 vacancy of 12.3 per cent is above the long-term average of 8.5 per cent, but that's the case across most markets, Chapko says.
"We do expect the vacancy rate to trend down, although it will remain elevated, not because there's weak demand, but because there's a sustained pipeline in the market."
He says most new-build completions over the next six months will be around Circular Quay.
"Beyond this timeframe, you have above-station developments as part of the Sydney Metro project with expected completion toward the end of 2023 and over 2024, but those towers haven't secured any precommitment yet."
Five projects are under construction in North Sydney, totalling 93,800 square metres.
Chapko says strong pre-pandemic building activity was undone by COVID shutdowns in North Sydney.
"There was close to 100,000 square metres of new space being built in 2020 and it was 63 per cent pre-committed but, when COVID hit, the vacancy rate increased substantially."
He says prime new-office space is now extremely popular with tenants in North Sydney.
In Parramatta, JLL is tracking three projects set to deliver 65,400 square metres of floor space.
Chapko says Parramatta will be the first decentralised office market to reach 1 million square metres in Australia.
"It's quite incredible. That market has grown from 687,000 in 2016 to 1 million by the end of this year. It's increased the office footprint by over 40 per cent.
"Parramatta has been a big beneficiary of government decentralisation, especially over the past five years. Rents here are essentially half the cost of CBD rents, so it was a no-brainer for government departments to relocate there."
Macquarie Park has three projects under construction delivering 43,900 square metres.
"Rents here are among the lowest of the 10 office markets we track in Sydney.
"Over the past 10 years, we've recorded one new development completed on average every year. Now three developments will be completed over the next nine months."
"There's stock under construction here that hasn't received a pre-commitment. Tenants are typically in the sub-5000 metre size range and they like to see the building come out of the ground so they can 'feel' the space before they'll do a deal."
Five new projects are under construction in the Melbourne CBD, totalling 153,700 square metres of space of which 44 per cent is pre-leased.
Chapko says extended lockdowns in Melbourne were a drag on its office leasing markets.
"There's a lag on the demand recovery in Melbourne of around six to nine months as compared to Sydney's CBD.
"It would be expected that higher-quality office accommodation will attract more leasing interest over coming quarters. We have also observed strong levels of leasing activity by sub-1000-square-metre tenants, which has supported overall demand levels in the market."
The Melbourne fringe has 20 projects under construction set to deliver 220,100 square metres by mid-2024.
Chapko says the area has seen a substantial amount of leasing activity from professional services, tech, media and healthcare.
"While Melbourne's CBD had a bit of a recovery in the back end of 2021, Melbourne's fringe had a boom in demand.
"There's been a lot of expansion activity where groups leased more space and that hasn't left as much backfill in the fringe and suburban office markets.
"However, there's a sustained development pipeline in the next few years which will keep the vacancy rate elevated, although we do expect it to come down over the medium term."
Brisbane's new-build CBD market is running strong, Chapko says.
"We're tracking about 150,000 square metres of stock under construction with about 70 per cent pre-committed, which is a very healthy rate.
"One of those developments, 80 Ann Street, is due for completion at the end of Quarter 2, 2022.
"There's a substantial development pipeline in Brisbane's fringe, particularly around the Fortitude Valley precinct which is within walking distance of the CBD. There's some high-quality construction underway there that's of similar quality to new CBD towers."
He says the precommitments are running at a healthy 50 per cent in the fringe.
"While the depth of large tenants in Brisbane isn't as large as in Sydney or Melbourne, the newer builds are still receiving a healthy level of tenant interest which is expected to translate to some positive leasing activity down the track".
The Adelaide CBD has 133,200 square metres under construction, representing 9.2 per cent of total stock. Additional towers are expected to commence soon, further bolstering stock numbers.
"Adelaide is effectively in a development boom at the moment," Chapko says.
"We're forecasting 110,000 square metres of office space to complete in 2023 alone, which will be the highest year of completions since 1987.
"The stock we're tracking is 57 per cent pre-committed, which is quite healthy. The rule of thumb over the last few years has been that about 30 to 40 per cent pre-commitments are needed to get a building out of the ground."
He said a portion of Adelaide's aging existing office stock may need some capital expenditure spent on it to keep it attractive to tenants.
The Perth CBD has 88,800 square metres of new stock under construction, Chapko says.
"The vacancy rate was elevated for some in Perth time after the mining downturn so there's been limited new construction over the past six years.
"The biggest project coming out of the ground is The Chevron Headquarters which has an expected completion date of Quarter 4, 2023. That's a 54,000-square-metre build."
He says the pre-commitments across all tracked projects sit at about 51 per cent.
"That said, the size of the Perth CBD market is 1.8 million square metres, which is substantially smaller than the eastern seaboard CBDs, so new builds aren't huge in number."
Perth fared well over COVID as small business growth was supportive of demand
"But it's a mining story in Perth and we haven't seen that kick off yet," Chapko says.
"While we have recorded some positive leasing activity from mining groups over the past two years, there has also been the conclusion of some projects which has resulted in consolidation activity that counterbalanced this growth."
Looking to West Perth and there's one major project under construction – a six-storey building at 30-34 Ord Street totalling 2700 square metres.
Chapko says that while there have been some relocations to the city centre from this area, a large proportion of West Perth tenants aren't compelled toward the CBD.
"The stickiness of tenants here is interesting. They like to stay in West Perth because that's where they've always been and what their workforce prefers."
JLL recorded eight projects under construction in Canberra totalling 161,000 square metres and with expected completion dates between 2022 and 2024.
"There's a lot of construction activity happening in Canberra with healthy levels of pre-commitments, but it's more consolidation of government departments from multiple areas into these spaces," Chapko says.
"The market is dominated by government sector tenants. While there is organic growth from private sector tenants, most are linked to government through the contracts they win or the business they do with the Commonwealth or ACT government."
Chapko says new office market movements are typically large government departments coming together and occupying one new asset. The preference is normally large-floorplate, campus-style products.
"Canberra is very efficient in terms of the withdrawal of office assets. When a government entity signs a lease, it must be for space with a certain sustainability credential rating.
"So, when departments consolidate and move into a new building that fits the criteria, the old space they vacate is sometimes unlettable because it doesn't meet a certain sustainability standard.
"So, you see a lot of older stock in Canberra being either withdrawn from the market so it can be refurbished to an acceptable sustainability rating, or withdrawn and repurposed for something other than office space."