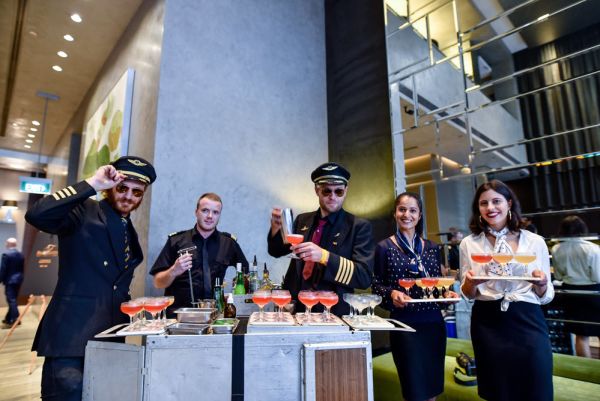 Luxury brands using launch parties to power their image
It could be a colossal party with 2500 invited guests, a gorgeously curated intimate dinner with women draped in a certain brand's jewellery, or a world record-breaking champagne tasting.
But whatever scale they're on, events have never been more popular for launching new products, luxury retail brands or stores, hotels, offices and apartments.
"Australia is very much a two-speed economy and IBISWorld says luxury retail is now a $2.1 billion industry," said Amy Merriman, founder and managing director of event management specialists Event Planet.
"While some retail brands have disappeared, often at the other end of the market, others are doing extremely well.
[dm-listing-recommendation experimentname='midcontent-listings' positiononpage='midcontent']
"So many like to have events to announce what's new which gives them an opportunity or platform to message their brand and their products and signify their arrival into a geographical market."
Revellers at Crown Group's launch of the Eastlakes Live project in Sydney. Photo: Crown Group
She has organised events for many luxury brands over the years, including Moet & Chandon, Veuve Cliquot, Bulgari, Paspaley, L'Occitane and Dior, all the way to the online launch in Australia of Britain's Marks & Spencer.
Some are in-store events which have involved completely dressing an outlet to look like a stage-set, with flowers and greenery and elaborate displays of the products, and VIP clients being invited for cocktails to view the new wares. Others have been events with a beautiful film of the story of the company, creating an emotional connection with the audience.
One particularly memorable event was in October 2017 for Moët & Chandon, in partnership with Vintage Cellars, which involved more than 700 people breaking the Guinness World Record at the Opera House for the largest champagne tasting.
"We have a lot of luxury brands launching here, and overseas brands coming here and increasing their investment as Australia is a great market for them," said Ms Merriman.
"We share a language, often have quite similar cultures, and we're quite an easy country to do business in. And events are about so much more than sales."
The hotel industry has also been holding more events.
Fraser Suites Sydney, for instance, held a 10th birthday party in late 2017 for 100 guests, with Sydney Lord Mayor Clover Moore – who'd been present at the original launch – in attendance along with the general manager from Singapore, key agents, corporate clients, tourism partners, airlines, tourism bodies, media and the wider Frasers Hospitality network. They had cocktails, a cake-cutting ceremony, entertainment and videoed messages from Frasers properties from around the world.
Some events have an extended life on social media. This was the launch of Marks & Spencer online. Photo: Supplied
"Twenty years ago, it wasn't easy to share those occasions and show others visually what you are offering," said Matt Rubie, Frasers Hospitality country general manager for Australia. "But now with so many social media platforms, it's pretty easy to get the information out there, compared with word of mouth.
"It's a competitive landscape and events are a good way to have a celebration as well as to put the word out, and a good way to position the brand."
Frasers spent more than $30,000 on the party, a relatively small sum compared with the $110,000 they spent on their opening of Frasers Suites in Perth in 2013. But the Sydney event went so well, other Frasers properties around the world are now also holding birthday parties.
But that pales in comparison with the events held by developer Crown Group and its chief executive Iwan Sunito for the launch of new commercial and residential projects, where each event cost between $500,000 and $700,000.
Events guru Amy Merriman, who says luxury retailers are now her biggest clients. Photo: Supplied
In May last year, Crown launched the $1 billion Sydney development Eastlakes Live, consisting of apartments, retail, parks and playground, with a red-carpet, 1300-guest event at The Star casino, while in October their Mastery by Crown project in Waterloo was kicked off with a Japanese-inspired gala at the Royal Hall of Industries in Sydney.
The 2500 guests included business leaders, government officials, the ambassadors of Indonesia and Japan, entertainers such as singer Dami Im, the Japan-based architect Kengo Kuma and overseas media.
"Events are about sharing ideas and design and innovation, and they're a celebration of the very best of legacies that we want to share with the whole world," said Mr Sunito.
"For inspiration, I looked at the kind of things [Apple co-founder] Steve Jobs was doing and while, of course, we can't compete with them, it's good to tell the whole world about what we're doing here, and an exceptional event is a good way to achieve that.
"It's not about selling property. It's about community and belonging and connectivity, and about extending that around the world via Instagram and Snapchat and the Chinese, Japanese, Indian and Australian TV stations who were there. It's helped kind of change the status of the property industry which becomes much more about lifestyle and fashion. But the challenge is always to make the next event better than the last, and the next, and the next …"
The Crown Group usually organise their events in-house but for The Mastery launch they engaged events agency Rizer. General manager in Sydney, Justine Kendall, said the scale of an event depended on what a company wanted, and the type of brand it was.
"It's all about guests' experience, and making sure every guest who comes feels a connection," she said.
Ms Merriman, whose Event Planet has delivered more than 150 events in the past financial year alone, and who won Australian Event Management Company of the Year, agreed. Some events took nine months of organisation to ensure every detail was perfect.
Even some smaller events, such as installing virtual reality systems at spring and autumn racing carnivals for Tabcorp, so guests in the hospitality tents could 'experience' what it was like to ride in a race – even though many might never have been on a real horse in their lives – took a huge amount of preparation and vision.
"When we started the agency, the events were all for technology firms," Ms Merriman said. "Then it became about the large banks and car companies like Audi, Jaguar and Land Rover. But now it's become more about the retail brands in the luxury space, and helping people to fall in love with their stories and the whole experience of their products."
[dm-listing-recommendation experimentname='below-content-listings' positiononpage='belowContent']
Keep up with Commercial Real Estate news.
Keep up with Commercial Real Estate news.