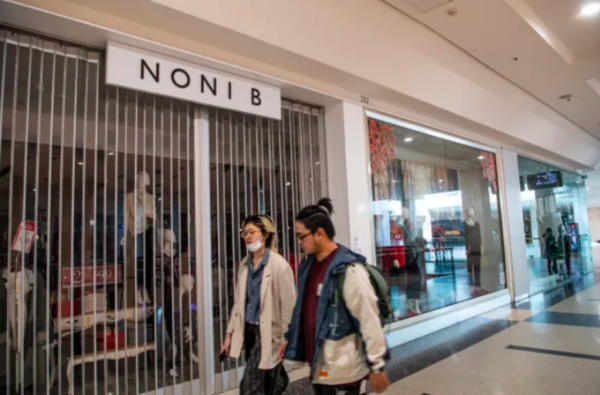 Landlords v retailers: why the long game has just begun
Robert Harley
Scentre Group and its Westfield team gained a much-needed boost with the dramatic lockout last week, in a dispute over rent, of 129 stores tenanted by Mosaic Brands.
The Scentre stock price went up, at least until Wednesday, despite a $3.6 billion half-year loss, as many investors welcomed the harder line with tenants.
At the same time Mosaic's price went down precipitously when it announced that it could close 300-500 stores if landlords were not more accommodating.
This is a very long game. I have been writing about it for 20 years and it will play out for another 20.
[dm-listing-recommendation experimentname='midcontent-listings' positiononpage='midcontent']
Because it's not really about COVID-19. It's about the value of retail space in the digital age. The pandemic is a major, but extra, challenge.
Technology, in the form of the affordable family car, opened the way for the suburban shopping centre. Now technology, in the form of online shopping, is remaking the retail industry and retail property all over again.
Clearly more shopping is going online. At the same time, the former mainstay of the regional malls, the apparel industry, is under pressure from changing demand and global competition.
Equally clearly, as today's graphic from Vicinity Centres shows, shoppers like the centres. When the pandemic passes, they go back.
At some point an omni-channel equilibrium will be reached. But few of the experts I talk with think we have reached that point yet. Rents and values for the regional centres remain under pressure.
Scentre, the acknowledged shopping centre leader in Australia, is managing the changes as well as anyone.
In the first half, the average new lease was priced at 8 per cent below the outgoing rent – Scentre claws that back with annual increases of CPI plus 2 per cent – and was accompanied by an average incentive equivalent to 8 per cent of the rent.
Last year Scentre's partner in Westfield Marion in Adelaide sold its half share for $670 million, well below the then Scentre valuation of its half at $737.5 million. At June 30, the stake was valued at just $647.5 million.
All the listed regional shopping centre portfolios were downgraded in the last half.
Vicinity wound back its portfolio by 11.4 per cent, a shift that was made up of a softening in yield of 21 basis points, to 5.47 per cent, plus increased allowances for vacancy, downtime, leasing capital, sales and market rental growth.
It's a global issue. In the UK, which has a much higher online retail penetration than Australia, one leading shopping centre REIT, Intu, is in administration and another, Hammerson, has lost 90 per cent of its value in the past three years with major asset sales and an equity raising now under consideration.
In Australia, the issue of the moment is the request by retailers, led by Premier Investments chairman Solomon Lew, for rent reductions and more flexible leases to reflect the ups and downs of turnover.
"Some landlords are recognising there's systemic change here … but some are trying to hold on to the past," says Mosaic Brands chief executive, Scott Evans.
Scentre chief executive Peter Allen acknowledges the difficulties facing retailers but also recognises that his investors and financiers want certainty of income, not business risk based on the turnover of each store.
"We're not retailers," he says. "What we do, as an operator of Westfield living centres, is we curate a mix of retailers which we believe is going to be attractive to meet the needs of the customer."
Analysts divided
Some studies also show that the physical store enhances digital sales within the trade area and the shopping centre owners want that reflected in the rent.
Despite all that, performance of the major centres in the pandemic was better than many expected with Scentre collecting 70 per cent of billed rent for the half and Vicinity 66 per cent.
Morgan Stanley analyst Simon Chan, while acknowledging the negatives, focused on the upside, maintaining his overweight recommendation.
Scentre has had more success collecting rent from its retail tenants than its peers, he wrote. "Its asset locations, quality of exposure to the population, and potential for longer-term value suggest this is the retail REIT that will offer the most upside as we recover into a post-COVID world, notwithstanding that future rent will likely be at lower than historic levels."
Citi analyst Adrian Dark says the focus should not be on rent collection but on the long-term issues, reconfirming his sell recommendation.
For Dark, the two key issues are the sustainable level of rental income after COVID-19 and whether the group will need a "dilutive deleveraging event" such as asset sales or a capital raising.
With the reduction in the value of the properties, Scentre's gearing is back to 38 per cent and a further 4 per cent reduction would push the level over the target upper limit of 40 per cent.
Scentre's Peter Allen specifically ruled out an equity raising on the analyst call. Which is what his investors want to hear. But Citi continues to forecast a $1.8 billion raising.
On top of all the long-term challenges, the shopping centre owners have had to deal with the pandemic and its health issues, lockdowns and the new Code of Conduct.
The code, the extension of which is now under debate around the country, requires commercial property owners to provide relief to small and medium enterprise tenants largely out of their own pocket without any equivalent support from government.
Legal obligations
Vicinity chief executive Grant Kelley said property was one of the few industries that was providing waivers, not only deferrals, of rent to impacted business, not withstanding legal obligations under leases.
The Shopping Centre Council of Australia has calculated that its 25 members have provided $1.6 billion in rent relief to tenants, both small to medium enterprises under the Code of Conduct and to larger enterprises in the spirit of the code.
With some retailers requesting help but delivering solid profits, the positive response among investors and managers to Scentre's tough line is understandable.
[dm-listing-recommendation experimentname='below-content-listings' positiononpage='belowContent']
Keep up with Commercial Real Estate news.
Keep up with Commercial Real Estate news.