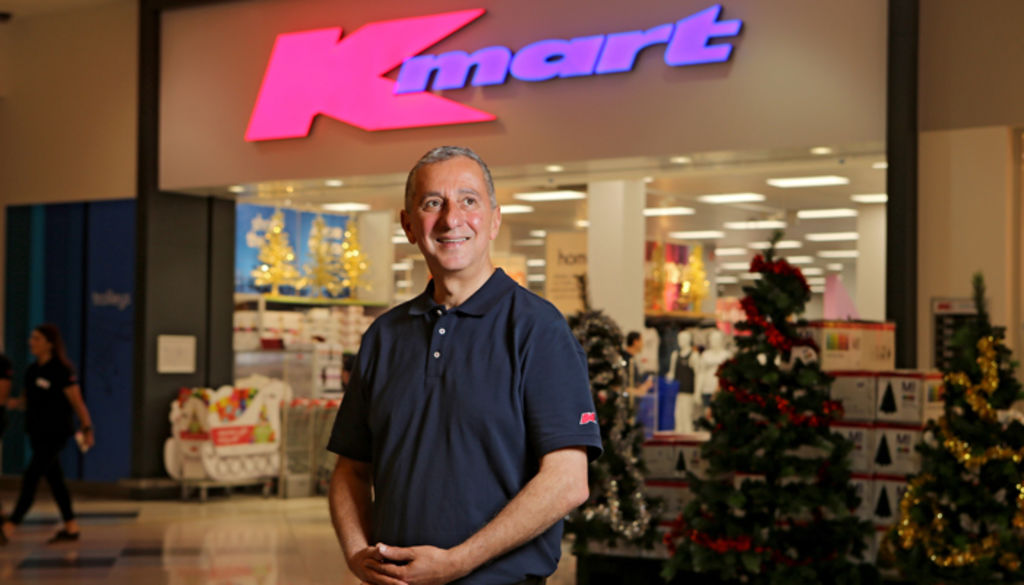 Kmart boss reveals Big W hit list
Kmart boss Guy Russo has his eyes on at least 50 stores or struggling rival Big W as he hunts for ways to double the size of his department store business and drive revenue to $10 billion.
While Woolworths is considering what to do with its underperforming Big W chain, Wesfarmers-owned Kmart has no designs on the struggling business itself — it's the leases Mr Russo wants and the Big W employees.
"We know that Big W has lost sales for the last two years and so we would really like to take over any of their under performing boxes and provide consumers with better prices in those areas," Mr Russo said.
Kmart has reached out to every Big W landlord across the 152 store network and Mr Russo said there were about 50 shops he'd like to convert to Kmart stores.
"It's easy growth but it's not easy to get because you need two things to happen. One is the owner needs to say, 'I need to let go of something that's losing me money'," Mr Russo said.
"And what happens with owners is what happened with Coles. They get emotionally attached to it and don't want to let go of it."
Kmart had already edged out its beleaguered rival on two occasions, with the opening of two new stores at sites that were originally planned as Big W stores.
Big W is one of many problems at the embattled Woolworths and talk of a private equity bid for the discount department chain has sharpened the focus on the potential of the operation.
Woolworths chair Gordon Cairns all but ruled out a sale of Big W at the group's recent annual general meeting, indicating he wanted to see an improvement before making any decision.
Kmart's full year sales jumped by 8.2 per cent to $4.5 billion in 2014-15, earnings rocketed 18 per cent higher to $432 million, supporting a 32.9 per cent return on capital.
Mr Russo's experience transforming Kmart from what he described as a dirty, downmarket operation with a demoralised workforce has convinced the former McDonald's Australia chief he can take the Big W workers along on the journey.
"This (Big W) is a business that has had nine negative quarter sales results, it's losing money but the most important thing is … I would love to hire their staff, this is not about putting staff off," Mr Russo said.
"I'm a business guy, I like to run businesses that make money and then if you can make money you can reward, motivate and give people a career," Mr Russo said.
In addition to the conversion of any Big W sites that become available, Kmart has already secured board approval from Wesfarmers for the roll out of more than 50 new stores over the next five years.
In Oxenford, Queensland, Kmart has just opened up next door to Bunnings. This is the first time Kmart has traded alongside its sister hardware brand and the opening week sales broke all records for the chain.
Back when he joined Kmart, Mr Russo led his team on a journey to find the world's best retailers.
"I wasn't looking for the prettiest shop or the friendliest staff, I was looking for numbers, who knew how to sell clothing and general merchandise and make money.
"My first focus was here's a $4 billion business that's not making money. It wasn't because they're not smiling, something's wrong with the model."
The study tour produced a short list of three 'best in category retailers'. For clothing it was UK chain Primark​, while Walmart​ was the best across all segments and Ikea came out on top as a general merchandiser.
Kmart trades just downstairs from Ikea in its Richmond shopping centre just south east of the Melbourne CBD, but its homeware sales in this location are rocketing ahead and overall sales at the recently renovated store jumped by 20 per cent last week.
"You need to know where you sit in the food chain and in my mind it was pretty simple Kmart was at the bottom of the food chain," Mr Russo said.
During his time at the helm, Mr Russo has slashed Kmart's branded stock from about 70 per cent of its total range to about 5 per cent and crunched its selection of merchandise from 120,000 to 50,000 items.
It was a way of de-risking the business and focusing Kmart's key range on everyday items that everyone needs, t-shirts, socks, undies, tops and bottoms.
The average price of any item for sale at Kmart is $10 and Mr Russo admits to feeling a bit uncomfortable about product that sits above this price line.
Volume is king at this end of the market and he said research showed the average cost of a single purchase at Kmart was $7.
The chain's best selling item is its $1 bubble wand.
If stock doesn't sell it gets discounted to make way for fresh, new merchandise and in eight years the volume of sales at Kmart has doubled from about 300 million items a year in 2008 to 700 million items a year.
"Even when we were losing money and no one was sure it could be fixed we always set a challenge — to be the best, most profitable retailer in Australia," Mr Russo said.
"We've now set ourselves a target, let's head towards $10 billion, let's double the size of our business at the same time as making sure that our returns to shareholders stay in line with the current results."