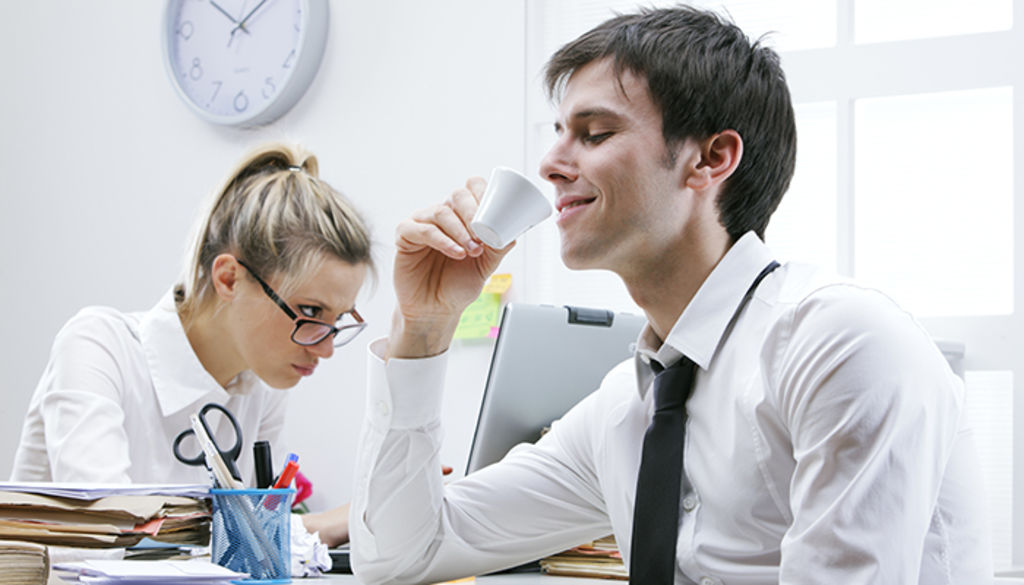 Is the office hot desk leaving us cold?
Hot desks are undergoing a huge surge of growth in offices throughout Australia, but often employees say it's a practice that leaves them cold.
Companies are becoming increasingly keen on the activity-based working system of not giving staff permanent desks and allowing them to move around according to the tasks they're performing.
They believe hot-desking advantages include saving money on office space and increasing collaboration between colleagues, as well as creativity and innovation.
But many question whether it does work and claim it can actually hinder productivity.
"It has a lot of resonance among employers because it usually involves not just change but a reduction in the overall amount of office space they need to provide," says Dr Justine Humphry, a lecturer in cultural and social analysis at the University of Western Sydney, who did her PHD on hot-desking.
"A lot of architects and academics have tried to argue that it increases collaboration and interactivity which has helped make it become so mainstream.
"But in recent years there's been a lot of pushback with research I've done, and by other research in the UK, US and other parts of the world, saying it can have very mixed results."
Flexible workspace provider Regus says the growth in activity-based work has been exponential. Photo: Regus
Among those findings are lower levels of staff satisfaction at work, irritation that there isn't room for personal possessions, arguments over work stations perceived to be in better positions, frustration at having to pack up and carry papers around and annoyance over noise from colleagues in open-plan areas.
Some even claim that they're sick more often because of the spread of germs between desks and computer keyboards.
Research shows people find noise from colleagues annoying. Photo: Shutterstock
But despite that, hot-desking is on the rise nationally. While it has gained prominence through having celebrated high-profile champions like Macquarie Bank, NAB, the Commonwealth Bank, Google, Microsoft, KPMG and Ernst & Young (and Fairfax), it's now being adopted by companies of all sizes.
Regus, the world's biggest provider of flexible workplaces, had 42 business centres in Australia up until 20 months ago. Today it has 74. "The growth has been exponential," says Clive Dale, Regus development director for Australia and New Zealand.
"Hot-desking is going through huge growth at the moment and being very well received by many Australians, and people around the world. We did a study earlier this year across 100 countries and, found there is very strong support for collaborative working environments, of which hot-desking is a subset."
Knight Frank's new collaborative workspace at Angel Place in Sydney. Photo: Knight Frank
Dr Humphry, however, discovered that a major problem with hot-desking is the practices by employees of what she terms "officing" and "nesting". Many workers spend large chunks of time every day setting out their papers and documents, pens, staplers and other office equipment, as well as adjusting their chairs and computer screens to a height that suits them individually.
"People spend enormous amounts of time setting up their offices wherever they go," Dr Humphry says. "They invest a lot of time in creating the right conditions for work. That is a reduction in productivity.
"People just like to nest to be able to perform their work. They like to organise objects where they can sight them as memory aids, have study notes and papers.
"Not having a permanent position means they have to recreate them every time they move. Any cost savings could well be outweighed by such productivity losses."
Many people spend time setting up belongings and "nesting" each time they sit at a new desk. 
But at architects Woods Bagot, a firm that has helped redesign many corporate workspaces, principal Amanda Stanaway, a workplace specialist, argues that it's vital that hot-desking – or "agile" or "flexible" working – be accompanied by real cultural change at the highest levels of organisations.
"The most successful instances have been where it's been helped by a very strong management change process," she says. "It's less successful where it just involves people having to share desks rather than trying to rework how people work."
It needs to be just one element of a whole change in a company, she says, with the provision of social areas or coffee spaces for employee interaction and "serendipitous encounters", informal spaces for softer meeting rooms, more formal conference spaces, a series of long-term working points or desks, and a series of spaces for quiet and concentrated work.
Quiet, enclosed spaces that were once allocated on the basis of seniority in a company now should be available on the basis of need for the completion of intensely concentrated work.
"The changes can be driven by the need for collaboration on projects, creativity and innovation," Stanaway says.
Dale agrees. "For it to work, you need to create big open environments with quiet spaces and private zones," he says. "Then, from an employer perspective, it provides greater levels of efficiency. In any old-fashioned office, you'll see lots of empty desks around, and this is a much greater utilisation of office space."
Yet there's a lot more research still to be done of the system, advises Dr Humphry. "The real issue for organisations is understanding its long-term impact," she says, "and I'd love to know if there are organisations who've introduced it – and later ditched it."
Hot desk etiquette – 10 things to remember
1. Don't eat food at the desk. Your crumbs in a computer keyboard are annoying; someone else's crumbs are infuriating.
Crumbs on the keyboard – don't be that colleague. Photo: Shutterstock
2. If you have to eat at the desk, make sure you don't eat curried egg, anything containing anchovies or fish sauce, or any particularly smelly meats or fish. The next occupant doesn't want to have to deal with the odour.
3. Clear away all empty coffee cups smartly. There's little more depressing than having to deal with others' dregs before you go on to create your own.
Hot-desk mess. Control your coffee cups. Photo: Shutterstock
4. Don't put vital Post-It notes all over the sides of the computer monitor and expect them to still be there next time you work at the same desk.
5. If you find a document open on the computer screen, don't kill it. Save it before you log off the previous user and log in as yourself. You know you'd hope someone would do the same for you.
6. Never unplug the keyboard and computer monitor in the hope it will deter someone else from using your favourite spot.
7. If a pile of papers are left on a desk, don't sweep them into the bin. They could represent years of work … and some people still forget to back things up.
Be careful when throwing out paperwork. 
8. Back up all your documents, either on a cloud-based service or on a portable drive, just in case.
Save your work – and your sanity – by backing up files. Photo: Shutterstock
9. If you go for a run at lunchtime, run to work or have a workout, don't leave your sweaty exercise clothes draped all over the desk in the hope they'll dry. It might be unpleasant for you, but it'll be 100 times worse for the next user.
10. Resist the temptation to lug too many papers and books and print-outs around with you all day. Try to work smartly.
Work smartly by reducing your paperwork. Photo: Supplied