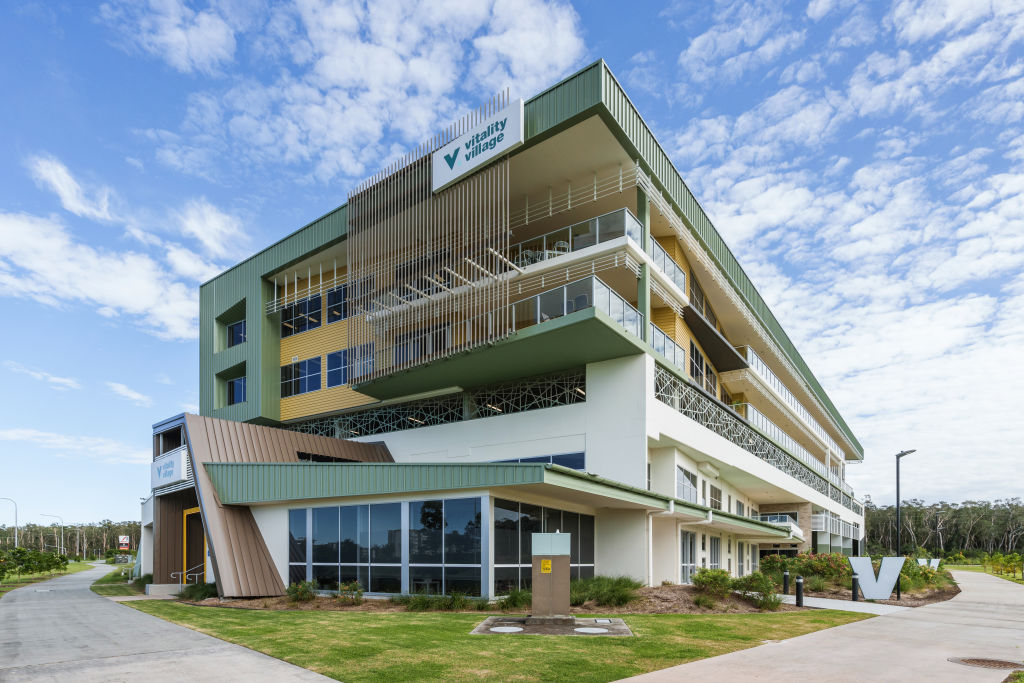 Investors come knocking as billions of dollars pour into healthcare precincts
Health precincts are among the most in-demand commercial assets in the world just now, and in Australia, the market for them is growing exponentially.
As quality healthcare remains at the top of every political agenda post-lockdown, both at the state level and federally, investors are increasingly scoping out the best as safe and profitable long-term bases for funds.
"It's about co-operation and collaboration between the public and private healthcare sectors, and the efficiencies that can come from combining so many facilities from a health and medical perspective," Andrew Hemming, the managing director of Centuria Healthcare, told a Property Council of Australia seminar on the sector.
"What we want to do in Australia is support manufacturing, testing, teaching and educating locally rather than offshore, so we'll have product to use locally. The pandemic was the perfect storm for that; supply was a massive issue. So, the more we can create and teach and treat here and create the IP, the better."
Australia has a growing number of healthcare precincts around the country, both in the cities and in regional and rural areas. Key drivers include the complementary mix of health and medical services so they can work together on strengthening the innovation ecosystem, as well as having the ability to test, manufacture and distribute health and medical products.
By grouping clinics, hospitals, research facilities and other health assets together, they will have the capacity to attract talent, and allow a population to live locally, secure in the knowledge that they won't have to travel to their nearest city for health services. Instead, they should be able to receive the whole span of healthcare in one main hub, from hospital treatment to outpatient services and nearby accommodation.
A good example is the Bloomfield Hospital at Orange in NSW, which services a population of around 90,000 living within a 50km radius. Services include radiology, pathology, a compounding pharmacy and a 24-hour emergency GP, along with the clinical training facility of the Charles Stuart University. In addition, the Bloomfield Medical Group has a base at the precinct, as well as a 23-room private hospital with seven operating theatres.
Today, such comprehensive healthcare precincts are attracting big money. The award-winning Vitality Village healthcare development within Australia's largest healthcare hub, the $5 billion Sunshine Coast Health Precinct, has just been listed for sale, with expectations of "northwards of $32 million".
The 4,636sqm five-level development, 12km south of Maroochydore, by the Double R Group is being sold via an Expressions of Interest campaign by CBRE. Agent Rem Rafter said, "Vitality Village has been designed to provide a truly collaborative health and wellbeing environment to identify and deliver significant improvements to healthcare and wellbeing through collaboration between providers, innovators, researchers, and the community.
"Given its close proximity to the Sunshine Coast private and public hospitals and an income profile that is highly weighted to the healthcare sector, we anticipate high levels of interest."
There are challenges in the healthcare market, however, with private operators and developers having to deal with international funding models, increased demand for private health services, changing marketing conditions and a focus on world-class precincts. It means that funds, operators and developers need to be adaptable to remain competitive in a challenging market, the seminar held last Thursday was told.
"It is an attractive market in Australia and a growing one," said Alex Belcastro, senior vice president medical precincts NorthWest Healthcare Properties. "We have an ageing population and a growing spend per episode of care. The spend on private health insurance is also declining every year and there are increases in pressure on both the private and the public systems."Meanwhile, the pandemic has accelerated public and private partnerships and the development of virtual care funding models, like telehealth, and medical technologies. Consumers are also increasingly choosing public healthcare while the system is currently under strain from workforce shortages and skill mismatches.
"But we're seeing some other shifts from the property perspective," said Belcastro. "Private operators have adopted more efficient short-stay, high-volume models and we're seeing a rise in the number of day-surgery small hospitals …
"At the same time, we know that public hospitals perform better when there are private hospitals nearby because doctors have both public and private appointments, and the public facilities need the private sector to come and invest."
In NSW, for instance, there's been a huge infrastructure spend over the last few years, with healthcare one of the top priorities. The NSW Government has invested a record $11.9 billion in health infrastructure to 2025, advises Troy Harvey, executive director development and commercial at Health Infrastructure, with a $2.8 billion program currently underway in 2022-23.
"There's a role for government here, and we're really focussed on delivering on that role," he said. "There are now more than 130 health capital works projects underway."
Health precincts are central to the vision being put in place, as they are seen to drive economic growth, knowledge jobs and innovation, while investment is also being leveraged to increase partnerships, commercialisation and innovation pathways and opportunities.
But collaboration between the different parts of the precinct is always critical for its efficiency, sustainability and long-term value, said Belcastro. When the public and private sectors, for instance, use different technology platforms for patient records and therefore can't communicate effectively, opportunities for closer co-operation and better healthcare are irretrievably lost.