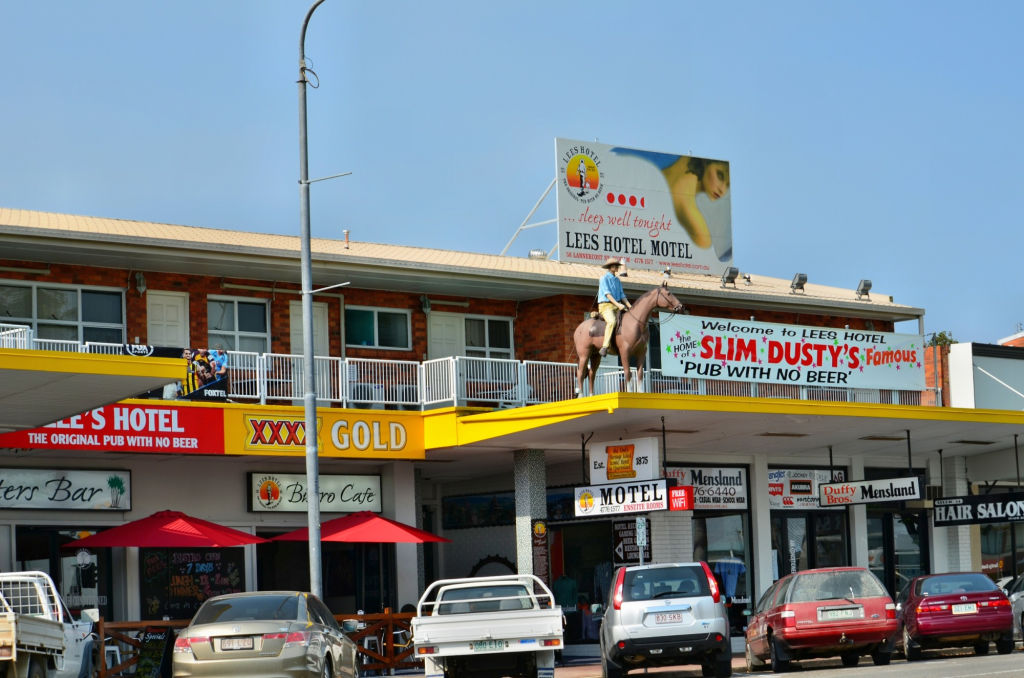 Ingham's famous 'pub with no beer' is back on the market
Owner of The Lees Hotel in Ingham, Ken Dark, says he is "shattered" to be selling the iconic pub, which was immortalised by Slim Dusty's song The Pub With No Beer, so soon after buying it.
Several months ago, Mr Dark and his business partner bought the hotel building, which included a restaurant, motel and several shops, but not the pub's leasehold business.
Now they say their circumstances have changed, and they are teaming up with the owner of the lease to sell the whole lot in one parcel – the first time this had happened in almost five decades.
Originally called The Day Dawn Hotel, the pub really did run out of beer during WWII when a contingent of American soldiers drank the pub's quota of beer dry. A local poet and cane farmer – Dan Sheahan – penned a poem about his misery at finding only wine on offer in place of his preferred brew.
Sheahan's poem became the inspiration for Slim Dusty's hit song in 1958, written by songwriter Gordon Parsons. During this time, The Day Dawn Hotel was dismantled and rebuilt as The Lees Hotel on the same site.
Whatever its name, Slim Dusty fans – of which Mr Dark is one – love to sit at the mango-wood bar and reminisce. But Mr Dark says nostalgia must give way to reality.
"I'm heartbroken because I am such a Slim Dusty fan," Mr Dark said. "But our circumstances have changed, and we are looking to raise a bit of capital, and this is an option."
Selling agent Antonio Curulli of Tourism Brokers said there had been "a steady flow of enquiries" for the freehold property, and not just from country music enthusiasts.
"The nostalgia can only run so far," he said. "It still needs to have profitability and cash flow."
Priced at just less than $3.5 million, the sale includes not only the freehold pub and its leasehold business but also the Herbert Valley Steakhouse restaurant (a finalist in the Queensland Hotel's Association Awards of Excellence for best regional restaurant), a 20-room motel, 12 gaming machines and three retail shops.
"Ideally, it would suit a family operation, perhaps a family that have moved up from the south to run a multidisciplinary property," Mr Curulli said.
"The price is within reach of a lot of people … and you get your half a million dollars worth of cash flow and a 15 per cent return on investment."
Mr Dark said he thought there was a lot more potential for the new owner to tap into the "grey nomad" market that would be interested in the hotel's lively history.
Current publican Glenn Connell agreed. "It's an absolute mecca for some people," he said. "People come in and ask, 'Is this really the place?'. The interest is extraordinary."