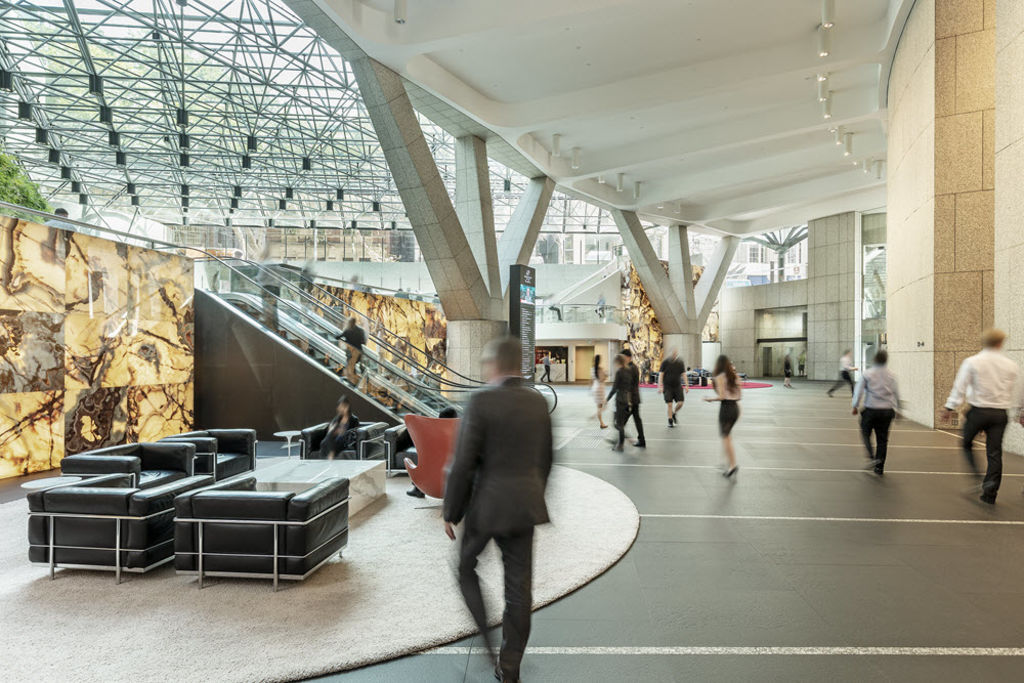 Iconic Grosvenor Place office tower first in Australia to install cutting-edge waste recycling system
Iconic Sydney office complex Grosvenor Place has become the first office tower in the country to install new technology that makes it easier for tenants to recycle their food waste, and saves an estimated $20,000 in waste fees each year.
The machine, the Enrich360 Dehydrator, does away with the need for compost bags and reduces the volume of waste that is transported away from the building, according to Grosvenor Place executive director John Derrick, who says the decision resulted from a "happy confluence of events".
"There is a demand [for environmental initiatives] from our customers, our tenants and it supports our customers. We also pride ourselves on being an environmentally responsible building," he said.
"On a financial front, it also makes sense. Every initiative we take does save money. This is an example of something that has a very quick pay-back."
The machine dehydrates the food collected from office and retail customers in the building, then heats and cleans the biomass converting it to a fertiliser, resulting in a dirt-like end product in as little as 24 hours.
Environmental benefits include reduced landfill waste and methane output from degrading food, according to Grosvenor Place.
Geoff Hilbourne, contracts and operations manager at Grosvenor Place, said the projected cost savings from the technology over the building's food waste system – around $20,000 per annum – had much to do with the reduced volume of waste.
"We did have a food waste stream operating on-site [but] the problem was that we had to use a lot of compostable bags which were expensive and the pick-up and transfer offsite was very expensive as well," he said.
"This system does away with compostable bags and the actual final product that's removed is one-10th of the weight of the food waste."
Mr Hilbourne said the technology was being leased for about $1500 a month and more than 10 tonnes of discarded food had been processed in the first three months of operation.
Building tenants are provided with 22-litre bins which are swapped out by the cleaners on a regular basis. The system is capable of handling almost all food waste with exception of oyster shells, corn husks and large bones.
The system was installed in March and its first full month of operation was in May. It has been rolled out with the building's hospitality operators, who produce the majority of waste, as well as office tenants who have expressed early interest in the project.
The plan is eventually have bins in all 70 or so of Grosvenor Place's tenancies.
Mr Derrick said the building, which hosted up to 6000 occupants prior to the pandemic, would continue rolling out environmental initiatives such as the waste dehydrator regardless of speculation about changed office-use patterns post-COVID-19 pandemic.
"The use of commercial office space is not going away. What you're referring to is people thinking about these spaces differently," he said.
"[Any change in office use patterns] does not negate the responsibility to be environmentally responsible."
Get a weekly roundup of the latest news from Commercial Real Estate, delivered straight to your inbox!