How the commercial real estate sector will evolve to support hybrid workplaces of the future
It started slowly as a trickle, widened into a stream and now we're seeing a veritable flood of companies moving back into the Sydney CBD from the outer suburban locations they've been sampling during the COVID-19 pandemic.
"Sydney CBD is a real destination and a lot of employees just didn't want to return to offices in other places," said Simon Fenn, managing director of commercial real estate Australia and New Zealand Cushman & Wakefield. "It's easier for transport being in the city centre, with a lot more suburban connections. 
"Sydney is a real drawcard too for talent, especially when there's a lot of competition to recruit new talent and retain good talent. As a result, we're not seeing a lot of decentralisation from the more agile small to medium-sized companies and it will be another 12 months to two years before the larger companies start making their decisions."
This is a complete turnaround from the dire predictions at the start of the pandemic in January last year, when it seemed so many CBD offices in both Sydney and Melbourne would be sitting empty of their workforces. With most employees working from home during the various lockdowns, it was thought they might never want to return to a corporate environment, and firms would be slashing the amount of office space they leased in the cities as a result.
Instead, there's been a huge demand for space, an AFR Property Summit panel on the workplace revolution heard on Wednesday, with far fewer companies retracting the space they lease than initially forecasted, and many wanting to invest in office assets.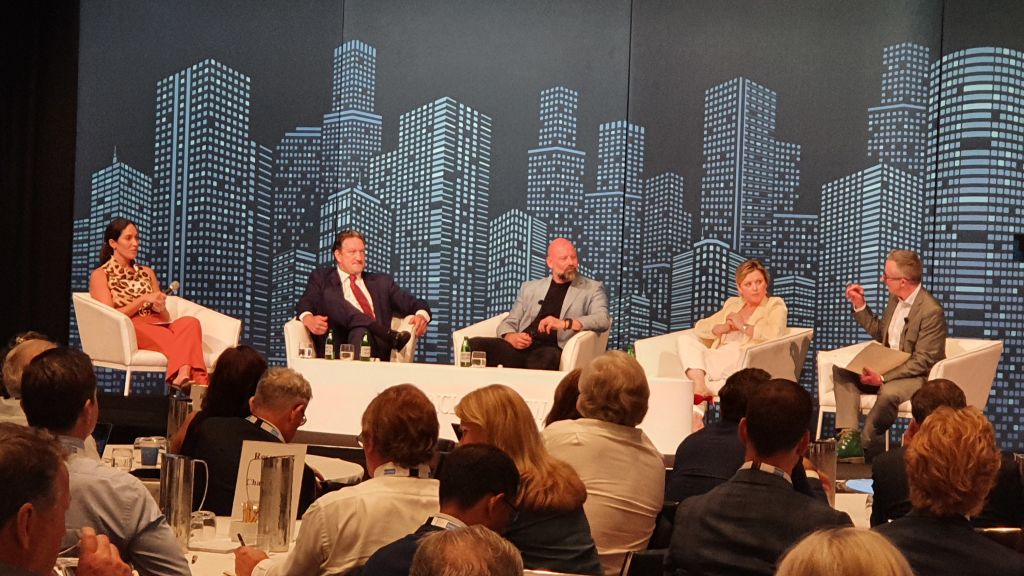 Carmel Hourigan, Office CEO, Charter Hall told the summit, "There is so much capital who are recognising Australia as an office destination; it's managed COVID really well and we are ahead in terms of vaccination rates and they're seeing good returns from office." 
Companies have also often grown during the pandemic, or are looking at strong growth prospects in the near future. "The briefs we're receiving now are not just about what (office) space is needed, but how do we accommodate growth?" said Bill Dowzer, principal architect, BVN Architecture.
"Do we do it within the footprint we have, or do we look for additional space? And the top thing on the agenda is access to natural light and outdoor space." 
While some are certainly reconfiguring their offices to take into account employees still planning to work two or three days a week from home, they're often taking up exactly the same footprint but redesigning it as meeting, conference and collaboration space – the kind of functions that can't take place at home.
"My view is that there won't be a one-size-fits-all solution and what firms decide to do will be different depending on the type of business, what they do and where they are in their stage of growth," said Mr Fenn. "But we're not seeing a major reduction in the demand for space.
"The forecast for the economy is good and some are saying there'll be four times more employees required for the CBD than there are. Business has been in a holding pattern for two years and people are now feeling confident and they're looking at hiring, retaining and expanding. 
"We're also now dealing with a lot of companies we never really knew about before – finance companies who now need space after working in shared offices, companies that have grown like food delivery Menulog which is a big user, we have TikTok now in the market too and Atlassian is filling a lot of the void."
In addition, there's evidence that much of the workforce has grown weary of working from home with the endless Zoom conferences, and are eager to move back into the office, although rarely full-time. Companies are reacting with a flight to quality – wanting office space that's flexible and attractive enough to lure them back.
Jessica Glew, Joint Managing Director and COO, WOTSO, says she sees many hybrid models now emerging. "I think of it more as work near home," she said. "We now have a hybrid way of working, not just going into a head office in the CBD, but working near home with a hub and spoke model and then working at home. Work life now can be very productive in each of these spaces."
There's also a much stronger emphasis now on healthy, environmentally sustainable workplaces, with plenty of natural ventilation to keep employees well, and make them feel safe and secure.
"Health and wellness in offices is going to be a main consideration rather than a point of difference," said Mr Fenn. "That will be something landlords will factor into their premises. This next phase will be a very exciting one."