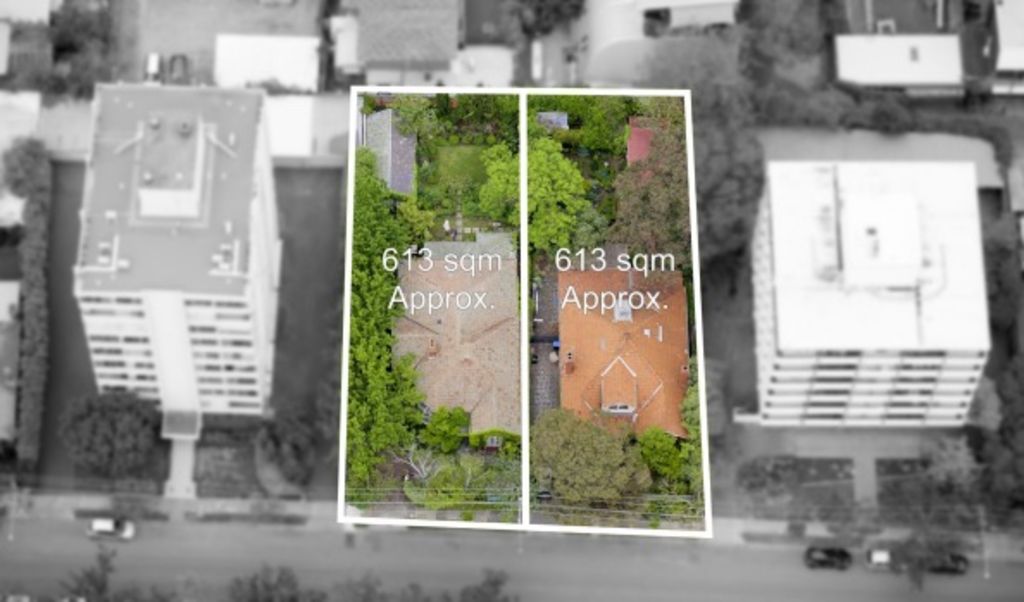 How it sold: Prahran blocks go for $9.6m
The Australian Financial Review has spoken to the team behind the most intriguing recent home sale for our new weekly column, How it sold.
The Property: 5 and 6 Sydney Street, Prahran. Two neighbouring blocks owned by the same vendor, creating a 1200 square-metre development site opposite Orrong Park, with uninterrupted views towards the city. Sold $9.6 million.
Who was the agent? Nicole Gleeson, Kay & Burton. Auctioneer Gowan Stubbings, Kay & Burton
How long was this on the market? [Gowan] 30 days
Why did this one sell? There's a moment in an auctioneer's life where you rarely come across a scenario like that. We had an expression of interest campaign that concluded with an offer. Everybody who had an interest in that offer wanted transparency, so we converted it into a private auction.
Was it overpriced? The site was so rare. Two houses side by side with the potential to build, the property was priced according to the market value but on the day there was enormous interest.
What did you think it would go for? We thought $8m would be an outstanding result.
What was surprising about it? Normally with boardroom auctions between two and eight people turn up. We had 28 interested parties. These people never turn up on their own, either. People were spilling out of our boardroom into the reception and up the stairs. There must have been 60 or 70 people. The different strategies people have to bid – some were the wink of an eye, some put their hand in the air, some didn't want to be seen by the counter parties bidding, some were happy to be seen by the rest. [The winner] stood in corner of the room. Everyone could see him. He was there to make a statement. He wanted to buy. He let it run as hard as it could until there were only two bidders left, then he started to come in and bid with great authority, in a very visible position.
Dealing with the professional crowd is different from a Saturday auction of mum-and-dad bidders. This was a professional crowd that had done their professional due diligence, knew what it was worth to them and knew what their limits were. It wasn't fast-paced. They were professional developers. They knew the game.
Do you reckon we'll see another result like this a) next week b) next year c) next cycle d) never:
d) If I were trying to find two blocks together, owned by the same family, with the ability to get those views up over the park across the road, it might be generations before I find it again. It might be never.
I would recommend this property for: Developers. There were two old homes that could be demolished – the end play was really going to be development sites.