The rise of Kehoe's Kitchen
Australia's first certified organic producer of probiotic cashew dips, sauerkraut and kimchi, Kehoe's started from humble beginnings.
How a change in diet inspired a Brisbane couple to start fermented food business Kehoe's Kitchen
Probiotic fermented food producer Kehoe's Kitchen has been on a mammoth journey from small market stall to the grocery shelves of a major supermarket chain – all in the space of six years.
Commercial Real Estate spoke to the founders, husband-and-wife team Brenden and Katrina Kehoe, about their journey, why finding the right space has been so important for the growth of their  business, and the challenges that the COVID-19 pandemic and a summer of natural disasters have presented to their future expansion.
A gut feeling 
Australia's first certified organic producer of probiotic cashew dips, sauerkraut, kimchi and fermented vegetables, Kehoe's started from humble beginnings, driven more by a desire to ensure the health of the family than establishing a business.
[dm-listing-recommendation experimentname='midcontent-listings' positiononpage='midcontent']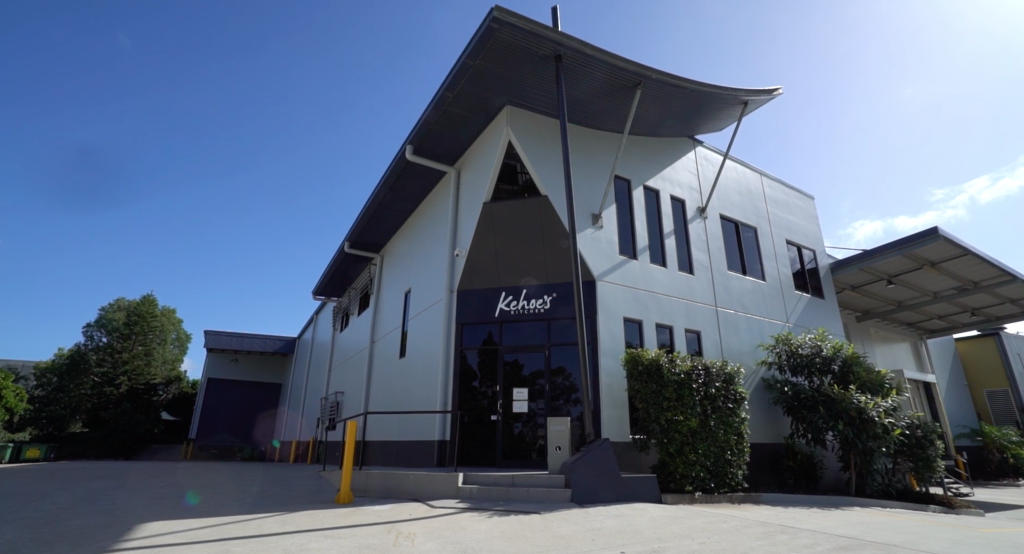 "Kehoe's Kitchen first started as a food blog and Facebook page for families like ours who had health issues and food intolerances," Brenden Kehoe said.
"After seeing a number of different doctors about various issues, we found that changes to our diet made good improvement with our overall health. Katrina was keen to share this and was using her personal social media to do so."
From a simple Facebook page grew an organic food production business, the products from which were sold at a weekend Northey Street market stall in Brisbane that soon became so successful that the pair quit their day jobs in order to keep up with demand.
Production started in their first commercial kitchen on the lower floor of their family home, but they soon realised that they'd need more space, especially when they started selling their products in health food stores.
The rest is history – we designed and built another facility in a 300-square-metre warehouse in [the Brisbane suburb of] Murarrie, outgrew that and expanded into the 450-square-metre warehouse next door and also outgrew that," Brenden said.
"Over more than six years of operation, we have had to expand our facilities four times to cope with increasing demand for our products, better and more efficient equipment and our ever-expanding range and products in development," Katrina said.
They now lease a 2212-square-metre warehouse in Murarrie on 4050 square metre property, where the range of probiotic products is developed, produced, packaged and cold-stored.
And Katrina's advice for business owners weighing up how much commercial space they need? Seek as much flexibility as possible.
"Negotiate a lease and building that grows with you and your business."
Navigating floods, fires and pandemics
But it hasn't been all smooth sailing, with the fickle nature of supply chains and the restrictive COVID-19 lockdown measures forcing the Kehoes to think outside the box.
Having leased a commercial space in 2019 that was more than three times the size of their existing one, they were all set to ramp up production to match – looking to export markets in Asia as well as a partnership with Australian supermarket giant Woolworths as a source of increased demand.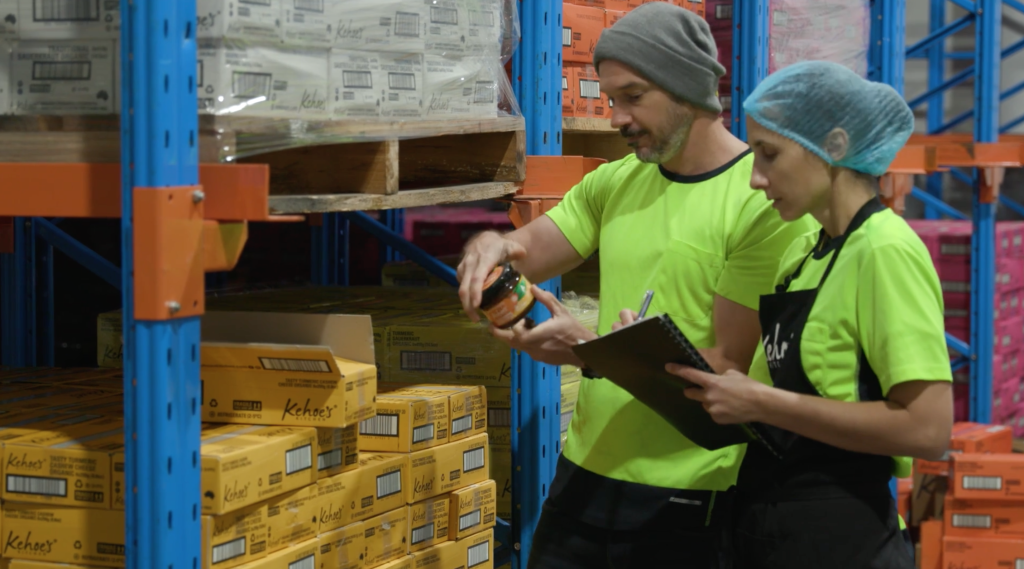 But a summer of devastating bushfires followed by floods compounded problems in securing enough ingredients for their kimchi – the biggest seller in the range.
"Kimchi is traditionally made with wombok but because of the floods, and a seedling shortage, there was just nobody who had any organic womboks in all of Australia last year," Katrina said.
Thankfully, the business had supply of enough sauerkraut drumhead cabbage to come up with an innovative solution.
"We had enough sauerkraut cabbage available to make kimchi kraut and we've been doing that since then with our kimchi – topping up kimchi stock with kimchi sauerkraut instead of traditional wombok kimchi.
"Kimchi sales have suffered a little because of that, but on the other hand some people have been saying they love the substitute product."
The local Queensland wombok season has just started and wombok kimchi will be available again in early July.
Then the arrival of the COVID-19 pandemic meant that an expected expansion into Woolworths' online store in April was put on hold, as were plans to enter the export market.
The business has been able to access JobKeeper for some staff as a result of business growth not meeting financial projections with their increased overheads, although the seasonal nature of the business meant that not all employees were eligible.
But their existing relationship with Woolworths and nation wide independent stores means they are handling the pandemic with greater ease than many other businesses.
Their presence in physical stores has been slowly expanding, although this too has been hampered by the pandemic.
"We're now in over 1000 independent stores and 438 [Woolworths] stores, whereas before April we were in 227 Woolworths stores," Katrina said.
"We are expanding, just not at the rate we expected."
And the couple are preparing to be on the front foot when restrictions on air freight are lifted, researching the Asian markets they will tap first.
"Some of the countries [we're looking at shipping to] don't have food security and don't have their own food supply," Katrina said, with Singapore and Hong Kong at the top of the list, followed by the Middle East and Japan.
"We'll probably start sending out samples soon … a lot of it just depends on the airlines and when they resume flights now," Katrina said.
[dm-listing-recommendation experimentname='below-content-listings' positiononpage='belowContent']
Keep up with Commercial Real Estate news.
Keep up with Commercial Real Estate news.