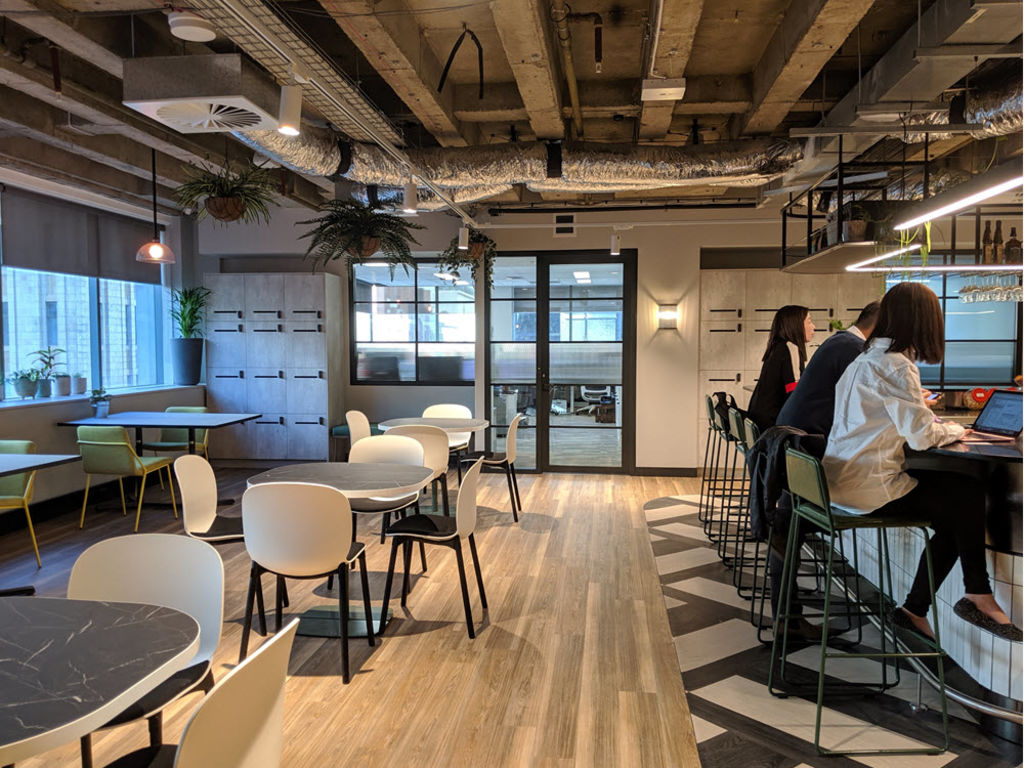 Hong Kong-based landlord Terraform Capital opens coworking space in Sydney
Hong Kong-based Terraform Capital has become one of the first private landlords to operate flexible workspace in one of its own assets, dedicating 20 per cent of the Sydney CBD building to the growing sector.
The asset and hospitality management company has converted 1200 square metres over two levels of its 12-storey building at 171 Clarence Street into a coworking site, named Playground, which opened this week.
While Terraform owns five buildings in Sydney, the site will be the company's first flexible workspace in Australia.
Jackel Cheung, head of property at Terraform which he runs with his brother Theo, said operating coworking space within their own building, rather than engaging an external operator, was part of their "agile asset management" strategy, aimed at increasing the value of the building.
"One thing that a lot of people haven't done is, if you can also do an operation and that operation draws people in, then it increases the usage value of the building," he told Commercial Real Estate.
"That's where coworking directly comes in, but more hospitality-based."
Hotels had been using a similar strategy for decades and the brothers, who grew up in Sydney, were applying the concept into commercial real estate, Jackel said.
"That's why we built up our own coworking and our own restaurants and events so that we can use that as a basis for more value-add, rather than just a simple change of use or engaging an operator," he said.
Landlords take on operator role
The strategy's end goal is to retain the benefits of running flexible workspace without relying on external parties, as most of the value created by the coworking movement is being taken by operators such as WeWork.
Operators typically do not own the asset but lease a portion of or, in some cases, the entire building to run the coworking business.
Jackel indicated that they would only open flexible workspaces in the assets they own.
"We try to avoid simply labelling it as another coworking space because it's a whole strategy we're implementing as a landlord, to increase the value of the asset, rather than simply running a coworking space as an operator."
Several major landlords in Australia, including Dexus, Mirvac, GPT and ISPT, have opened their own flexible workspaces within buildings they own, but it has been active in a relatively smaller part of their portfolio.
Theo Cheung, head of hospitality and strategy at Terraform, said the requirements of getting their hands dirty and lowering their return expectations meant it did not make sense for landlords or developers to do operational businesses, particularly on a large scale.
"The mindset is very different, when you develop something and you sell it, versus operating a business or restaurant, it's very different," he said.
"The profit and rewards don't stack up for them; managing buildings will make much, much more and you spend less time on it."
He noted that operating only made sense for them by integrating that operation into our asset management strategy.
"I think having a hospitality side to a building, to us it's giving it a soul," he said.
"Without the hospitality side to the building, it's just bricks and mortar, but having a restaurant or a cafe or a coworking space, it gives life and soul to the building."
A gin bar in the basement of the building and a rooftop bar with food-and-beverage, lounge and some offices are on the cards.
Foreign operators eye Sydney
Theo said Australia was a "natural extension" for many foreign coworking operators based in Asia, with Sydney being seen as "the door" to the Australian market.
But he believed they would find it difficult to enter the Australian market due to a different mindset.
"A lot of the drivers [for coworking] in Asia is because they're claiming there's a lack of space because space is very expensive, that's why they want to share an office with other people," he said.
But he said the value proposition for coworking space was flexibility, community and lifestyle.
"It's not just a real estate business, it's a hospitality business. We emphasise a lot on the community part, and using our hospitality background, that's how we build up community around it," he said.
"So if the Singaporeans or other Asian operators, if they don't catch this, if they are using the same value proposition from their own market, they will find it difficult to enter the market and they will have to adjust."
Unfazed by the multiple coworking operators in Sydney, the pair believe flexible workspaces are a trend that will stay, dubbing it "a fundamental change and a revolution to the workspace".
Jackel said they were "not too concerned" about competition and believed that there would be more demand for the market in the future as more workplaces switched to this way of working, particularly in Sydney.
He said some traditional operators in the market took advantage of lower rents from the landlord and tried to charge a higher membership fee, pushing for a wider spread.
"The lower rents they pay and the higher member fees they charge, the more profit they make," he said.
Terraform recently acquired 117 Harrington Street in The Rocks for $21 million, and indicated they would apply the same agile asset management strategy to that asset.
Get a weekly roundup of the latest news from Commercial Real Estate, delivered straight to your inbox!