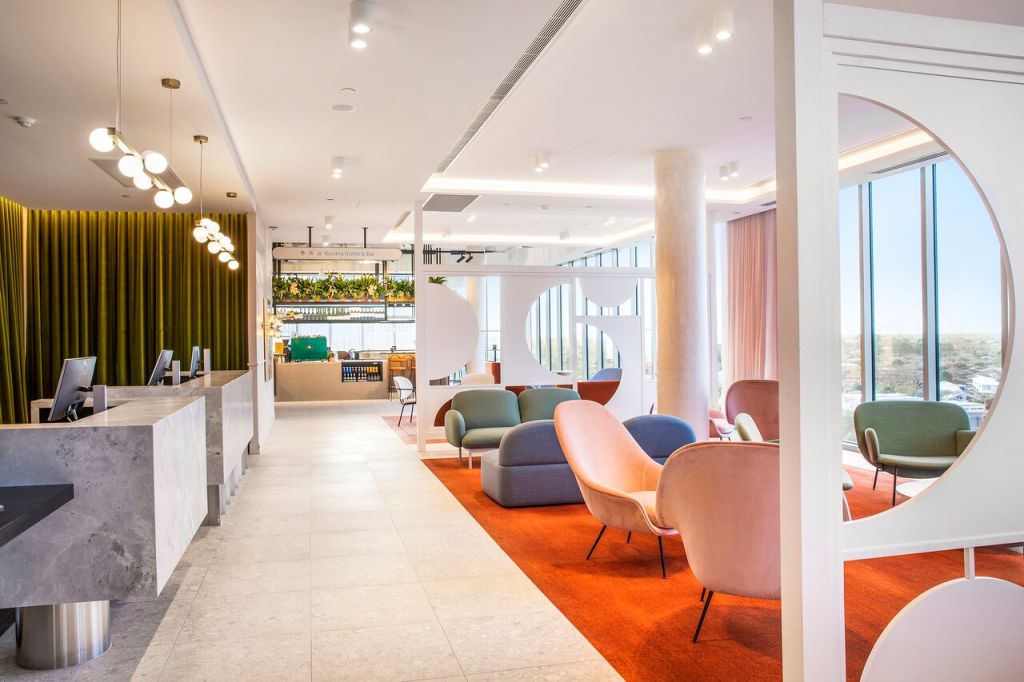 Holiday Inn lobbies for change as guests get out of their rooms
Holiday Inn is pressing ahead with a $200 million rollout of new Australian properties despite the impact of COVID-19 on travel patterns, while transforming its hotels with open lobbies, the biggest design change for the brand in more than 20 years.
Matthew Tripolone, managing director Australasia for IHG Hotels & Resorts, said guests increasingly want to congregate, meet, eat, linger and work in hotel lobbies rather than check-in and stay in their rooms.
"That's where consumer trends are headed – they're becoming a community space within a hotel," Mr Tripolone said.
The open lobby move at Holiday Inn is expected to generate a 15 per cent lift in food and beverage revenue based on international results and also improve guest satisfaction.
"New properties are rolling it out now, and I would imagine over the next three to five years all of our Australian properties will have an open lobby," he said.
Developer Ross Pelligra, who owns two Holiday Inns and is building two more, said the concept dramatically improves the guest experience but also brings new challenges.
Mr Pelligra has incorporated an open lobby into the recently opened Holiday Inn Werribee in Melbourne and will retrofit the concept into his Melbourne Airport property.
"It is a big area, 2200sq m of food and beverage at Werribee, so there's a lot more space to manage," he said.
There are 13 Holiday Inns in Australia and six more – five of them in Victoria – due to open over the next two years.
To date, Holiday Inn has been primarily an urban brand but Mr Tripolone said it would become more regional, consistently the strongest market since the pandemic hit in early 2020.
Mr Tripolone said CBD business was still slow across the IHG network, which also includes the Crowne Plaza and InterContinental brands, impacted by the slow return of corporate travellers and absence of international tourists.
"Obviously the last 12 months have been pretty challenging in the city. We haven't seen corporate come back in the volume we would have liked, generally it's nowhere near where it used to be," he said.
"Our regional hotels have traded through the roof when there's been no restrictions, and for the next six weeks, we're full.
"If you were to ask me for a room at Crowne Plaza Hunter Valley or the InterContinental Hayman Island or Sanctuary Cove, we'd be hard-pressed to find you one and rates are extremely strong."