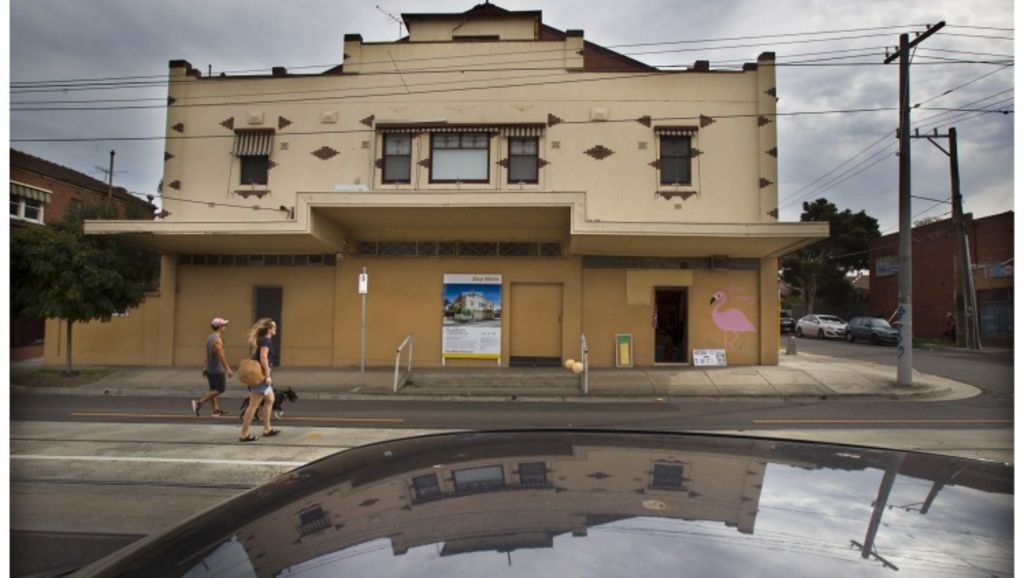 Historic Rivoli cinema in Preston for sale
For all those with fond memories of back-row kisses in Melbourne's old cinemas, here is a property listing that might just break hearts.
The Rivoli Theatre in Preston is on the market, again, and does not have heritage protection.
The multimillion-dollar block at 71-75 Gilbert Road goes to public auction on April 21.
Preston's old Rivoli cinema. Photo: Simon O'Dwyer
It was last listed for sale in July 2015, asking $5 million, but was withdrawn from the market. The former agents were emphasising the historic site's development potential and wide frontage.
"Its location is earmarked for high-rise development (STCA)," the old advertising said.
Spread over four titles, the theatre is a shadow of its glory days, when it could seat about 800 moviegoers.
A restorer's delight: potential for the site is enormous. Photo: Simon O'Dwyer
Vendor Joe Risicato has owned the Rivoli for about 30 years, from which he has operated his chemical cleaning business Universal Wonder.
He said the cinema screen, ceilings and walls of the auditorium were in tact, but the seating had been ripped out.
When the keys passed to him decades ago, the theatre's golden area was already long over. Mr Risicato said he had never found a stray film reel, scrap of a movie poster or any relic from its halcyon days.
It's being used as storage now, but a keen eye could see the building returned to its former glory. Photo: Simon O'Dwyer
Theatre buffs still come by for a stickybeak, he said.
The Rivoli opened about 1935, at a cost of more than £7000, but the celluloid stopped rolling by the late 1950s, according to local historic records.
No longer showing Shirley Temple features, it became offices and a warehouse.
City of Darebin confirmed the site, at the corner of Oakover Road, does not have heritage overlay.
Council's assets and business services director Steve Hamilton said no planning applications had been submitted.
"Council's strategy for this residential area does support some increased residential development along Gilbert Road, which is part-residential, part-commercial and along the tram route," Mr Hamilton said.
"However, this is to be low-rise and respectful of the general character of the area. The area is not supported for high-rise development [more than four storeys].
"There is no heritage protection overlay on the building. Any planning application would be subject to council approval."
The four titles include a two-bedroom apartment and the theatre.
Ray White agent Angelo Bafunno said buyer interest ranged between the mid-$2 million and low-$3 million mark.
He said the cinema could be restored, because many authentic features have survived.
"They have kept a lot of the originality, but they have also altered in ways where it can be easily brought back to its … glory, but obviously with a fair bit of work," Mr Bafunno said.