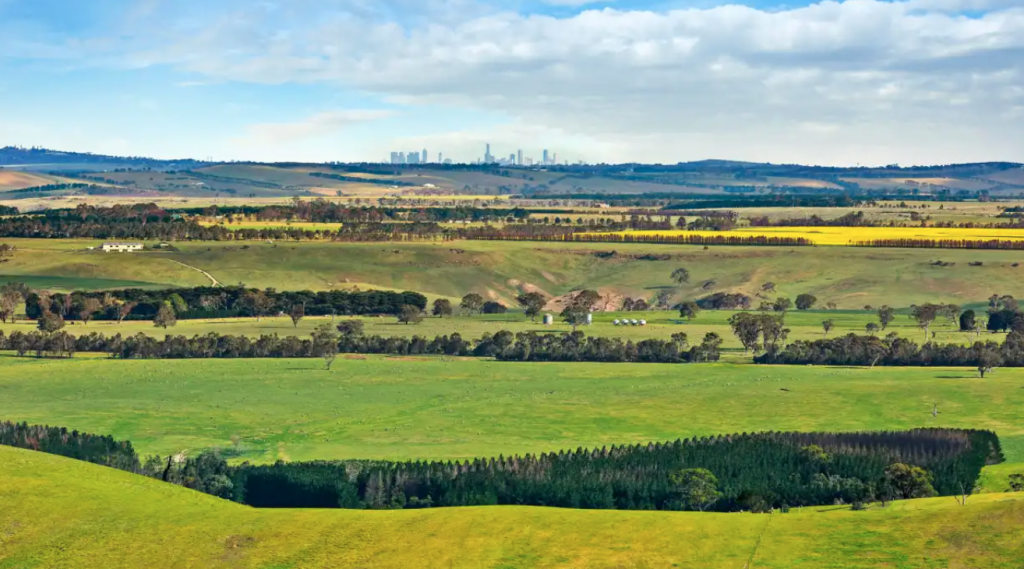 Historic farm on block as $18m land bank
Five years after it was last listed for sale, historic Glengarry Station in Victoria's Macedon Ranges is back on the market with price expectations of about $18 million.
The 720-hectare property on Romsey Road in Darraweit Guim is one of the largest contiguous land holdings on the fringe of the Melbourne urban growth boundary.
It's again being pitched as a future land banking opportunity.
An indicative subdivision plan drawn up by planning consultancy Tract envisages a mix of rural and low-density residential lots to cater for "the current strong demand for country cosmopolitan-style living" as well as a number of equine facilities.
"An offering of this scale and with such proximity to Melbourne's urban growth boundary is very rare and represents a significant opportunity for a landbanker to take control of a highly productive agricultural asset with future development upside," said Frank Nagle, managing director of Biggin & Scott Land.
Mr Nagle is selling Glengarry Station with colleague Callum Williamson in conjunction with Abercromby's Robert McArthur and Jock Langley.
Situated about 43 kilometres from the centre of Melbourne, Glengarry Station has been progressively acquired and farmed by the McDonell family since 1861, producing AAA merino wool and quality fat lambs.
About 320ha is being used for intense cropping activity,whilst the remaining 400ha is used for sheep and cattle grazing.
"The farm, however, is known for its complete flexibility in its ability toproduce dairy, cropping and horticulture activities," said the selling agents.
Glengarry Station boasts two homesteads – including a four-bedroom residence dating back to 1937 – set in picturesque gardens along with workers' living quarters, sheds, sheep and cattle yards.
Mr McArthur said Glengarry's rich soils and gentle topography, together with a reliable water source, allowed for year-round intensive farming activity and an estimated carrying capacity of about 16 adult sheep per hectare.
It is a 10-minute drive from Wallan and Romsey (where there is substantial new housing development under way), and about 15 kilometres from Kilmore.
Melbourne's northern growth corridor is about 6km away and home to a number of large housing projects, including Stockland's 1141ha Cloverton housing estate and MAB Corp and GPC's Merrifield City, a 7000-lot housing estate with an adjoining 300ha business park
It was offered for sale at the same time as another large urban farm holding in the Darraweit Guim area, the 1388ha Fairfield, was put on the market amid speculation someone might buy both.
However, property records show the Bright family sold Fairfield for $17.5 million in May 2018 to Toorak-based Angela Williams's Lawn Views.
Glengarry Station lies about 25km north-west of another historic farm being offered as a housing estate.
With the farm offering the potential to support between 900 and 1000 housing lots within the already approved Donnybrook Woodstock Precinct Structure Plan, it is expected to sell for more than $100 million.