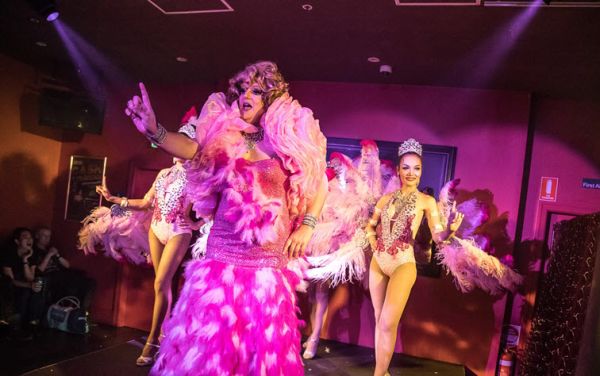 High rents and falling patronage force many gay bars to close
After 35 years as one of Sydney's best-known gay nightclubs, The Midnight Shift, shut its main doors for the last time two weeks ago, leaving only the smaller upstairs bar to open on weekends.
In Melbourne, the beloved gay bar The Greyhound (or GH) has been demolished to make way for what is expected to be apartments on the site of the former 163-year-old building. While in Brisbane a number of gay venues have closed over the past few years.
Like so many other defunct gay venues around Australia, they've all fallen victim to soaring commercial property prices, high rents, state government licensing laws, online apps for meeting like-minded people and, say some, the LGBTQI's own victories.
The former Greyhound Hotel in St Kilda is to be turned in apartments. Photo: Penny Stephens
[dm-listing-recommendation experimentname='midcontent-listings' positiononpage='midcontent']
"In countries like Australia, we have become victims of our own success," said Noel Lee of The Bookshop Darlinghurst, Australia's longest-running bookshop for lesbian, gay, bisexual, transgender, queer and intersex people, a hub for the community and unofficial information centre for gay Sydney for 35 years.
"With a lot more mainstream acceptance, younger people haven't been forged by the same forces that created the original sense of community and need for exclusivity of the older generation. A lot of people moved online to make connections and young gay kids go to mainstream clubs with their straight friends. These kind of venues just aren't needed in the same way."
Yet many lament their passing. Once the epicentre of gay Australia, Sydney's Oxford Street is today a pale shadow of its former vibrant, pink self, with many boarded up shopfronts and empty premises. Gone are The Albury, the Gay Bar and the old Exchange – now an Italian restaurant and bar – while The Oxford Hotel, The Colombian and Kinselas are no longer as gay as they once were.
It's probably no coincidence that, in a top-100 ranking of LGBT cities, released in June to mark London's Pride and the 48th anniversary of the Stonewall riots, Sydney came in at a lowly 32 on the list. Melbourne did markedly better in the rental accommodation aggregator Nestpick's study, at number 14, while Brisbane appeared at number 65.
Still, the gay scene in Melbourne is decidedly flat, with GH's closure leaving only a handful of gay venues still buzzing. Tom McFeely has been at The Peel Hotel in Collingwood for the past 27 years, 22 as its owner.
Tom McFeely, owner of the Peel Hotel in Collingwood, says the LGBTQI community still need somewhere safe when they go out. Photo: Angela Wylie
"I don't agree with the argument that the gay bars aren't needed so much more now because the community has been accepted by everyone else," he said.
"Yes, they do feel more comfortable in straight bars, but the game-changer is when they want to be more intimate with each other in the same way a boy and girl might be.
"They may be welcomed into those bars, cafes and restaurants, but that doesn't mean the customers and staff treat them in the same way as other couples. So we still need safe places for guys. But sadly, there's only a few venues left, and a few others that might have just one gay night a week."
The major factor in the decline of these venues throughout Australia is undoubtedly economic, believes University of Western Sydney geography and urban studies associate professor Andrew Gorman-Murray.
When gay venues first started to open in the 1970s, they were in run down, cheap parts of the inner city, he said. That low cost was an important enabler for the gay community, just as it has been elsewhere across the English-speaking world, including in San Francisco, New York, Toronto and London.
Performers outside the Stonewall Hotel, in Sydney's Darlinghurst, one of the few gay venues left on Oxford Street. Photo: Supplied
"Since all those areas have been undergoing gentrification over the last 20 years, the cost of commercial property has become a great inhibitor to sustaining gay venues in these villages, which were originally called ghettos," Dr Gorman-Murray said.
"The high property costs, both commercial and residential, in those areas make it hard to sustain both gay venues and a gay residential population. As venues close, it's harder to replace them with another 'gay'-owned or targeted venue. And given housing and rent costs, there seems to be less of an in-flow of young people to these areas than in the previous couple of generations."
Colliers International NSW residential director David Chittenden said older empty-nesters were often moving into those inner city suburbs instead; Noel Lee, from The Bookshop Darlinghurst, said many brought with them a lack of enthusiasm for the nightlife that made these areas so desirable in the first place.
In addition, the commercialism of events like the Mardi Gras had diluted their LGBTQI DNA and the NSW government's "lockout laws" had sent people elsewhere, such as Newtown and Enmore Road, for permitted late-night action, Mr Lee said.
At the Stonewall Hotel on Oxford Street, in Darlinghurst, about to celebrate its 20th anniversary, marketing manager Glenn Hansen said many of the surviving venues were struggling. "It would be good if commercial rents were dropped a bit and hopefully the area will be allowed to regenerate," he said.
"We offer entertainment seven nights a week but it would be nice if there were more gay venues still around so people could still go club-hopping."
While some bars and hotels have changed to being 'gay-friendly' in a bid to broaden their demographic customer base, that was also a risky strategy, said Brett Lasham of Melbourne's men-only The Laird, in Abbotsford.
The Laird, a gay pub in Melbourne. Photo: Carmine Caputo
"It's often a Catch-22," he said. "Some of the regular crowd then say it's not like the old place any more, and the new straight crowd may not necessarily turn into long-term patrons. For your regular customers, it's more about the atmosphere, and being among like-minded people, and you can run cheekier entertainment without the risk of offending anyone."
Brisbane has also seen many of its gay venues close or become straighter. At the Sportsman Hotel in Spring Hill, the gay hotel that owner Neil McLucas believes could be the oldest – at 28 years – gay-owned and gay-run premises in Australia, he has watched many venues close down.
"We advertise ourselves as being the main gay and lesbian venue and run seven nights a week with drag shows, bingo and pool and other entertainment. These days, however, we don't have much competition!"
The Wickham Hotel in Fortitude Valley has just undergone a major renovation – and transformation into 'a place where people of all identities can meet, drink, party, and eat'. Manager Andrew McKillop said 70 per cent of the clientele was still gay.
"We also do have a lot of gay functions," he said. "That is still part of our marketing focus. I just feel that many of the gay community feel much more comfortable in straight company."
Melbourne's Tom McFeely said while these days gay people were welcome just about everywhere, and their 'picking up' was mostly done using mobile phones, there was a still a need for gay bars.
"Each time I've thought about throwing in the towel, there's always been someone who approaches me to thank me for keeping The Peel going, and say how much it's meant to them."
[dm-listing-recommendation experimentname='below-content-listings' positiononpage='belowContent']
Keep up with Commercial Real Estate news.
Keep up with Commercial Real Estate news.