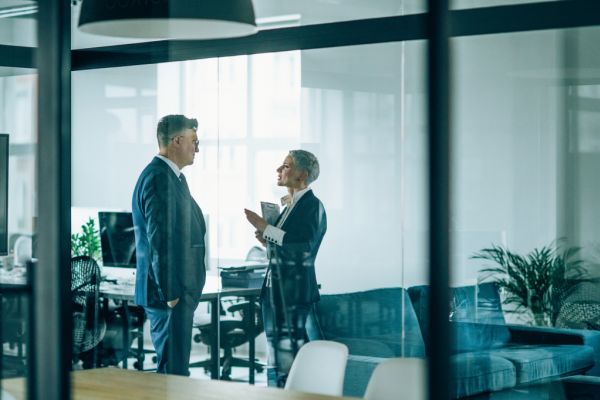 Has the COVID-19 crisis dragged the legal office into the 21st century?
Law firms are among the industries most resistant to change, but the COVID-19 pandemic could revolutionise the types of offices they require and the way their staff work.
As firms reassess their space in the next five years, gone will be the grand entry foyers and emphasis on the best views, says Simon Pole, the global director for design at Unispace, who has designed legal offices in Europe and Australia for the past two decades.
"[Firms will be] questioning the size of waiting areas and asking 'Do we want people lingering and hanging out together in an impressive waiting space?' It's about challenging the idea of 'look how successful I am' with the impressive water views or fine art collection," Mr Pole said.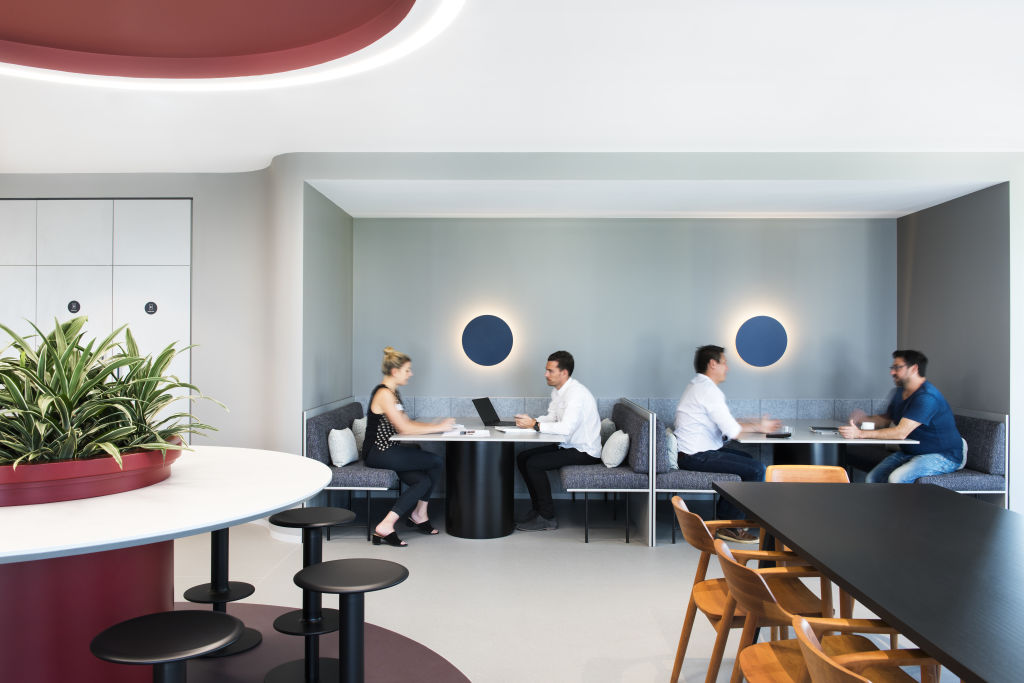 [dm-listing-recommendation experimentname='midcontent-listings' positiononpage='midcontent']
The level of informality that was inherent in working from places as humble as the family dining table during lockdown meant that firms would also likely reassess their requirements for where to hold meetings.
"Conversations we would typically have in formal settings could be done in a cafe, a walking meeting, [firms are] starting to think about what are some of these other spaces they can use," Mr Pole said.
This would inevitably lead to changes in space requirements.
"We're doing a lot of work around rethinking the client interface. There's an expectation that the front-of-house, client-facing area will reduce by 25 to 30 per cent," Mr Pole said.
"For example, meeting-room sizes will reduce. Usually, we produce a meeting room with eight to 10 or 10 to 12 seats in a room. Out of that group, about two of those people will be dialling in now," he said.
A two-tier environment
But the changes won't be uniform.
"Typically law firms race to be second. They tend to be cautious and wait to see what a competitor or the market will do before making a move," said Mr Pole.
These cautious firms had overwhelmingly opted to keep the traditional cellular office designs, and the social-distancing requirements emerging as a result of the pandemic would likely be perceived as an endorsement of this decision.
"Those that were traditional single cellular offices they have said, 'We're glad we didn't change to open plan, I want socially distanced, we're going to stick with this a bit longer it's just reinforced by being a laggard, we're safe'," he said.
But firms that had already made changes to their workplace before the pandemic would likely be open to further change.
"Others are saying 'fantastic, COVID has given us the opportunity to make the change we're talking about'," Mr Pole said.
Much of this change has already been kickstarted by the necessity to make changes to the way lawyers work during the pandemic.
"Many of the lawyers I've been talking to were office-based and desktop using. When it came to COVID there were several firms that needed to courier their paper and computers to the home office," Mr Pole said.
"I had a great quote from one partner who said, 'I learnt more about hardware and software in the first week than I had in years – this will change the way I look at work in my firm forever'."
Where a firm is based will also have an impact on how willing it is to embrace change.
"Something I think will be interesting is firms in Perth will change less than firms in Victoria, based on the fact that they were in lockdown for a much shorter time," Mr Pole said.
"When we talk about forming habits and change it takes about three months to embed those habits and six months to normalise and 12 months business as usual.
"If you think about that Perth didn't even get to the three-month mark."
The rise of flexibility
Regardless of how the workplace looks as a result of COVID, the shift to working from home for many lawyers is expected to improve female representation.
"Interestingly this will help the diversity piece that's long been an issue for the industry," Mr Pole said.
"Most of the firms I've spoken to are rewriting their employment policies to include one to two days working flexibly."
Based from surveys Unispace has been conducting of firms in the Asia-Pacific region, Mr Pole is expecting far fewer employees to use the office on a daily basis.
"From January 2022 we're expecting that 24 per cent of fee earners will be working remotely three or more days a week," he said.
That compares with 11 per cent before the pandemic.
[dm-listing-recommendation experimentname='below-content-listings' positiononpage='belowContent']
Keep up with Commercial Real Estate news.
Keep up with Commercial Real Estate news.