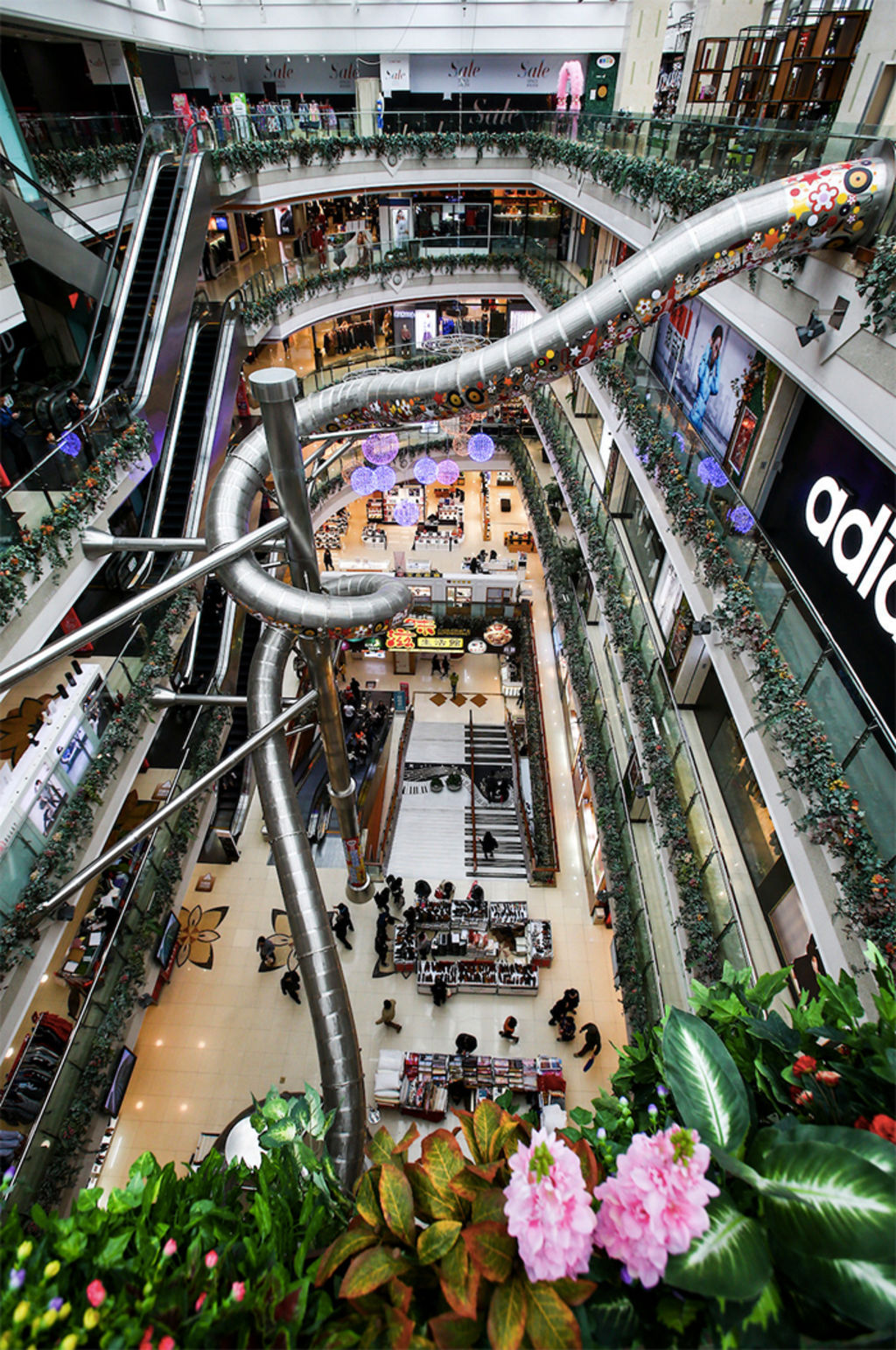 Giant slide to open in Chinese shopping mall
A gigantic new slide at a shopping mall has taken the battle among Chinese retailers for more customers to the next level – five levels, to be exact.
A 20-metre-high, five-storey enclosed slide is due to open this week at the Bali Chuntian department store in Pudong, Shanghai, and the first photos are both terrifying and fascinating the world.
Opinion is divided about whether the gimmick will be fun or freaky, with high heels, shopping bags, friction burns and the risk of getting stuck halfway down among the concerns voiced on social platforms.
"They will need to prohibit the wearing of Spandex in this thing," one user posted on the People's Daily Facebook page.
Another wrote: "Is there any attendant to monitor when people can use the slide? If not, people will be colliding into each other at the bottom."
The Pudong New Area Market Supervision and Management Bureau said safety inspection was not compulsory because the slide did not fit into any special equipment category, Shanghai Daily reported.
But the department store, which is owned by New World Department Store China Limited, has stated that safety tests have been carried out on the structure.
Still, this has not been enough to convince some people to take the plunge.
"It's very scary, I feel like if you die in there, it'll take a while for people to find out," wrote a user of Chinese microblogging site Weibo.
The five-storey-high giant winding slide at the Bali Chuntian – Paris Spring – department store. Photo: AP
The winding trip down a height of 20 metres is expected to take 16 seconds. The slide's twisted shape is based on a traditional Chinese dragon. The enclosed tube, which has holes for ventilation, is decorated with flowers and musical motifs.
Anyone aged over three and taller than 91 centimetres will be allowed to use the slide, which is free of charge. People with a fear of heights and with heart conditions are advised to give it a miss.
One strategy has been to turn malls into playgrounds, encouraging children and their families to visit the centre as a "day out" experience. Ball pits, jungle gyms, inflatable slides and sand pits are springing up in Chinese malls, transforming them from shopping venues to entertainment hubs.
"Many Chinese cities suffer from a lack of green space, and air pollution frequently motivates parents to seek the perceived safety of indoors," says Warner Brown, senior manager of China research at JLL.
"We've detected a subtle shift over the past year, as some landlords have gone from positioning children's tenants as one part of a constellation of experience-oriented approaches to focusing on children as a key theme for whole floors or even entire properties."
Rising birth rates in Beijing have also contributed to a change in the mix of shops. Child-focused retail tenancies are on the rise, with total floor space dedicated to these tenants increasing more than five-fold between 2011 and 2015.
"Leasing staff have been seeking experience-oriented tenants as a counter to e-commerce for a while, and activities for children are a key component of that," Mr Brown says.
The slide is due to open at the end of the Lantern Festival, which marks the end of Chinese New Year celebrations and this year falls on February 22.