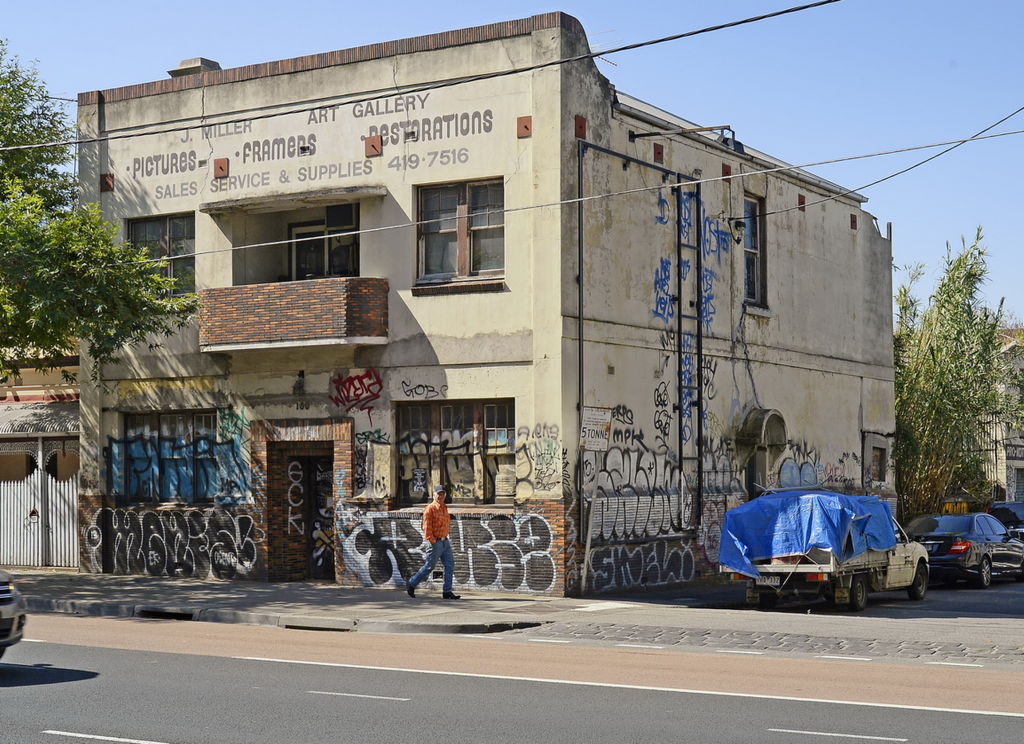 Former funeral parlour sells for $450,000 above expectations
A neglected site on Melbourne's notoriously bleak Hoddle Street has fetched $1.3 million at auction, its chequered history seemingly no deterrent to bidders.
Buildings with character and a story to tell might be sought after. But how comfortable would you be knowing your new premises used to be a halfway house for those on their journey to the afterlife?
The building, which appears from its exterior to be neglected, was touted by selling agency Gray Johnson as a prime opportunity for redevelopment or refurbishment.
The building looks a little unloved in its current form. Photo: Gray Johnson
Not only was the building once a funeral parlour, it was also a butcher's shop and a doctor's surgery, with its history likely to have contributed to the amount of attention it garnered.
"The most recent (business) occupier of this property was a picture framing business but historically a diversity of businesses from a butcher, to a doctor's surgery, funeral parlour and art gallery have occupied this property," listing agent Matt Hoath said.
The current owner has been living in the property for the past 20 years since the departure of the framing business.
"It would need quite a bit spent on it, structurally, for a refurbishment," Mr Hoath said.
The building corners Hoddle Street and Yarra Street, Abbotsford. Photo: Gray Johnson
Because of the building's condition, it was expected to to become one of the few inner-city commercial properties available for less than the magic $1 million mark, according to Mr Hoath.
"In fact I put our sale price expectation at around $850,000 for this property," he said before the auction on Wednesday.
"It probably might only be land value, it's Commercial 2 zoning – anything that's Commercial 1 is going for $4500 to $6000 a square metre."
However, after 90 bids recorded, the building went under the hammer for $1.3 million – sold to a local investor.
"I believe we witnessed Abbotsford site values catching up with those of adjoining suburbs like Richmond and Cremorne" Mr Hoath said of the result.
The site area for 178-180 Hoddle Street is given as 267 square metres.
Commercial 2 zoning restricts any redevelopment to commercial usage, although a lack of heritage listing should help speed up the process.
"We don't think it's heritage listed, it's had additions," Mr Hoath said. "It's Commercial 2, so it could be used for anything from an office to  storage or a studio.
"It was originally a Victorian facade and  in the 1930s they added some other influences like the small bricks around the entry, and they added the balcony."