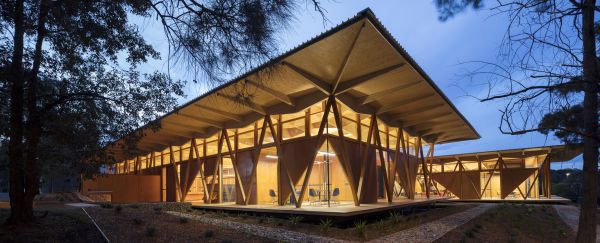 Flat-packed and pre-fabricated education buildings among contestants for NSW Architecture Awards
Two education buildings in the running for a major NSW architecture award are fully-functioning, three-dimensional object lessons in sustainable design theory.
One is a tiny, corrugated iron clad, off-the-grid building, called GRID, that Carter Williamson Architects originally envisioned as a fast-raise relief or emergency shelter capable of housing eight to 10 people in a disaster zone. Incarnated currently as "Sustainable House", it has become a classroom for one of the Science Technology, Engineering and Maths (STEM) courses at Burwood Girls High, in Croydon, Sydney.
The Sustainable Classroom, by Carter Williamson Architects, is an example of flat-packed architecture. Photo: Ben Guthrie
The other – which has just won a notable international sustainable design award, The Green Good Design Award – is a two-part and exceptionally beautiful pre-fabricated wooden pavilion-style structure. It was originally envisaged to serve as Macquarie University's student-to-business Incubator for perhaps the next five years. Or, until something permanent could be built on the campus.
[dm-listing-recommendation experimentname='midcontent-listings' positiononpage='midcontent']
The two projects are contesting with 12 others in the education division of the NSW Australian Institute of Architecture awards this year.
Luke Johnson, design principal with Architectus, the firm that created the Macquarie University Incubator building on an accelerated time line, says that temporary ambition has changed as the University "has fallen in love with it. So it's not going anywhere".
Sustainable House, with a 5X5 metre interior scale, was put up at the girls' school in one morning. Shaun Carter, from Carter Williamson, says the components "were trucked in at 8.30am and it was up by one." The 1000-square-metre roof of the $7.6 million Incubator was put up in two nights.
The Macquarie University Incubator is made up of pre-fabricated parts. Photo: Brett Boardman
The whole Incubator structure is designed to be almost as easily dismantled and relocated. "It can be taken apart piece by piece in a logical sequence," Mr Johnson says.
Pushed by university funding deadlines to design and realise the Incubator within 12 months, Mr Johnson tells that "each design decision had to have a lot of strength to carry through. There was little time to prevaricate because we were moving at such high speed".
Despite such pressure and because he'd been exploring applicable ideas in other projects, Mr Johnson and project architect Nick Elias were able to bring in factory-built prefabricated components. These saw that almost every element in "a mass timber building" are not only doubly functional – for instance, lighting and other services are embedded in the ceiling beams, and the floor, similarly, has services and air conditioning in its assemblage – but also, the "living breathing building" is rhythmically very lovely in the repetition of a triangular scheme.
The v-shaped hardwood columns that support the roof along the floating external deck leave the interiors clear and open to all manner of flexible functioning. And this building needs such adaptability to host connections between students, industry and entrepreneurs. "All these diverse entities come together here to accelerate great ideas that they can take out into the market."
Calling the Incubator "a compelling, high quality project because it shows that pre-fabricated buildings no longer have to be the poor cousins to conventionally built structures", Mr Johnson rather modestly believes its visual charisma results from "the homogeneity of the material.
"We used a diverse range of different species with different qualities and people generally have a positive reaction to timber."
Teaching sustainable design in a sustainable classroom
GRID is being used as a classroom for a STEM course at Burwood Girls High School. Photo: Ben Guthrie
Carter Williamson's Shaun Carter and Julie Niass volunteered to become involved as tutors and judges in the sustainable unit of one of Burwood's Girls High's science courses last year.
Having set a task for the year 10 students to model up a sustainable home, Carter was intrigued by what "wonderfully innocent minds" came up with: McMansions with veggie gardens and chooks; what he calls "Netflix Houses" that were apparently inspired by movie sets, and variations on Australian modernist houses with skillion roofs.
Though interesting – joyful even – in their use of found materials, all were off the mark in reference to sustainable design ideals.
So the erstwhile tutors offered their ready-made little GRID building to "an inspirational school" as an on-campus teaching tool "that they could interact with. Here was something real and sustainable, with a small footprint, passive solar qualities and well-insulated, with photo-voltaics that powered lights and a fan.
"The idea was to give them a point of reference and a way of getting into their heads that small (scale) rather than big is critical to an understanding of sustainability," says Mr Carter.
Now used as a classroom for the course, Carter Williamson is happy to leave it there for a couple of years. Mr Carter, whose daughter attends the school, has asked her what other students think about GRID. The feedback was the usual monosyllabic teenage utterance.
"It's amazing how accepting the students are of it as another 'thing' in the school."
But what GRID is doing, he says, "is making it real. These girls can now believe in (sustainable) systems because they can see it, they can collect water and measure the power that's generated and used".
Staying with their commitment to teach the course, Mr Carter and Ms Niass will be back on campus in the second half of this year "and we're hoping to see that having this lived experience will come through in their models. It'll be interesting to see how it translates".
He's hoping at least to see plans for "houses with smaller footprints and accurate solar orientations rather than 400-square-metre houses with 12-car garages".
[dm-listing-recommendation experimentname='below-content-listings' positiononpage='belowContent']
Keep up with Commercial Real Estate news.
Keep up with Commercial Real Estate news.