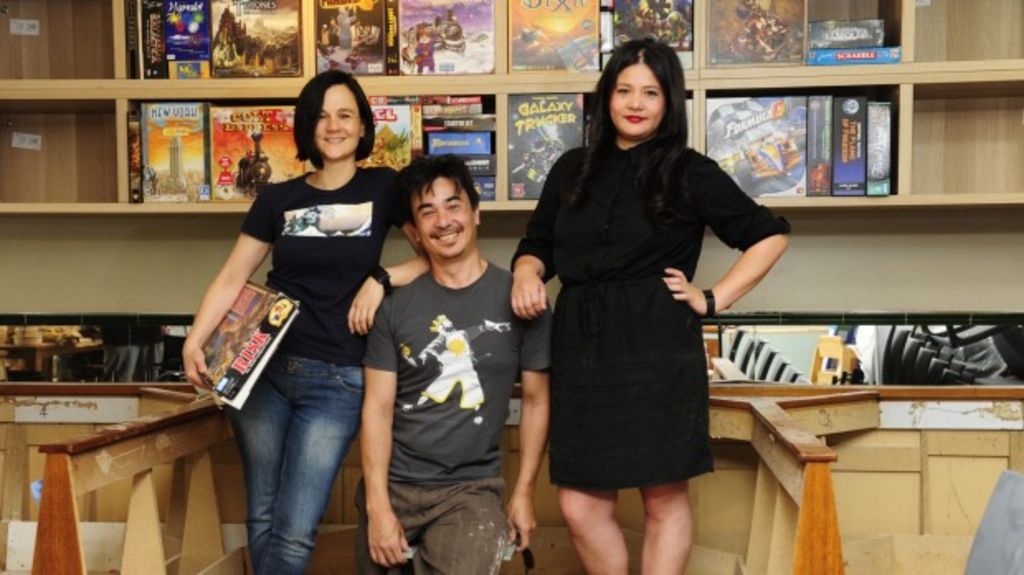 First look at Guild - Canberra's new board games restaurant opening in Civic
Pull up a chair, grab a beer and start a round of Cards Against Humanity at Canberra's new board games restaurant, which will allow you to get your geek on while enjoying wood-fired pizza and shared platters.
Board games restaurant Guild opens on the weekend, just in time for Canberra's biggest gaming convention, CanCon.
Sisters Anita Nobleza and Elena Williams have been working at breakneck pace for four months to open their cosy restaurant, in the outdoor sunken nook at Bailey's Arcade in Civic, at the site of the old Australian Pizza Kitchen.
They come from a family of avid board gamers and Williams, a programmer, was inspired by her first experience at a board games restaurant in Canada a few years ago.
"I was a programming conference in Montreal and they have a board games pub there and everyone from this conference went there," she says. "We played tons of games and had tons of beer and had a really good time. When I came home I was talking to my family, I said, 'This place is amazing, I wish we had something like this in Australia.'"
The idea came up again last year when the sisters were celebrating their brother Marcello Nobleza's birthday. And in September, they decided to run with it.
"We said, wait a moment, we can do this. That was in September. If we run as hard and as fast as we possibly can, we might actually do it," Williams says.
The shelves are lined with every type of board game from big ticket items such as Risk and Carcassonne to the Game of Thrones board game and the story-telling card game Dixit, all chosen by Guild's game master. Padded booths line one wall and there are bigger tables that can be pushed together to allow groups of friends to play.
In the kitchen, chef Damien Maier and his team will serve up wood-fired pizzas, arancini and mezze platters to share. They've had the special challenge of designing a menu that can be eaten easily without getting in the way of gaming.
The sisters credit a small army of friends and their close-knit family for rallying around to help them open Guild on time. The restaurant opens on Friday, January 22, and there's been a fair amount of interest from Canberra's gaming community.
They acknowledge it might be a bit hectic at the start. "It's going to be a bit wonky for the weekend but we're going to try our very best to give everyone what they came for," Williams says.
"We want to make this place the home for people [who want to play board games]. You won't feel awkward, you're welcome to come here," Nobleza says. "It's an awesome way of building a community. We are a restaurant but we have the awesome bonus of being able to sit here, drink beer, eat pizza and play games."
Guild opens on January 22 on the lower ground floor of Bailey's Arcade, in Civic.