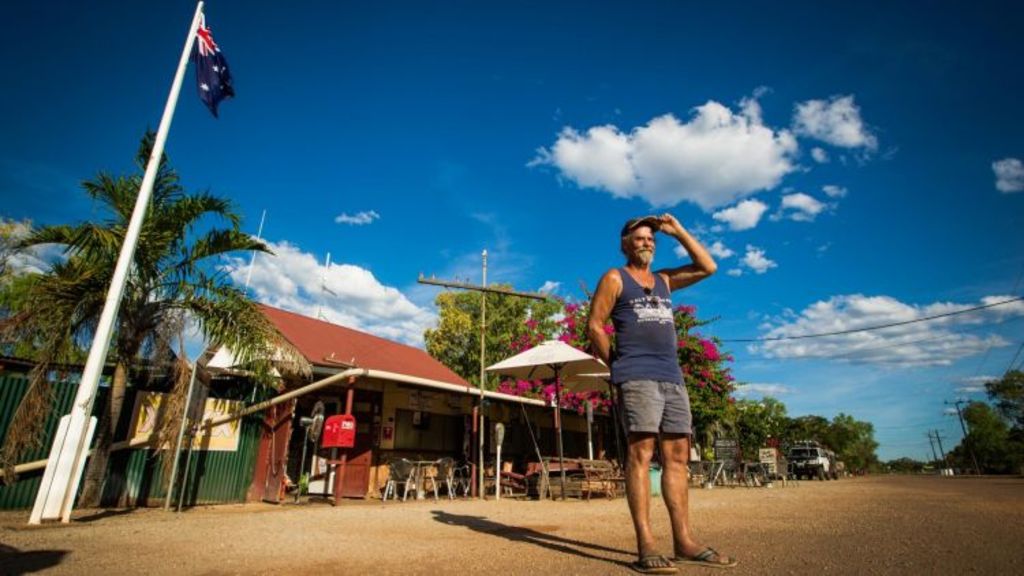 Famous Daly Waters Pub in outback Northern Territory for sale
Forget your fancy-schmancy five stars. This "three-moon" pub, in the heart of the dusty Top End, has more Aussie charm than you can poke a stick at.
And if you're willing to stump up the asking price – in the millions – and relocate to Woop Woop, the Daly Waters Pub could be yours for the taking.
Welcome to Daly Waters, population nine. Photo: Supplied
"It's definitely not pretentious, let me tell you that," says Lindsay Carmichael who, with partner Robyne Webster, is selling the pub after 17 years of pouring cold ones.
If you're thinking city-slicker style, think again: out here it's red dirt, tall tales and fly-screens all the way.
Located 600 kilometres south of Darwin and 900 kilometres north of Alice Springs, the pub has fed, watered and accommodated thousands of travellers hailing from Alaska, to Denmark and Bahrain.
You could say the 1930s-built pub has a bit of a monopoly around town, population: nine.
Retired Army officer and Daly Waters local John A Liston on the verandah of the historic Daly Waters Hotel, nearly 600 km south of Darwin. Photo: Glenn Campbell
But there are plenty of other drawcards too: cold beer, beef'n'barra barbies, the occasional B&S ball and a bar dripping with memorabilia – most notably hundreds of over-the-shoulder-boulder-holders.
Carmichael says a dozen bras were hanging above the bar when they took over. The story goes that the unusual collection began when a tour bus driver dared his passengers they couldn't drink five pints in an hour.
"Many males stare with mouths open wide in wonderment at the huge assortment of cup sizes," states the pub's website. "A couple of pairs have been likened to hammocks."
Inside the hotel, the top half is sorted … Photo: Glenn Campbell
A house, a swag of accommodation options for travellers and a friendly ghost named Sarah are also part of the deal.
"I got tapped on the back one night when I was doing a stocktake here," Mr Carmichael says. "It frightened the living daylights out of me."
But it's par for the course at an outback pub that has attracted its fair of "no bullshit" stories.
… and the bottom half outside. Photo: Glenn Campbell
Mr Carmichael says a Chinese tourist was once left at the pub by a careless tour driver.
"She went to the toilet and the bus drove off. The driver didn't know she was missing until they got to Katherine [almost 300 kilometres away]," he laughs.
He says the new owners will have to enjoy meeting people from all walks of life and be a jack of all trades. There's not much else to do around town, but there are plenty of kangaroos, snakes and lizards to keep the new owners company.

The hotel's asking price is being withheld from all but the most serious of well-intentioned buyers. Photo: Glenn Campbell
Steve Liebelt, general manager of Rural Property, says the pub has been attracting plenty of interest since it went on the market a couple of weeks ago. The asking price is confidential to all but serious buyers.
"They [iconic outback pubs] are tightly held and for good reason, for the fact that they're good strong businesses," Liebelt says.
"There's no question that it's probably consistently one of the busiest, if not the busiest, outback regional hotels in Australia."
As for Mr Carmichael and the missus, they're looking forward to retiring. They'll sample a few beers around Ireland, Scotland and the US, before going "for a bit of a wander around Australia".
In true Territory style, Carmichael says their leaving party will "probably last a week". Let's hope the pub doesn't run out of beer.