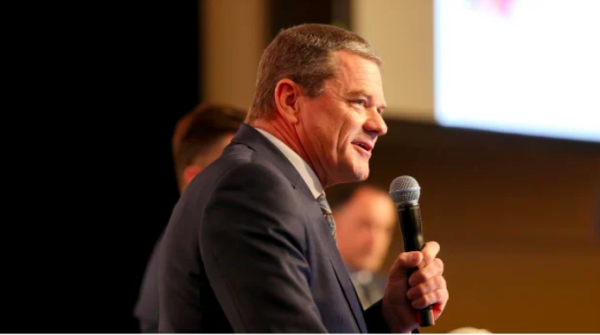 Family-owned farms more profitable then companies: David Goodfellow
Larry Schlesinger
Large, well-run family farms are typically more profitable than those owned and managed by cashed-up corporations, one of the country's leading agribusiness managers has said.
"The most profitable business model in Australian agriculture is the well organised, scaled up family farm," said David Goodfellow the chief executive of the Ontario Teachers' Pension Plan's AustOn Corporation.
In a keynote speech to the Agri Investor conference in Melbourne last week, Mr Goodfellow said while large-scale corporate farms could also be highly profitable,"big is not always beautiful".
"There are countless examples in our industry of businesses that became so big they became dysfunctional," he said
[dm-listing-recommendation experimentname='midcontent-listings' positiononpage='midcontent']
This he said, often occurred when a business became so diversified that it "lost control over the science and technology required to maximise return on profit".
On a more positive note, he said it was not too difficult to turn around failing corporate farming business "if you get the right people in charge of them".
Mr Goodfellow did not provide an example of a very large corporate farm failing, but he could have pointed to Ceres Agricultural Company.
It was one of the country's largest suppliers of premium beef, as well as a major producer of grains, pulses, oilseeds and Merino wool, before it collapsed at the end of March.
Mr Goodfellow has run some of the country's largest corporate farming enterprises including China's Rifa Salutary, which he grew to a portfolio of 48,000 hectares, and Macquarie's Paraway Pastoral Company.
AustOn Corporation, which he joined in February 2018, owns about $400 million worth of almonds and avocado farms producing about 10 per cent of the national crop for both.
In his address, Mr Goodfellow said he also favoured the owner-operator business model over the increasingly popular leasehold model as the "best way to maximise profits".
This, he explained, was because there was more of an incentive for an owner-operator to invest their profits into infrastructure (things like fencing, water, livestock handling facilities, irrigation technology) that created the efficiencies.
"Unfortunately those are all things that get left behind at the end of a five-year lease … so the motivation of tenants to invest their profits into infrastructure is not really there and that investment is what drives profits," he said.
Mr Goodfellow also questioned the rational for investing in farmland rather than operating it, which he said was to avoid production risk.
But, he said in a bumper year, that meant when all the other farmers were making a fortune, the best an investor would get is their rent payment.
Conversely, during really tough years, the chance of losing a tenant was quite high given the high incidents of tenants defaulting in Australia because of the country's volatile rainfall patterns.
Also, he said, owner-operators were more likely to survive a tough period then those who leased their land because banks were more likely to provide extra funding to a farmer that had the security of land ownership.
"The owner-operator model is much better aligned with what drives better profitability in Australia," Mr Goodfellow said.
[dm-listing-recommendation experimentname='below-content-listings' positiononpage='belowContent']
Keep up with Commercial Real Estate news.
Keep up with Commercial Real Estate news.