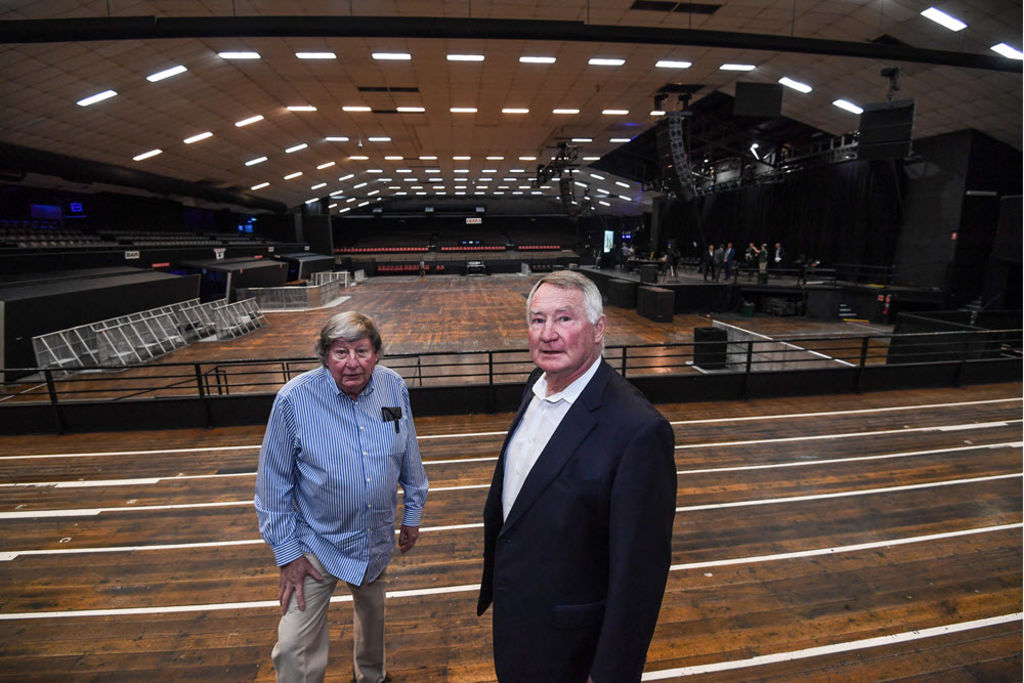 Family of Melbourne crime boss John Wren to sell Festival Hall site
The grandsons of John Wren will sell the West Melbourne site acquired by the late Melbourne crime boss to stage boxing matches, after the 5400-person hall became unviable.
Cousins Chris and John Wren – directors of the business that operates Festival Hall – have lodged plans with the City of Melbourne for a two-tower development with 1400 square metres of commercial space and 179 apartments on the site of the venue that hosted the Beatles in 1964, but which had lost business since the completion of a retractable roof on the city's Margaret Court Arena in 2014 drew acts and promoters away.
A two-tower development with 1400 square metres of commercial space and 179 apartments is planned. Photo: Rothelowman
Festival Hall is the last of a string of event venues the family business once owned in Melbourne, Sydney and Brisbane, and the Wren family plans to sell it with a permit for the $65-million mixed-used scheme designed by architects Rothelowman.
"We're not developers," Chris Wren, a planning lawyer and director of the family owned Stadiums Pty Ltd, told The Australian Financial Review. "We know the pitfalls of seeking to do joint ventures. It's a more realistic approach to say, 'What is the highest and best use of a building in West Melbourne?' "
Mr Wren said his infamous grandfather, who attained great power and wealth on the back of illegal gambling operations in Melbourne before his death in 1953, and who was the thinly disguised subject of author Frank Hardy's 1950 novel Power Without Glory, would not have been sentimental about the site.
"He would have told us to sell the place ages ago," he said.
The family faces a hurdle, however. The City of Melbourne has placed an interim heritage order on the site, which they hope to have overturned. The building on the site, rebuilt to host boxing events in 1955 after fire destroyed the original structure, had been adapted for music but had very little architectural value, Mr Wren said.
Even if a heritage order were upheld, it wouldn't necessarily prevent development, he said. "It makes it harder," Mr Wren said.