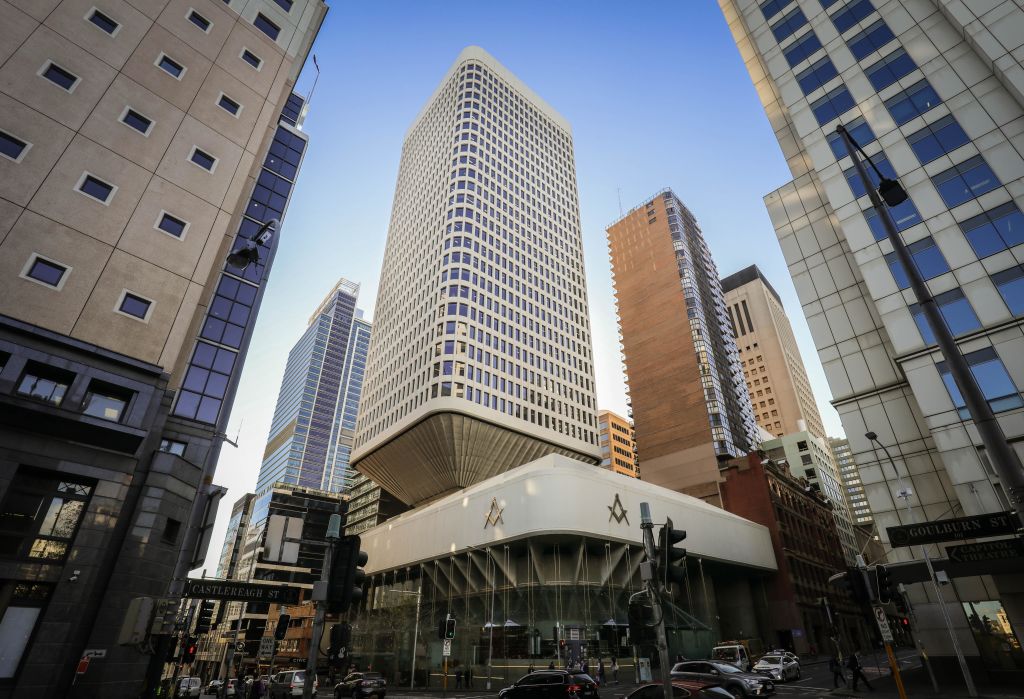 Eight modern buildings in Sydney's CBD set for heritage protection
Heritage protection could soon be granted to some of Sydney's most significant 20th century buildings, in a bid to conserve a disappearing period of architecture.
The City of Sydney has approved a plan to list nine examples of "Modern Movement" architecture – eight of which are buildings – as local heritage items, following a heritage study by TKD Architects.
The ninth item is the Earth Mother play sculpture, in Cook and Phillip Park.
The Modern Movement period includes styles known as modern, international, brutalist and Sydney school.
Future development applications on these buildings would need to consider the heritage value of the sites, if the proposal gets the green light from the Greater Sydney Commission.
Some of the buildings include the Harry Seidler-designed modernist MLC Centre in Martin Place, the brutalist Town Hall House by Ken Woolley and the brutalist Joseland and Gilling-designed Sydney Masonic Centre on Castlereagh Street.
Other less prominent buildings have also been recommended for heritage listing, including the former Horwitz House in Haymarket, another work of Harry Seidler, and the St. Peter Julian's Church, designed by Terence Daly.
The former Sydney County Council building on George Street, the William Bland Centre on Macquarie Street and the former Liverpool and London and Globe building on Pitt Street are also on the list.
Sydney Lord Mayor Clover Moore said central Sydney had been shaped by modern architecture from the decades after World War II and called for the buildings to be preserved.
"Many buildings from this period have sadly been demolished or modified beyond recognition," she said.
Only five buildings constructed between 1945 and 1975 in central Sydney are listed on state, national or world heritage lists: Liner House, Qantas House, Sydney Opera House, Circular Quay and Martin Place railway stations.
The 142-page study by TKD Architects emphasised the importance of surviving Modern Movement buildings.
"Central Sydney was the site of one of the greatest concentrations of Modern Movement buildings in the state," the report wrote.
Some Modern Movement and post-war buildings had had a short life, according to the study. It cited 8-18 Bent Street, the building application for which was lodged in 1970. A proposal to redevelop it was submitted in 1990.
"Others have been modified extensively, often to the extent that their original character cannot be recognised, or have been subjected to major refurbishment that has impacted on their original design."
Architect Glenn Harper, from PTW, who also established the Sydney Brutalist Project, said there were few Modern Movement buildings listed as local heritage items within central Sydney.
"It is certainly time to consider the cultural value of this architectural period, the City of Sydney is making a great start," he told Commercial Real Estate.
While Town Hall House and the Sydney Masonic Centre were "rare brutalist-period landmark buildings", Mr Harper said all eight buildings were "culturally important".
"The church St Peter Julian's Catholic Church and Monastery is indeed an important late-modern city church and its restrained exterior, as expressed by a structural grid to George Street, certainly belies a rich and memorable interior," he said.
"While lesser known, the former Horwitz House is an important modern building. Being Harry Seidler's first commercial office building within central Sydney, its heritage significance recognises the building's rarity and modern aesthetics, which included the integration of vertical louvres within an expressed structural frame."
Mr Harper added that the local heritage listing "is certainly not a constraint" for modifications to the buildings and that "change can still take place".
The buildings could potentially obtain extra floor space if listed, which would give private owners more incentive to conserve them, according to council meeting notes.
Only Town Hall House is publicly owned.
Sandstone and Victorian buildings are widely seen as Sydney's prized heritage assets that required protection, while Modern Movement structures, especially those in the brutalist category, are more divisive, with the buildings often neglected and seen as ugly.
But that is changing, as the buildings gain wider public support. The most famous example is the Sirius building in The Rocks, which is expected to sell for more than $120 million by the end of the year.
It was denied heritage status by two consecutive NSW heritage ministers, Mark Speakman in 2016 and Gabrielle Upton in 2017, despite a public outcry among architects and heritage groups.