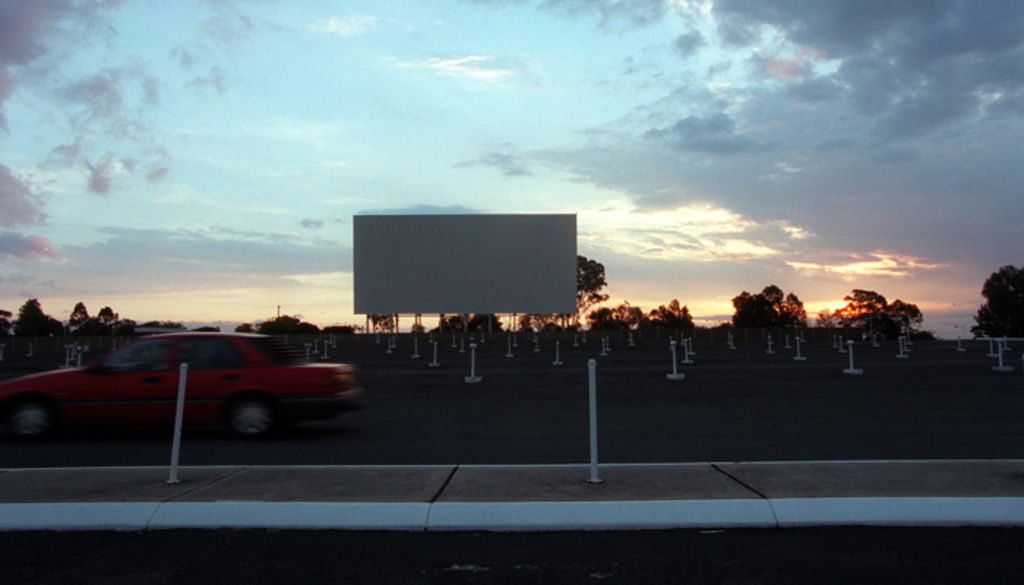 Drive-in cinema revival is coming to Queanbeyan
Steamy windows, reclining front seats and rarely a care of what was on the big screen were hallmarks of the drive-in movie era.
And a metal-encased speaker that hung from your car window with the volume on full throttle.
Kyol Booth-Hunt is reviving the drive-in movies at Queanbeyan, a city where dreams of a hard-top theatre have dissolved for decades.
Mr Booth-Hunt is aiming for his first movie on September 1, for 300 cars at Queanbeyan Showground, where movies will become monthly events. Grease will screen on opening night because it features a traditional drive-in movie scene.
"The idea came from conversations about the old drive-ins and how people used to go to the movies and sit in their cars and watch the big screen, " said Mr Booth-Hunt, who runs a stage and lighting business in Canberra.
Bass Hill drive-in cinema in 2002, one of only two remaining in Sydney at the time. Photo: Sahlan Hayes
Unlike drive-ins reliant on hanging speakers from windows, patrons will tune in their car radio for the movie's soundtrack. "You sit back and enjoy the movie using your own car speakers," he said.
Mr Booth-Hunt has an agreement Queanbeyan City Council to bring his entertainment idea to the public. Queanbeyan mayor Tim Overall says he welcomes the proposal.
"This unique concept is a tremendous opportunity for our community, particularly our young people and families," Cr Overall said.
"While I continue to advocate for a local cinema in response to public demand, an idea such as this is a wonderful start and I commend Mr Booth-Hunt on his initiative."
A big LED digital projector behind a 34-square-metre screen will show the movies.
"We are going to do projection from behind the screen, so we don't have any larger cars blocking projection. You can maximise viewing of it," he said.
Classical and new releases will be shown. Movie-goers can expect to pay $15 for adults and $10 for children.
Mr Booth-Hunt says Queanbeyan food vendors will open with pizzas, pop corn and fairy floss.
Kyol Booth-Hunt with a 59 Buick Electra. Photo: Rohan Thomson
"We hope for a mix of older people and teenagers, we are going to run some children-friendly nights, jumping castles, so there will be some interaction with the younger generation and some classical films that older generations remember," he said.
Mr Booth-Hunt admits he has never been to a drive-in movie.
"There's only about five left in Australia at the moment, they are near the end, but the response from the community has been all for it," he said.