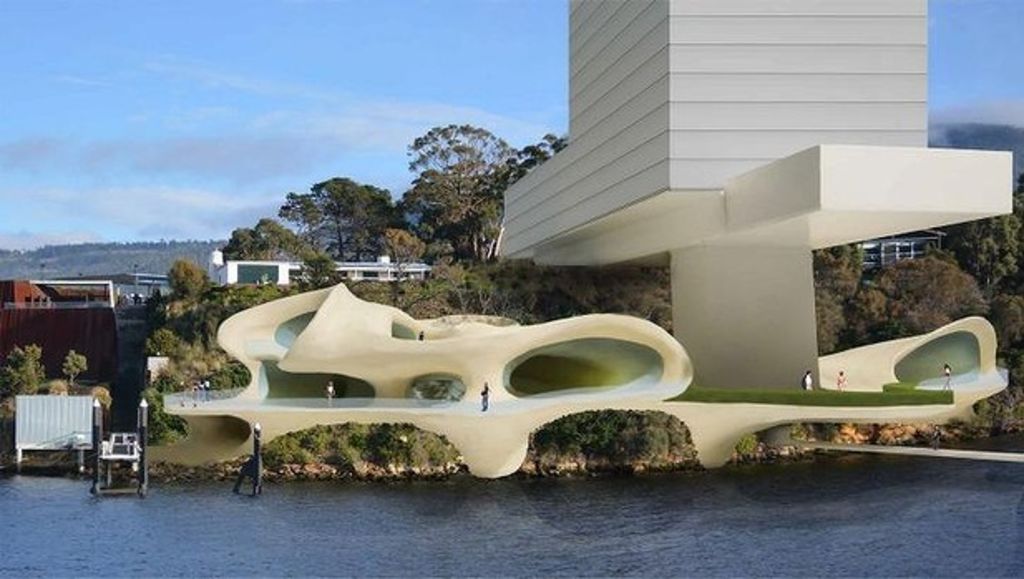 David Walsh takes punt on $150m casino development as part of major MONA expansion
Even for someone who made their fortune on gambling, David Walsh took a huge risk in opening the Museum of Old and New Art at Glenorchy, north of Hobart, in early 2011.
He says he wasn't expecting even Tasmanians, let alone people from interstate or overseas, to embrace the steel and sandstone edifice and the $150 million collection of curios it houses as warmly as they have.
"Before I opened, I said, if no one comes … I'll turn off the air con, pull up an armchair and watch the art rot."
MONA has since drawn more than 1.65 million people through its doors in four years, including 270,000 this year, and directly employs 400 full-time equivalent workers, transforming the state's tourism sector.
Now Walsh plans to throw the dice again – literally, as it turns out, if all goes to plan – with his proposed $150 million casino development (to be called Monaco, a play on the French micro-state) and hotel (HoMo) that, in artists' rendering of the plans, appears to dwarf the existing museum.
Artist's impression of the proposed $21 million Turrell Pavilion, designed by Nonda Katsalidis, to the Museum of Old and New Art outside Hobart. Photo: FKA
But forget the cliched gambling den of windowless rooms with no clocks on the walls. Mr Walsh wants a boutique casino with an indoor garden, spectacular views and of course stunning art, for super high rollers.
"I imagine it would appeal to a very small percentage of people who normally go to a casino, the high rollers, but a very small percentage is enough. The sort of stakes that Crown [casino] generates from their high rollers, I think I can perfectly well operate with 200 customers a year …"
Walsh says he would exclude locals from the casino, a move that seems to have as much to do with the Federal Group, which has exclusive rights to Tasmania's poker machine and two casino licences until 2023 under an agreement with the state government, as any antipathy towards making a profit off locals.
(Denison independent federal MP Andrew Wilkie, who campaigned on an anti-pokies platform, commends Mr Walsh for refusing to be part of an agreement to build a MONA casino that would result in Federal's monopoly poker machine licence being extended. A Federal spokesman was approached for comment but has yet to respond.)
Rather, "I'm hoping for rich people from countries far, far away … for whom a loss of $100,000 or $1 million is barely a blip on the radar."
While Walsh awaits an announcement from Federal on Tuesday about the future of the gambling duopoly it has held since 1968, and the government's response (he withdrew an earlier application for the casino in frustration at Federal's exclusive arrangement), he will crack on with the $21 million Turrell Pavilion, the first of two proposed extensions to the museum building, housing works by American light artist James Turrell​.
Walsh has submitted plans to Glenorchy Council and pending approvals expects work to start on the pavilion by April for completion in 2017.
"When I made MONA I didn't know that everyone was going to care," he says. "I was prepared to make that investment on spec. Now I have got a community that has taken ownership of it.
"So now I'm thinking, what will add value to the community for my kids? … I get people even in Sydney and Melbourne who call it 'our museum'. They have instilled in me a desire to perpetuate MONA."