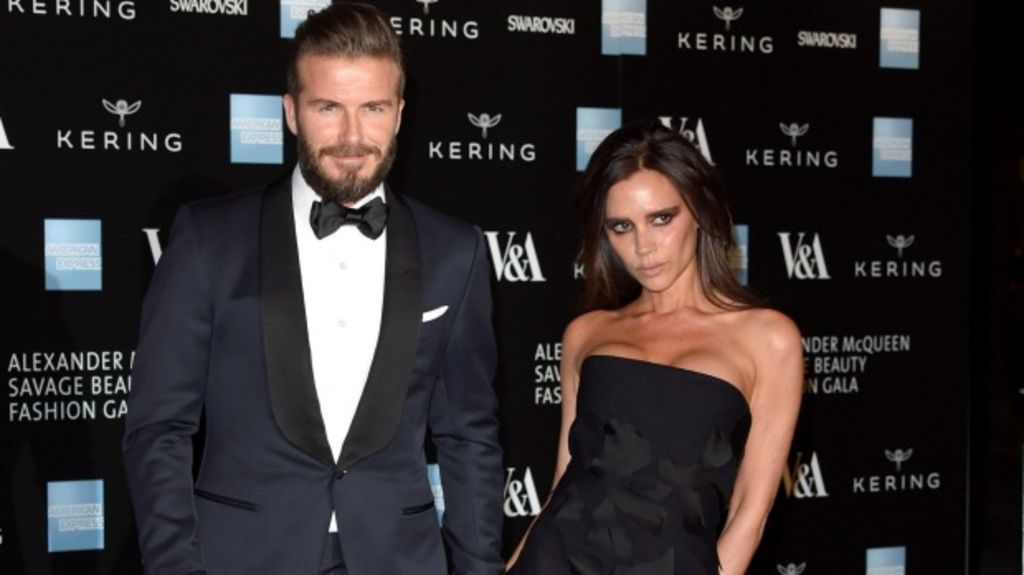 David Beckham group buys first land for Miami soccer stadium
When it comes to celebrities and real estate, it's usually the lavish homes of A-listers that are making headlines.
But David Beckham's latest property venture is buying land for a commercial development. And what else would a former soccer pro want to build than a sports stadium?
Beckham and his investors announced this week they have closed deals to buy private land needed for a new stadium in Miami's Overtown district.
David Beckham with wife Victoria Beckham. Photo: Getty Images
It's the first time the celebrity athlete has actually acquired Miami real estate for his proposed Major League Soccer franchise after more than two years of failed bids for other locations.
The milestone gives the Beckham group ownership of about two-thirds of the 3.6-hectare stadium site.
Now, the groups need to win approval for the purchase of government-owned land needed to complete the stadium site, as well as for the zoning overhaul needed to build it.
"We have the right site, the right ownership group, and a loyal base of fans counting down the days until our first match," Beckham partner and Sprint CEO Marcelo Claure said in a statement.
"We're all-in on Overtown, and we couldn't be more excited about moving forward with plans to deliver the most responsible stadium in Miami history."
Miami Beckham United, the corporate entity Beckham owns with Claure, American Idol creator Simon Fuller and others, has never made this much progress in its high-profile pursuit of a Miami stadium, which started in late 2013.
Beckham wants a 25,000-seat home for the MLS expansion team he was given the option to purchase as a bonus for signing with the LA Galaxy soccer squad in 2007.
Beckham's option to purchase the franchise at a deep discount was extended as his negotiators failed to land deals to build a stadium at PortMiami and, most recently, across from Marlins Park in Little Havana.
Superseded: An artist's impression of the stadium planned for the PortMiami site. Image: 360 Architecture and Arquitectonica
The current western Overtown site, which Beckham declared as his new top choice when the Marlins Park deal fell through in late 2015, sits just north of the Miami River and is bounded by Northwest Eighth Street to the north and Sixth Street to the south.
The group announced in December 2015 it had signed sales contracts to purchase land for a stadium but actually buying the 2.4 hectares of property has taken longer than expected.
Beckham in action for LA Galaxy in a friendly against Melbourne Victory at Etihad Stadium in 2011. Photo:  Paul Rovere
For the remaining 1.2-hectare county-owned parcel, Miami-Dade Mayor Carlos Gimenez wants to use the state's economic development laws to waive bidding requirements. The process requires Beckham's group to pay market rate, which the county estimates at $US9 million ($11.2 million), and agree to a package of benefits that include hiring requirements for local residents.
Concerns have already been raised about the lack of parking for the stadium. Beckham also must win approval for the actual stadium plans and the closure of Northwest Seventh Street to accommodate the venue's two-block footprint.
A Gimenez spokesman said this week the negotiations with county officials remain on track, but declined to offer a timetable for when a deal could be ready for final approval by the 13-member county commission.
"They're working on it," said Michael Hernandez, Gimenez's communications chief. "It's just matter of it being done correctly, and getting it to the commission."
Miami city manager Daniel Alfonso said he had been briefed on the closed land deals and that Beckham's group expected soon to take a final stadium plan before MLS owners for final approval.
Mr Alfonso also expected Miami to quickly receive applications for the street closures, rezoning and re-mapping needed to start construction.
He said Miami Beckham United has also expressed interest in buying a small, nearby city property for employee parking.
Commissioner Keon Hardemon, who represents the area where the stadium would be built, said while he hoped a soccer stadium would be good for the community, he remained cautious.