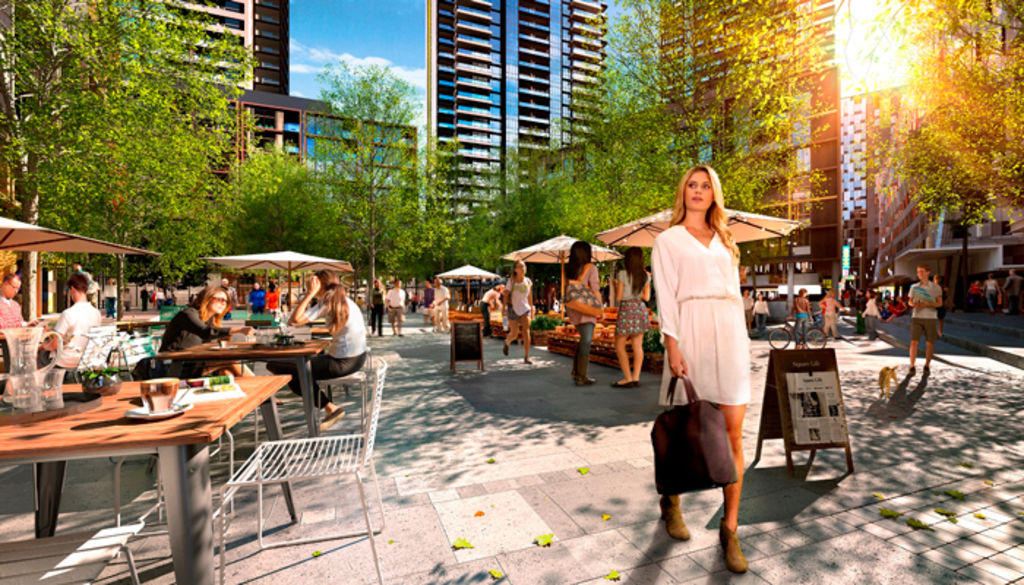 Darling Square: Sydney's new $3.4 billion neighbourhood takes shape
Behind the hoardings near Sydney's old entertainment centre, a whole new neighbourhood is gradually taking shape, with offices, apartments, shops, cafes, a hotel, convention centre, new show venue, a square and a variety of walkways.
The Darling Square development near Paddy's Market. In two years, the area will look more like this …
An artist's impression of The Boulevard, Darling Square. The pedestrian promenade will be 680 metres long and 20 metres wide. Image: Lend Lease
With the public spaces due to finish in two years and the first residents moving in during 2017, Sydneysiders will soon get their first real look at Darling Square, a $3.4 billion precinct that developers hope will revitalise the site between Darling Harbour, Haymarket, Pyrmont and the city.
"It's going to come together remarkably quickly for such a huge residential and commercial project," says Jonathan Emery, managing director of urban regeneration for developers Leadlease.
"The inspiration was always to create much more of a vibrant neighbourhood-type vibe. With a mix of uses that's really quite extraordinary in their diversity, it's all about generating a real sense of community."
An artist's impression of the central outdoor space of Darling Square. Image: Lend Lease
Darling Square will ultimately comprise around 1500 apartments, student accommodation, 40 retail outlets, commercial offices, the new convention, exhibition and entertainment venues and a luxury hotel.
A quarter of the area will be public space, including two new squares, laneways and streets, as well as a 680-metre long boulevard that will link the harbour to Quay Street, close to light rail.
Construction is under way and the first apartment building, commercial building and laneways are starting to take shape, with 150 workers and four cranes on site.
An artist's impression of Trinity House, Darling Square. Image: Lend Lease
In putting together the plans for Darling Square, the developers travelled around the world to examine the best, and most successful, public spaces, shopfronts and precinct designs globally.
Among the international influences have been London's Covent Garden for the variety of its attractions and street activation, Boston in the US along the harbour shore for how well the area has been regenerated, and the docklands and harbour of Germany's Hamburg for its office component.
Also playing a role have been Chicago's Millennium Park for how its parks and public art have been planned, Portland, Oregon, for its street-level sense of community and a number of Spain's most stunning squares to see how they're managed to harness daylight and bring life to them all year round.
Millennium Park, Chicago, is a planning and design influence for Darling Square developers. Photo: Millennium Park/Facebook
"We want this to be a hotbed of neighbourhood," Mr Emery says. "It'll be less ceremonial than Martin Place, more a place of high walkability where people bump into each other and meet.
"We're very focused on the types of uses and how they'll all work together."
An artist's impression of the Darling One building, which will have a 2600sqm deck with a heated pool, barbecue facilities and an outdoor gymnasium. Image: Lend Lease
The development is also aimed at being as sustainable as possible, with hopes it will be granted six-star Green Star Communities Certification.
At the moment, the aim is for 90 per cent of materials being recycled during construction.
In early January, internal strip-out works will begin on the entertainment centre and, within the next six months, the final 500-odd apartments in the scheme will go on the market.
The Sydney Entertainment Centre has been fenced off in preparation for strip-out works to begin in January. Photo: Rebecca Holland

The second stage release sold out in less than five hours at its launch event in May.
"Darling Square will have a significant impact on the Sydney psyche as it evolves," Mr Emery says. "But the idea is that it'll blend very well into what's around it.
"It won't be about a big 'I am' or creating a huge statement of difference; it's about being so well-crafted it will blend beautifully."