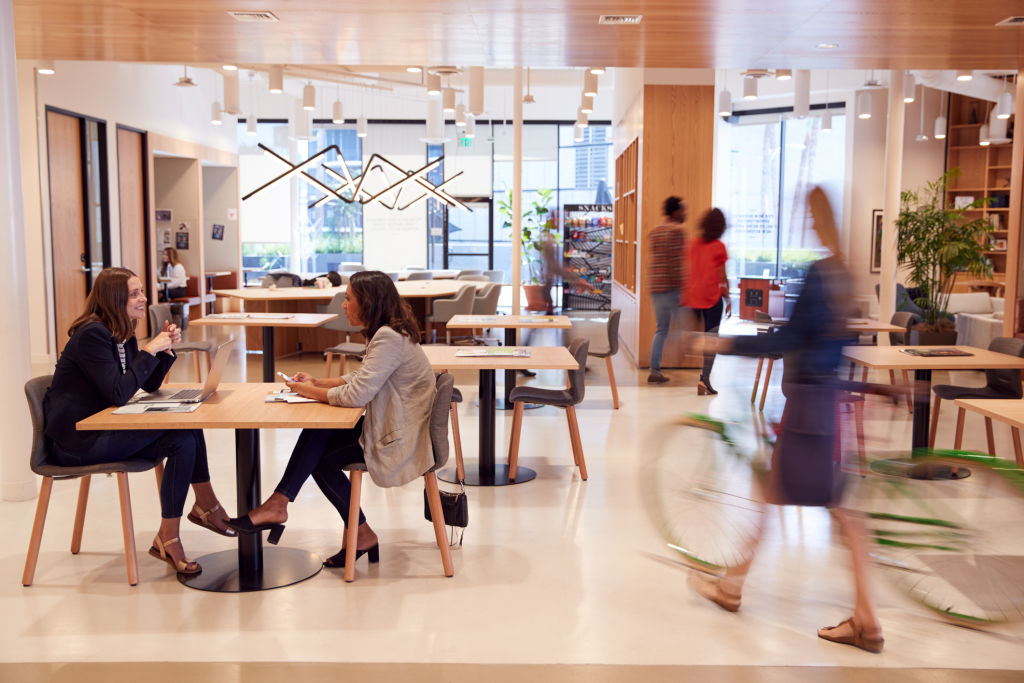 How companies are earning the commute
Landlords are being forced to work harder than ever to attract tenants back to commercial leases. In the wake of the pandemic, they are competing to "earn the commute" or, in other words, making it worthwhile for workers to travel to their offices.
Enticing people who have grown accustomed to working from home back to a workplace is no small feat.
Today's low unemployment market has handed workers more power to pick and choose the right job. So if the office is inconvenient to access by public transport or doesn't offer the right amenities, employers risk losing staff to other businesses with a better offering.
A prime location and a quality fit-out are crucial for today's landlords, says Josh Tebb, head of Victorian metro office leasing at JLL.
"Tenants don't care so much whether or not offices are cheap at the moment, it's all about the quality because it's all about the talent.
"We've all got accustomed to working from home, so there needs to be some reason for us to come in – to collaborate, to socialise, for efficiencies.
"It's a very competitive jobs environment so if you don't like where you work or where it's located, you don't go into the office and you start to be less tied into the culture of the business you work for. And you can get more money to move because that's the state of things."
An attractive lease deal helps, but for businesses trying to retain staff and attract new talent, a building fit-out that goes the extra mile is more important.
Virtual meetings and the occasional face-to-face have helped most teams preserve their culture throughout the pandemic, but now businesses are focused on making up lost ground. Organisations are searching for buildings with a variety of spaces to bring their people together and inspire teamwork.
Collaboration areas such as auditoriums, training rooms, business lounges and even rooftop barbecue and dining spaces are very much in demand, says Tim Molchanoff, head of office leasing, Australia and New Zealand, at Cushman & Wakefield.
"There is a bigger focus on the office ecosystem to encourage workplace participation," he says.
"Post-COVID demand is less about office space per se, but more about a better experience – with an importance on leveraging an ecosystem of work environments, with increased flexibility, a better work-life balance and focus on employee wellbeing, as well as increasing the share of knowledge between staff.
"To attract and retain talent, tenants continue to seek buildings with quality end-of-trip facilities and amenities, as well as premium locations, car parking and public transport options," he adds.
"Furthermore, access to better network connectivity, equipment and ergonomic workspace is more important than ever."
National vacancy rates increased ever so slightly in the six months to January this year, up from 11.9 per cent to 12.1 per cent, Property Council of Australia figures show.
But the rise reflects new offices coming onto the market rather than a dip in supply, says Ken Morrison, council chief executive.
"The reality is that most CBD businesses continue to see the office as integral [to] their future and that is reflected in the increased demand for office space over the past six months," he says.
A nationwide hesitancy to return to business as usual was expected, particularly as companies figured out what their office requirements were into the future. Agents are accordingly offering shorter lease terms, but have been surprised by large businesses taking out long-term leases.
One example is dentsu Australia, part of the global marketing and advertising agency, signing a seven-year deal for a Cremorne office in Melbourne at just under 5000 square metres.
Tebb says the relocation was driven by finding a new building with room to grow, but also with health and wellbeing facilities, such as top-of-the-line air purification technology.
"Everyone keeps telling me that post-COVID it's all about short-term and flex, but we're dealing with major global corporates who are taking long-term views on their physical office space," he says.
Demand for office space is set to continue as COVID-19 recedes further into the background. This is especially the case for Melbourne – the city hardest hit by pandemic lockdowns in Australia – where a total of 45,560 square metres of office space has been taken up by new leases. Property Council of Australia figures for February 2022 also show the city posting the second strongest demand for CBD office space just behind Perth.