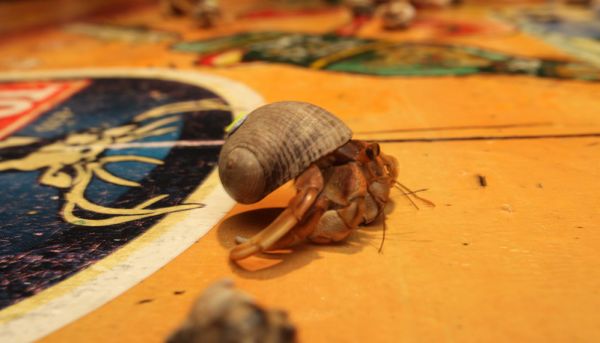 Crazy things Australian pubs do to bring in the punters
Once, it was all about the booze and the banter, with a bite on the side if you were lucky. But today, pubs are doing more, so much more, to claw in the customers.
Fancy a pedicure with that Pimms? How about taking part in a Game of Thrones fantasy that could see you chugging back wine with – hopefully – either a Daenerys Targaryen or Jon Snow lookalike? Or maybe a bet on a crab race with your Bundy and Coke would be more your style?   
Then, for the more active, there's even ten-pin bowling being laid on at many hotels and clubs, life-drawing classes and, yes, even the return of that one-time favourite: jelly-wrestling.
Bogan Bingo at the Leveson Hotel in North Melbourne, in December 2015. Photo: Simon O'Dwyer
[dm-listing-recommendation experimentname='midcontent-listings' positiononpage='midcontent']
"Pubs need to be the life blood of a lot of communities, so it's important for them always to keep trying to attract new patrons," says John Green, director of the Australian Hotels Association NSW.
"They now have to provide a range of services and entertainment to maintain their existing clientele, who tend to be more discerning and fastidious these days, and bring in new business, especially in off-peak times. There is so much more going on in hotels now than ever before."
It's a trend that's happening nationwide. Just as Sydney bars are laying on new and ever more novel attractions to bring in the customers, so are those in Melbourne, in Canberra, and much further afield.
Brisbane's Storey Bridge Hotel is famous for its annual cockroach races. Photo: Andy Zakeli
Pubs in outback Australia have always been masters at putting on the style to rustle up more punters, with crab racing, giant cockroach racing and bucking broncos in the middle of the bar always a big hit in Queensland.
Then there are legendary entertainments such as Fred Brophy's outback boxing tent at the back of his pub in Kilkivan, 50 kilometres west of Gympie, in Queensland.
Fred Brophy's tent boxing show is featured in the TV series Outback Fight Club. Photo: SBS
"The punters just love it," says Brophy. "And it means there's never any fights in the pub. They take out all their aggression in the ring."
In our cities, however, the entertainment tends to be a little more contained, albeit sometimes only marginally. The Ivy Bar in the Sydney CBD is renowned for its rooftop pool bar, along with bathing beauties of both genders.
Wednesday is Tranny Bingo night at the Harlequin Inn, Pyrmont. Photo: Commercial Real Estate
Perhaps a little less glamorous, however, is the return of jelly-wrestling at the Oxford Tavern in Petersham, with the event this time around rather less seedy than it was in the past.
Nowadays male and female contestants wrestle once a year in costumes – replacing the tiny bikinis of yesteryear – in 400 litres of jelly in a kiddies' pool, with strict rules of engagement. A new menu included a Jelly Wrestle monster dessert with jelly, ice-cream and popcorn.
Sassafras Canteen in Brisbane has a garden bar where patrons can bring their dogs. Photo: Michelle Smith
Topless waitresses still appear in one determinedly old-time pub, the Captain Cook Hotel in Botany, on Thursday and Friday nights. At least there's a warning these days, though. 'If you are put off by this and decide to go elsewhere, there are no hard feelings …'
By contrast, pubs in Melbourne feel much more restrained, relying far more on the quality of their offerings to attract custom, rather than oddball events.
Botany's Melbourne-suburb equivalent, Port Melbourne, boasts the Colonial Brewing Co where the only tops that come off are on beer bottles, with craft beers brewed on site and the brewers available all day to chat all things beer. On Fridays, they wash down meals from a rotating number of food trucks.
A manicure with your drink? Why not. Photo: Luis Enrique Ascui
Events at the group's The Botanical, in South Yarra, are similarly confined to special wine and food events, like The Lamb, The Goat and The Shiraz, and Wine Bar Wednesdays which showcase wines with wine-makers and sommeliers on site, against a live jazz band. "Our pubs are definitely involved in a number of interesting activities to attract customers," says spokesperson Lucy McLaughlin.
There are some fun things going on, like drag bingo at the GH Greyhound Hotel in St Kilda, but the energy and investment in Melbourne tends to be mostly around food, drink and architecture.
"Hospitality is the cornerstone of our offering," says Paddy O'Sullivan, chief executive of the AHA Victoria.
"And we have such a great, vibrant culture when it comes to our hospitality sector. We're also lucky in that we enjoy all-night public transport over the weekends so patrons don't ever have to worry about getting home safely afterwards."
The Oxford Tavern in Petersham in 2013. Photo: Sahlan Hayes
A number of Melbourne pubs have invested in building programs to give them internal beer gardens, with massive trees planted. There's also a growing trend for rooftop bars with premises like the Young and Jackson in the CBD and The Mountain View in Richmond both featuring them. "There's been a lot of investment in larger facilities," says O'Sullivan.
In Sydney, there's plenty of investment going on too, especially in areas not affected by the early lockout laws. The WDS Group has a huge restoration program under way for the city's oldest pub, The Fortune of War at The Rocks.
"We're returning it to its former splendour," says group co-director Steven Speed. "People walk in and want to be able to feel they're in an old pub, with that old pub smell, but with modern facilities and comfort."
Similarly, The Bellevue in Paddington has been overhauled. "It was buggered," says Speed. "We had to do a top-notch reno and it's now a great high-end restaurant and hotel and we've created a real wow factor there."
Gallagher Hotels are also fitting out their pubs in Irish style with everything sourced and made in Ireland, including the bars, furniture, stained glass and bric-a-brac, and shipped over. As well as their Parisian-style Le Pub, and Belgian Beer cafes, they'll be opening an American steakhouse in the Intercontinental Hotel in Double Bay, called Gallagher's Bar & Grill, with an extensive whiskey bar.
The Fortune of War Hotel at The Rocks in 2006. Photo: Janie Barrett
"We also reward loyalty with our membership system which a lot of people love," says marketing manager Paddy Walshe. "That gives people $25 credit on their birthday, and 5 per cent discount on all transactions all the time."
In Brisbane, The Story Bridge Hotel holds cockroach races, while in Canberra, The Vikings Group hosts weekly open-mic nights across its four venues. "Young people are an invaluable asset to our local community and we are proud to provide a platform like Open Mic to nurture their community involvement, personal growth and talent," says chief executive Anthony Hill.
Life drawing classes are on offer in some pubs to draw in more punters. Getty Images/iStockphoto
But the wow factor is being provided by different kinds of fun events at other pubs. Women's beauty therapies are being offered at a number of pubs around NSW now, including free manicures with a drink one night a week. In the clubs, there's a movie cinema at Bankstown Sports Club and laser skirmish and ten-pin bowling at Rooty Hill RSL.
"There's so much going on now," says Josh Landis, of ClubsNSW and ClubsAustralia. "There are even knitting and yarning groups getting together now, but I don't know how many stitches they might end up dropping as the evening goes on."
Summer is coming, but Game of Thrones fever will likely return as soon as the next series of the popular TV drama arrives on our screens. The Balmain Hotel celebrated the last with a "Balmain of Thrones" evening, with a big screen to show episodes and patrons dressing up as their favourite characters. The Pokémon Go craze was a draw at The Abbotts Hotel, Waterloo, which picked up on the local Pokémon stop.
Meanwhile, The Vic on the Park, Marrickville, invited everyone to bring along their dogs, and the pooches went in for a lucky draw to win treats, with the money raised going to a local animal shelter. "A lot of pubs now welcome pets and a number of them offer 'puppychinos' and lots of attractions to bring in pets – and their owners," says John Green. "There's a real diversity of things on offer to attract a clientele."
Among these are crab racing at the Friend In Hand in Glebe and The Courthouse Hotel, Newtown, ten-pin bowling at Kinselas in Darlinghurst and the long-running Politics in the Pub in Glebe's Harold Park Hotel.
The Arthouse Hotel in the Sydney CBD holds fortnightly life drawing art classes by Dr Sketchys, mooted as cabaret meets art, with models either burlesque beauties or circus performers. The Four in Hand Hotel in Paddington has Sunday 'toss the boss' games with a free drink if you guess heads or tails correctly.
As in Melbourne, there's a real move to providing rooftop drinking too, at places like The Light Brigade in Woollahra – currently awaiting planning approval to open – The Republic Hotel and The Metropolitan Hotel both in the city, and The Sugarmill at Kings Cross.  
"Pubs are constantly looking at how to utilise their space at off-peak times right through the week," says Green.
[dm-listing-recommendation experimentname='below-content-listings' positiononpage='belowContent']
Keep up with Commercial Real Estate news.