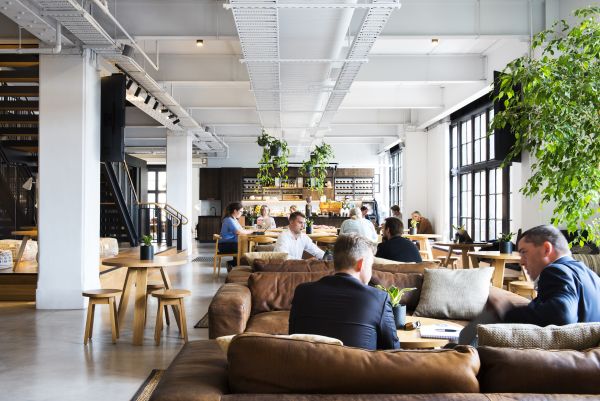 Coworking operators risk losing startup buzz for corporate dollars: Colliers
The rise of flexible workspace has reinvented the way office occupiers and landlords think about how they lease space.
But as more and more big companies look to join this coworking revolution, a new report warns that the original appeal of these workspaces – incubators of innovation and collaborative ideas – could be lost.
These larger companies take up space on a larger scale than startups or sole workers, and operators are facing a double-edged sword, where they must balance more lucrative cash flows from these companies with maintaining the collaborative community experience – a key weapon that helped them disrupt the market, the report says.
"The threat is that flexible workspace locations become repackaged office buildings with end users existing in isolation, reducing their appeal and also alienating the startups that create the elusive buzz of a community and bring much-needed innovation," Colliers International's Flexible Workplace Outlook Report – APAC 2018 found.
[dm-listing-recommendation experimentname='midcontent-listings' positiononpage='midcontent']
WeWork says their corporate clients value being part of a "global community". Photo: WeWork
The report surveyed Asia's top 200 occupiers of flexible workspaces and found that almost half (44 per cent) chose them because of flexible lease terms, while one in five was looking to reduce capital expenditure.
In contrast, 16 per cent were looking for a creative environment and only 7 per cent wanted to access the innovation of the startup community within a flexible workspace.
"This demonstrates that multinational corporations have little interest in collaboration," the report says.
"The success of operators that are accommodating multinational corporations will depend on how operators educate these end-users."
WeWork's Australian general manager Balder Tol said their larger clients were drawn to "more than just flexible terms".
"While the flexible terms are appealing, the impact of being part of a global community like WeWork in regards to talent retention, increased employee satisfaction and productivity are far more valuable to any organisation than just thinking about the space in flexible lease terms. That would be neglecting the true value of humanising the workplace," he told Commercial Real Estate.
Hub Australia "actively curates" their member base. Photo: Hub Australia
Mr Tol said WeWork – valued at about $25 billion – customised its workspaces for their corporate clients according to how they worked.
"Our in-house teams work with large organisations to build solutions which are right for them while ensuring they are integrated with the wider WeWork community," he said.
"Everything we do is centred around building collaborative communities."
Brad Krauskopf, chief executive and founder of Hub Australia, the country's second-largest coworking provider after WeWork, said they made an effort to select members for their spaces.
"We actively curate the balance of members at each Hub Australia location to ensure there is a balance between freelancers, startups, small (and) medium businesses and corporate," he said.
"We often see corporates attracted to our spaces for the flexibility and cost savings but they stay for the community and business opportunities."
Stuart Brown, chief executive of WOTSO, a coworking operator owned by property fund manager Blackwall, said they were "industry sector and organisational-size agnostic".
"We're really creating a microcosm of the commercial environment in all of our spaces and we'll have a lawyer sitting next to a designer sitting next to an app developer sitting next to a travel agent," he said.
Corporate acceptance slow but growing
Fairfax Media is looking to move from their headquarters at 1 Darling Island, Pyrmont. Photo: Michel O'Sullivan
The coworking sector is becoming a fundamental part of the commercial property market in Australia, with 2.6 per cent and 1.6 per cent of the office market taken up by flexible workspace in Sydney and Melbourne respectively, the Colliers report found.
Flexible workspace operators committed to 20,400 square metres of Sydney office space last year, which is about a quarter of the office space leased in the city last year. In Melbourne, that number is 34,800 square metres – accounting for nearly a third of the total yearly takeup.
Rowan Humphreys, Colliers International's director of tenant advisory, said corporate takeup of flexible workspace in Australia was lagging other countries.
"What we find mostly is that it's a short-term solution (for Australian organisations)," he said.
"Companies like Microsoft have 100 desks at WeWork George Street (in Sydney's CBD). But compared to their 10,000 square metres of space elsewhere, it's not very ingrained in their strategy as such."
But Mr Humphreys believes the flexible workspace industry will double its share of the Australian pie "quite easily" in the next five years, with existing market players and aspiring entrants, including Singapore's The Great Room and Campfire from Hong Kong, all vying for space.
Fairfax Media, which owns a majority share of Commercial Real Estate's parent company Domain, is one of the latest companies to be seeking flexible workplace for its employees. The company this month outlined its requirements for a new home for 800-1000 people, or up to 10,000 square metres, from October-November 2019.
Charlie Ginty, Fairfax's head of real estate and workplaces services, said the company was not looking to move all its staff into a coworking venue but was considering a "flex-and-core" model, where an occupier takes a long-term lease for its core operations on top of a deal with more flexible terms to accommodate changes in headcount.
"It might be where we lock in seven, 10 years on enough space for 500 people, but we want flexible space for 300 people, and having that ability to flex, expand and contract as and when required," he said, adding that coworking space could be an add-on on a per-head per-month basis.
"We prefer to, as we move forward and as the industry matures, get away from square-metre-type talk and (think in terms of) requirements for people."
[dm-listing-recommendation experimentname='below-content-listings' positiononpage='belowContent']
Keep up with Commercial Real Estate news.
Keep up with Commercial Real Estate news.