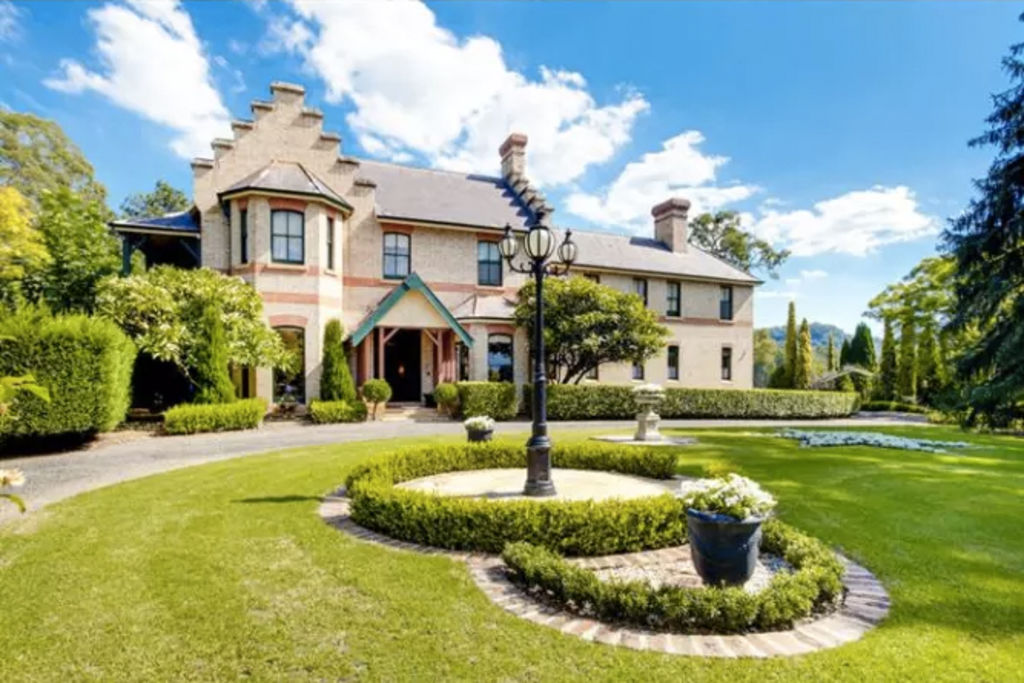 Country estate Glenleigh built an intriguing history on extravagant beginnings
The weekender home comes in all shapes and sizes, usually slightly rustic in appearance with a laid back, low-key vibe and beach or bush setting.
But rarely are they as magnificent as this stately manor near Sydney that been a country holiday home and business for a number of its owners since the 1890s.
Fast forward to 2016 and Glenleigh just outside Penrith is on the market, with its owner Graham Windridge hoping it will sell to someone who can enjoy living in it every day of the week as he has, rather than just weekends.
An antique dealer helped source fittings and furniture in keeping with Glenleigh's era. Photo: Supplied
"We were attracted to the property's obvious historic and architectural beauty but also that it is only an hour from Sydney and yet it is so secluded and peaceful," Mr Windridge said.
He bought the property at 427-507 Mulgoa Road with friend and business partner Fred Grotto in 1984 for $1 million, setting a Penrith record as the suburb's most expensive home.
Together they restored the manor to its former glory and furnished it in keeping with its Scottish baronial architecture which draws on features of medieval castles and the French renaissance artistic movement.
The property has a direct water allocation from the Nepean River. Photo: Supplied
"Some of the antiques were mine but we also had an antique dealer, who was familiar with the era and the architecture, source furniture and fittings for the property," Mr Windridge said.
Not just a majestic seven-bedroom home with old-world charm at every turn, Glenleigh operates as a successful business.
The 35-hectare estate houses a wholesale nursery which supplies Bunnings and has direct water allocation from the Nepean River and a holding dam. The estate also accommodates wedding events and professional photo shoots.
The wholesale nursery is a thriving business. Photo: Supplied
Glenleigh was built by Irish shipping merchant and philanthropist James Ewan in the 1890s as his country home.
Mr Ewan was known for his extravagance and brought painters from Italy to decorate the interior with friezes, stencils and ceiling murals.
Mr Windridge said Mr Ewan and his wife were very involved in the Penrith community and helped establish hospitals in the Nepean district and donated generously to charities.
"Glenleigh has had an intriguing past with owners who gave a lot of themselves to the community, Mr Windridge said.
"It has been a lovely home to live in and has a very welcoming feel to it.
"Descendants of previous owners have come from all over Australia to visit and there has even been a school reunion here for the Sydney girls' school Queenwood," Mr Windridge said.
Glenleigh has been a part of the Penrith community since the 1890s. Photo: Supplied
The prestigious school temporarily relocated to Glenleigh in the 1940s after one of the property's owners offered the estate as a World War II retreat, Mr Windridge said.
Selling agent Richard Royle, of Colliers International Sydney, said there had been many inquiries about Glenleigh from potential buyers.
"The interest has been phenomenal from people looking for a private estate and lifestyle opportunity to others who want it as a business and land bank opportunity," Mr Royle said.
"We have also have had inquirers from potential owners wishing to operate it as a function centre and their budgets are fairly high."
There is an option to include the furniture in the sale. Photo: Supplied
Glenleigh is on the banks of the Nepean River and has direct boat access. The original dairy has been converted into an office and the horse stables and coach house are used for the nursery.
The tennis court and pavilion are also used to store plants, with a separate cottage for an onsite manager or guests.
There is an option to include all or some of the furniture with the sale.