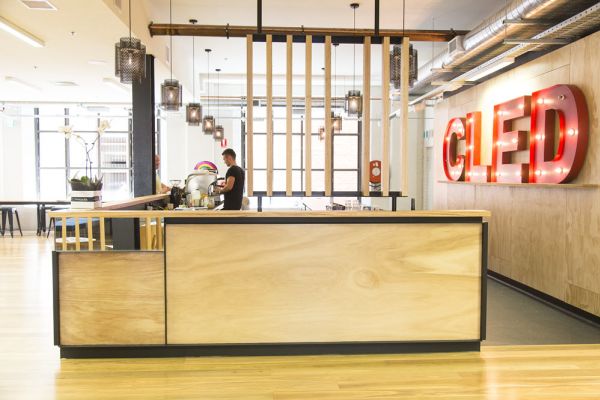 Companies with the best perks for workers
When Walter Toft first took a job at brand management and development company the Zinc Group, he found it bewildering. "How does anyone get any work done around here?" he asked.
His confusion was understandable. After all, what with the onsite gym, full-time personal trainer, masseur, table tennis and pool tables, Pilates and meditation classes and shelves full of cuddly toys, not to mention the selection of fully-stocked bar fridges with more food and alcohol than anyone could possibly eat or drink, work looked a very low priority.
One of the relaxation areas in the Zinc offices. Photo: Zinc
"But then I very quickly came to realise that the idea is if you enjoy what you're doing, then it just doesn't feel like work at all," says Toft, who's been the company's strategic planner for just over a year now. "It's a different way of thinking, but a very good way of doing things.
[dm-listing-recommendation experimentname='midcontent-listings' positiononpage='midcontent']
"When you're relaxed and happy, you tend to have better ideas, you're more creative and you work a lot smarter. No one ever has great ideas when they're unhappy at work, sitting in a dark, bare minimalist corporate office. And while it can be very distracting at times" – Toft is speaking to me in the gym of the Melbourne office as the rest of the building is participating in a noisy Christmas decorations competition – "you do end up getting a lot done."
A lounge area at Zinc. Photo: Zinc
Zinc is just one of a fast-growing number of modern Australian companies which now provide great offices for their staff, knowing that happy workers do indeed tend to be more productive. Equally, fabulous facilities do attract the best employees, and usually retain them for much longer, too.
These days, a couch tucked away in a nook of the office where nothing else fits no longer makes the grade; it's full, immaculately-designed and fitted-out staff rooms for relaxing, for quiet time, even for napping. And where break time was once all about a kettle in a sticky corner of the office, it's now top-of-the-line coffee machines or even full-time baristas on the premises.
Perks that work
Jimmy Pandolfo is one. He's the full-time food and beverage co-ordinator, and self-declared 'Barista Extraordinaire', for William Hill Australia, running the company's onsite cafe and meeting rooms on the 30th floor of the Citigroup building in Sydney's CBD.
"All espresso coffees, teas, fruit, breakfasts, lunches, dinners and catering for end-of-month drinks are fully subsidised (free)!" says Pandolfo.
The coffee machine at William Hill. Photo: William Hill
"Although this is rare, the idea of having a space where work colleagues can have a top-quality coffee, socialise, conduct meetings with amazing views, have chilled music, a chill-out lounge area really improves staff motivation and productivity as everything is at their fingertips without leaving the floor level."
Also supplied are state-of-the art toasters and other appliances, chilled water and healthy snacks like raw nuts, dried apricots and muesli bars. "People are very happy here," he says. "It's a real point of difference with other companies. It's a perk that really works."
Valuing employees
Zrinka Lovrencic is in a position where she sees this every day now. As the managing director of research institute Great Place to Work Australia, which annually surveys up to 52,000 employees from about 135 companies and evaluates how those firms work, she knows how hard some companies are now pushing to provide excellence is their end-of-trip facilities.
"It's about creating places where people want to come to work, rather than having to come to work and sit there and not being particularly productive," she says. "We know from over 30 years of research that people are more motivated by their ability to contribute to something, to grow their career and by the ability to give back to organisations.
"So companies that tend to perform well have higher levels of employee engagement. That doesn't mean just bells and whistles in the workplace, it's about valuing employees, allowing them to give feedback and involving them. It's about creating a good, healthy, happy environment where people want to contribute.
"I don't think anyone ever said, 'I don't like my job, I don't like my boss, no one ever listens to me but, by God, those doughnuts they provide are awesome!' "
Work-life balance
It's happening all across Australia, too. In Perth, the family-owned residential building company Summit Homes Group has a great reputation for providing a workplace everyone enjoys. A lunch room, training room, Foxtel running on big TV screens for people to relax with, Friday drinks, wellness programs, seminars on how to sleep better, glowing client feedback printed up and displayed in frames around the rooms … the vibe couldn't be more vibrant.
"It certainly is a happy place to work," says Janelle Pasqua, the human resources manager. "It's a very lively, fun office where we have lots of laughs. I think we have a great work-life balance, with lots of job-sharing, particularly for staff who have children, and a lot of sharing experiences across our offices.
"It's about making sure staff are really happy and then fully engaged with the business. Our company mission statement is that we're 'built around people' and that's how we work, with a pretty flat organisational structure so people can contribute without having to go through bureaucratic hoops, and  we have a rewards program and a really inclusive culture."
The personal touch
In Brisbane, private occupational health provider Kinnect is another company recognised as having great offices. Here, it's the personal touches that are so important, like every employee having a day off on their birthday and being given cake or champagne to celebrate every anniversary with the company. All staff from across the country were recently flown to the Gold Coast to mark Kinnect's 20th year.
"Our offices also have flexible working arrangements to suit everyone," says Zahra Dharani, the operations and client relations director. "People can work around their own schedules, or from home, and we have some part-time people too.
"We also have a cultural survey every month that people fill in anonymously and we action their comments and publish them, to provide reinforcement and encouragement and acknowledgement."
The four Ps
The vitamins, supplements and skincare products company Swisse is another leader in this field. It provides breakfast every day for all its employees, then unlimited fruit, nuts, shakes and smoothies all day long, with team lunches on Fridays. As far as movement goes, there's a gym, personal trainers, exercise sessions, a run club.
One of the many activities for staff at Swisse. Photo: Swisse
Then a gong clangs at 3pm every day for staff to join in a 20-minute meditation.
And if that gets all too much, there'll be solace in the five 'health and happiness' days everyone can take a year.
"The mission of our organisation is to make millions of people around the world healthier and happier, which drives the lens of our values," says Elise Morris, Swisse's director of people and culture.
"We have the four 'P's' – People which we value first and foremost, Principles about doing the right thing irrespective of who it is, whether customers, shareholders or staff, Passion which is about how we embrace and celebrate the good in what we do, and when we've got those three right, the fourth, Profit, flows through."
Shared values
Similar priorities drive the information technology company Salesforce, recently voted the best place to work in Australia for a company with more than 100 employees.
Table tennis, a gym and an ice-cream machine brought in on 'Magic Mondays' are all perks of their offices.
"What's really unique is our culture," says Wendy Johnstone, VP marketing. "It's based around the spirit of Ohana, which means 'family' in Hawaiian and that binds us together through a set of shared values."
The title of the best workplace with under 100 staff was won by cloud service provider Rackspace. Senior director and general manager Angus Dorney says their success is also due to their values. "A good workplace is important in attracting and retaining good staff, especially in such a competitive area," he says.
As Lovrencic from Great Place To Work agrees, it's all about providing an environment in which people are happy and feel they are valued. "That sense of contribution and achievement goes a long way," she says.
Meanwhile, Zinc's Toft is on another mission. He strolls past the bikes hung on walls, the change rooms, the showers, the row of deckchairs that people can take off down to the park for meetings. "I brought some fruit in with me to work today," he says.
"Now I can't find the office NutriBullet. But it must be around here somewhere …"
[dm-listing-recommendation experimentname='below-content-listings' positiononpage='belowContent']
Keep up with Commercial Real Estate news.
Keep up with Commercial Real Estate news.