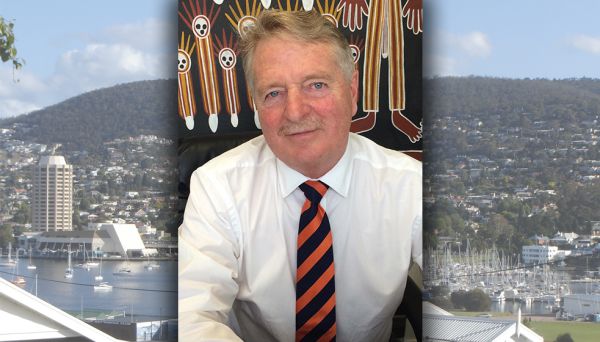 Commercial property is luring young agents, says Salamanca Realty's Mark Lawler
Caroline James
If you want to know how agents rolled in the swinging 60s, just ask Tasmanian Mark Lawler.
Owner of Salamanca Realty, which he founded in 2000, Mark began as a humble valuation cadet more than 40 years ago before moving into the numbers game of commercial, and later a role as general manager of LJ Hooker in Darwin.
As the new millennium dawned, he returned to the Apple Isle and started injecting new life into its almost-deserted commercial hubs.
[dm-listing-recommendation experimentname='midcontent-listings' positiononpage='midcontent']
Mark tells Domain why non-residential is gaining fans among younger agents, and why tourist buses slow down outside his iconic Sandy Bay home.
You started out in valuations – a pretty dry field – how has this aided your career?
Fresh from school in the late '60s when you could choose your career, I opted for the valuation profession as a cadet valuer and qualified after four years of training.
Some people have instinctive ability but I do believe formal training in valuations  is an excellent start to any career in the real estate industry.
I found it mundane, knew it was not something I was going to do all my life. But it does give you this fantastic grounding and, if you were to scrape the walls of Knight Frank or the other big names, even today you find many agents who started in valuations.
Senior observers will remember the Hooker Corporation collapse in 1989, which failed owing $1.77 billion. What do you recall of this heady era?
It was a major shock, the biggest collapse we had seen. There were 400-odd franchise operators attached to Hooker by the late 1980s and Hooker was the franchisor but [owner] George Herscu had basically shot the company in the foot and so there were all these franchisees suddenly left on their own.
Fortunately, many of our franchisees stayed, including some very large businesses; so while they were dark days [immediately after] the brand was well known and trusted and we ultimately returned stronger.
I personally seized the opportunity and took on the LJ Hooker Hobart franchise, which I held until I sold in 1993.
Commercial has a reputation as the unglamorous sister of residential – is this fair?
I tackled that myth front on when I started teaching at the local [tafe] institute some years ago because I have always encouraged fellow agents to enter the commercial field but could see people, new agents, too scared to take up the [commercial] ball and run with it.
Really the key difference is simply that it is not the emotional side [of clients] that agents are dealing with every day when you work in commercial. It is figures based; properties are not usually bought on anything other than return on capital and once you get your head around this … well I am finding today's younger agents are more confident than their predecessors and starting to enter the fray.
They can see investors are realising residential, with its regular turnover of tenants and 3-4 per cent yields, is not always all it's cracked up to be; and commercial with its three or five-year tenancies and 5-7 per cent yields does offer nice security.
You have a reputation for boosting neglected properties' fortunes. Tell us more.
Yes, I delight in reinvigorating dormant commercial properties for clients. A standout was a project in Hobart in the early 2000s, a time when the commercial property industry was cactus in Hobart.
You could pick up a 5000-square-metre building in the CBD pretty much vacant because banks were moving offices to the mainland, tenants were moving out, government departments were scaling back, so landmark buildings were selling for about replacement cost and this particular asset had just one tenant when my client sought my help.
I assessed the market and decided we would subdivide and create 13 or 14 smaller leasable areas. And, as a result, that one 5000-square-metre building went from 10 per cent occupancy to 100 per cent occupancy with only a few million dollars spent.
It is worth more than $10 million today.
Tasmania has a rich history – have you ties to properties with dark pasts?
I recently finished renovating our 1865 home in Sandy Bay, a project that took us three years to complete because this property was absolutely run down when we bought it, all Victorian brown and green, appalling; so we did improvement works including restoring a widow's walk, reconstructed from archival photographs, and installing its four-metre turret, which created much interest when it was craned aloft.
Pre-renovation, it was an absolute mess. It had even been the set of a very grisly local murder movie called Dirt Cheap, which was shot in and around the house before we bought it. Now I am talking a very B-grade film but we still get tour buses slowing down out the front of our place because of its notoriety and, can you believe it is actually the second home I have bought that has appeared in murderous movies. Read into that what you will!
[dm-listing-recommendation experimentname='below-content-listings' positiononpage='belowContent']
Keep up with Commercial Real Estate news.
Keep up with Commercial Real Estate news.