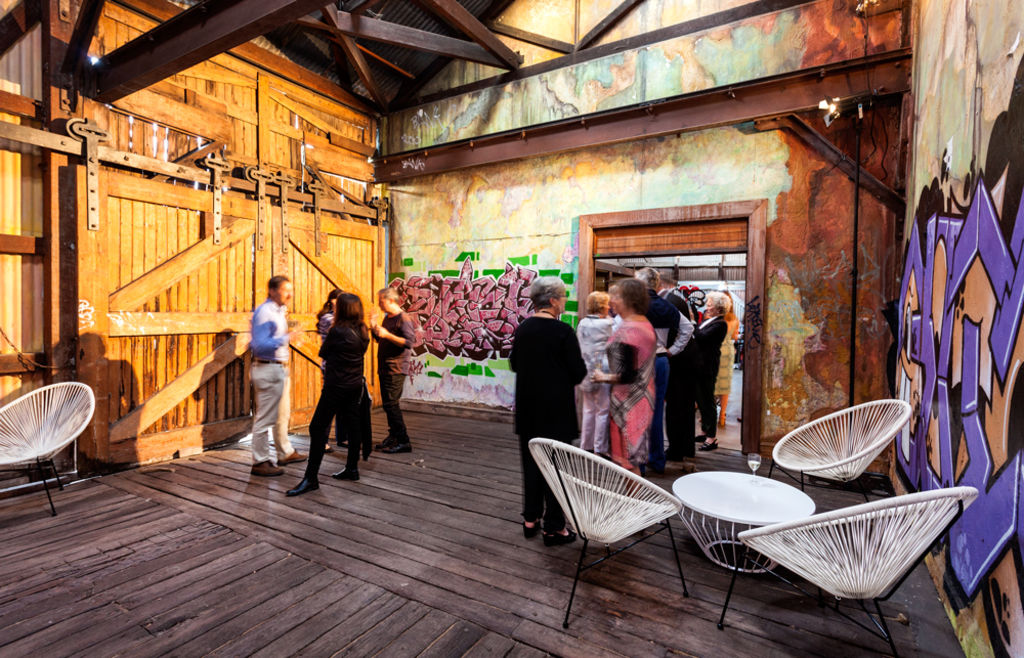 Co-working movement in FLUX as business of sharing finds space in Perth
Businesses across Perth are finding safety in numbers, creating new collaborative entities to lease the city's office and retail spaces.
Over the past few years, co-working offices and retail collectives have been popping up across the city.
These shared spaces are diverse, inhabiting smart new office spaces along the likes of St Georges Terrace, resurrecting abandoned warehouse spaces in retail hotspots and bringing heritage buildings back to life.
Artist's impression: The FLUX deck is Perth's first outdoor co-working space, overlooking St Georges Terrace. Image: Supplied
Co-working social enterprise Spacecubed has just opened FLUX in collaboration with Hawaiian Group at 191 St Georges Terrace. The shared office space will occupy 1400 square metres over three floors.
Since its inception four years ago, Spacecubed has grown to more than 750 members across a range of industries.
Members can take advantage of hot or resident desks, a range of meeting rooms, event spaces, events and workshops, but Spacecubed managing director Brodie McCulloch sees the real value in the community.
"What really makes Spacecubed work is the community of entrepreneurs, innovators and change-makers," Mr McCulloch said.
"Members are able to interact with each other and build networks through our online member community and within the space."
Shared office space at FLUX will occupy 1400 square metres over three levels at 191 St Georges Terrace. Image: Supplied
Besides FLUX, Spacecubed already has 1000 square metres across two floors at 45 St Georges Terrace – the Old Reserve Bank where one of the old gold vaults is used as a meeting room.
The FLUX space will utilise red brick arches, once the cellar of the Parmelia Hilton, for meeting rooms.
A dedicated resource innovation hub called CORE will focus on mining and oil and gas companies.
"Something different we have found there is demand for is a maker space where hardware prototypes can be constructed complete with 3-D printers," Mr McCulloch said.
Materials used to build and fit out FLUX have their origins in other well-known buildings, such as bricks from the Parmelia Hilton hotel. Image: Supplied
Social enterprise Spacecubed has collaborated with Hawaiian Group to launch FLUX. Image: Supplied
Before FLUX opened on June 1, 65 per cent of space was already committed.
"The move towards co-working is part of a mega trend globally as people can increasingly work from anywhere due to technology," Mr McCulloch said.
"Co-working spaces provide flexible options that can scale up and down depending on their needs. We see this trend only continuing not only in small organisations but in larger organisations also."
Small retail businesses are also using shared spaces to launch their wares beyond online platforms and market stalls.
Angove Street Collective in North Perth brings together edgy new urban retailers under one roof.
Angove Street Collective in North Perth brings together edgy new urban retailers under one roof. Photo: Supplied
"I was sitting in a cafe across the road from the space about three years ago, and said to my sister 'I want to be there' – pointing at this building," Angove Street Collective owner Greg Baker said.
"At the time the building was across the road from three cafes on an upcoming little strip with no key retailer other than a few clothing stores. It had a warehouse look, was big enough (250 square metres), with parking around the corner and rear access for deliveries."
Owner Greg Baker spotted the potential of the Angove Street Collective building in North Perth several years ago. Photo: Supplied
Angove Street Collective aims to help small retailers reduce overheads and support each other. Photo: Supplied
Now Mr Baker has a range of boutique retailers with diverse wares from coffee tables to cards to cushions, flowers and fashion under his roof.
"A collective is a great incentive for small retailers to support each other, reduce overheads and allow your message to reach a broader audience through each retailers social media channels. It's also a lot more fun," he said.
Developers are also seeing the value in housing a diverse mix of entities and purposes under the one roof. State government land developer Landcorp acquired historic The Claremont Goods Shed as part of its Claremont on the Park precinct.
Landcorp and FORM are working together to re-establish one of Perth's oldest station buildings, in Claremont, as The Goods Shed. Photo: Bewley Shaylor, courtesy of FORM
Together with not-for-profit cultural organisation FORM, Landcorp will restore and re-establish the heritage value of The Goods Shed and its surrounds to create a community amenity for Claremont on the Park and the wider Claremont community.
The Goods Shed dates back to 1887 and is one of the oldest station buildings in Perth.
The Goods Shed will host community arts events such as exhibitions and workshops all year round. Photo: Bewley Shaylor, courtesy of FORM
FORM executive director Lynda Dorrington said it would soon host exhibitions, workshops, artist residencies, education programs and cultural events year-round. The first exhibition is scheduled for August 4.
"The Goods Shed's transformation will result in a gallery, studio, workplace, and takeaway coffee window," Ms Dorrington said. "All heritage elements will be preserved and made good, so that the building's interior becomes a hybrid of modern and original architecture."
The Goods Shed project is expected to attracts more visitors and artists to Claremont and create a connection between new and long-term residents. Photo: Bewley Shaylor, courtesy of FORM
She said it was hoped The Goods Shed would help to erase that perceived divide of the railway line by functioning as a community connector between new and long-term Claremont residents, and established residential areas and new developments on both sides of the track.
"It's hoped that The Goods Shed programming can attract more visitors and creative practitioners to the area, who can then also take advantage of the local retail and hospitality offer," she said.
"Cities and neighbourhoods work best when they cultivate places where people can have chance encounters that entice and inspire; and places where people can be surprised or find the unexpected. This is what Claremont needs, and it needs something like The Goods Shed to help do it."