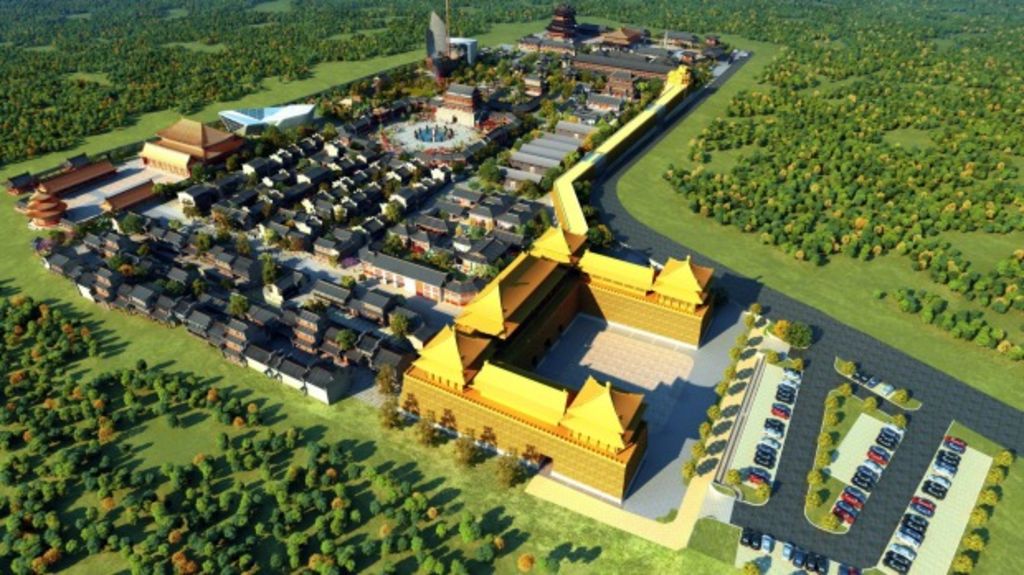 'Chinese Disneyland' to continue despite $10m payment problem, says council
Wyong council says that a planned $500 million Chinese cultural theme park on the Central Coast, entitled "Chappypie China Time" will go ahead despite the mysterious project having been plagued by non-payment and delays.
Developers had initially boasted the project would be open this year replete with plastic pandas and a replica Buddhist shrine. But it remains far from completion and plagued by setbacks.
The $500 million theme park is proposed for the Central Coast. Photo: Supplied
So far developers have put down only about $100,000 in surety for a 15-hectare plot at Warnervale which can be seen from the Pacific Motorway between Sydney and Newcastle. Originally they secured the deal with only a $10,000 payment to council, documents released under freedom-of-information show.
Last month another critical deadline passed, with the developer failing to make a $9.9 million payment to council for the land.
Doubters are pointing to the missed deadline as evidence that developers are not serious.
"They have put it off and off and off," said independent councillor Bob Graham. "Right from the word go it's been obvious this is not happening. Tell me where else you can secure a piece of land for a deposit that small."
The developer, China Theme Park Pty Ltd, and its director, Bob Zhong, did not respond to written questions and phone calls.
Wyong mayor Doug Eaton, who is a major supporter of the project, used his numbers on council to vote to give the company an extra month to broker a payment plan with the council.
He said he did not believe it would have trouble making the payments, or that it was not serious about the project which was turned down by a string of western Sydney councils before it was shopped to Wyong.
"The theme park proponents have spent around $1 million to date on the project, which includes around $300,000 to council, made up of $100,000 in the initial option fee and around $200,000 in DA and rezoning fees," he said. "I am not concerned."
But the company has this week been advertising on a Chinese social networking service, WeChat, for a seemingly crucial employee for the project.
The successful candidate would be responsible for the project's "coordination and organisation", "control", "implementation", and "completion", according to a translation of the Mandarin ad.
The company has previously used the same social media website to apparently offer any potential major investors prepared to commit in excess of $1 million to the project the promise of a guaranteed Australian visa.
Fairfax has previously revealed the mayor's wife had an undisclosed financial interest in the project when she was revealed to be a shareholder in the theme park developer's ultimate holding company.
But Cr Eaton has said he has no idea how his wife, Ruby, came to acquire the 10,000 shares and that they had been vested in her without her payment or knowledge.
The company was instructed to remove an official NSW government logo from its advertisements on the social networking website after it was found to have used them without proper authorisation.