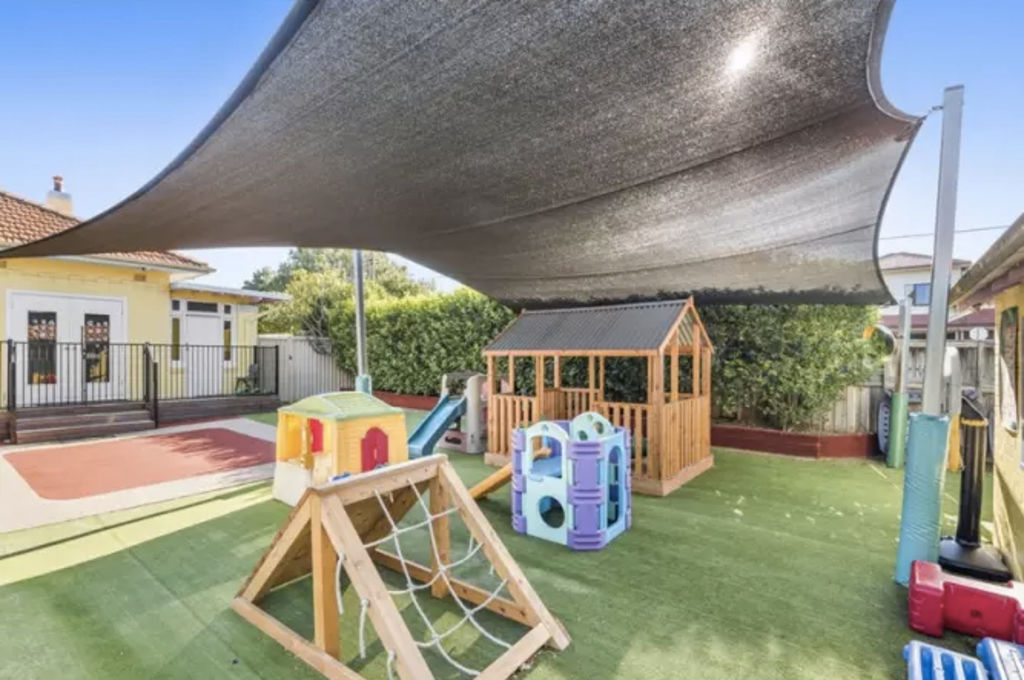 Childcare centres headline Burgess Rawson Sydney auction results
The popularity of childcare centres with investors looking to capitalise on growing population demand and long lease terms was on show this week at Burgess Rawson's Sydney investment portfolio auction.
A Freshwater daycare centre licensed for 80 places drew the most impressive result of Tuesday's event, selling for $4.86 million on a yield of 6.1 per cent.
The purpose-built complex, completed in 2013, was estimated to have $2 million in depreciation value and a tenancy with options until 2038.
Auctioneer David Scholes was quick to point out the 100 per cent occupancy rate, a result he attributed to the growing number of young families in the area and the socio-economic story associated with the northern beaches.
Hubba Bubba Childcare in Chatswood sold for $2.41 million with a 3.9 per cent yield. Photo: Supplied
A Chatswood childcare centre sale drew attention less for its sale price – $2.41 million – but instead for its sub 4 per cent yield, a record low for Burgess Rawson.
The 26-place Hubba Bubba Childcare centre sold with a 15-year lease expiring in January 2026 plus two further 10-year options to 2046.
With a yield of 3.9 per cent, the property was the first of 120 childcare centre sales by the agency to dip below the 4 per cent mark.
"We've sold over 120 childcare centres over the last two years and it's the first time we've sold one on sub-4 per cent yield," Burgess Rawson director Dean Venturato told the Australian Financial Review.
Burgess Rawson childcare specialist Michael Vanstone predicted that the record Chatswood result was a sign of what was to come as self-funded retirees continued to buy into the sector for its stability and capital growth opportunities.
"The result keeps on telling the story that the childcare sector is here to stay," Mr Vanstone said. "It continues to be under pressure because of the low interest rate environment, which is putting more and more downward pressure on yields."
He told Commercial Real Estate that 190 inquiries had been fielded for the Chatswood property, with around 50 contracts issued.
"The government providing continued paid support for childcare and the strength of the residential property market is providing an additional driver for investment," Mr Vanstone said.
In other auction results, a recently refurbished 40-place childcare centre in Prairiewood, near Fairfield, shifted for $2.16 million on a yield of 5.1 per cent, eventually rising in $5000 increments from a starting bid of $1.7 million.
Things looked less promising for an untenanted childcare centre in Cabramatta West, passing in at $950,000 after an uninspired bidding session.
The property sold for $950,000 post-auction.
In other highlights, the first-time offering of an Annandale building comprising two shops with a residence above looked set to end in disappointment, passing in at $4.6 million.
The Annandale building sold after the auction. Photo: Supplied
However, the property – fully leased to Sydney's first Crust pizza outlet and the Annandale Village Pharmacy, which has been in residence for more than 50 years – sold for $4.5 million before the end of the auction.
Fast-food restaurants also made an appearance in the top half of the results ladder.
A McDonald's restaurant in Childers, Queensland, sold for $2.25 million, and a Hungry Jack's restaurant in Griffith, NSW, sold for $3.4 million.
Eleven of the 16 properties that went under the hammer were sold, with three properties selling before the auction and resulting in an overall clearance rate of 74 per cent.
A Bendigo Bank branch in Canberra's London Circuit attracted a flurry of phone bids – primarily from Canberra-based investors – to land a final bid of $2.55 million.
Retail premises in Nambucca heads sold for $1.43 million.
A Liquorland store in Queensland's Buderim was the fastest moving property, selling for $785,000.
A Woolworths service station in Blackwater, central Queensland, sold for $1.705 million.