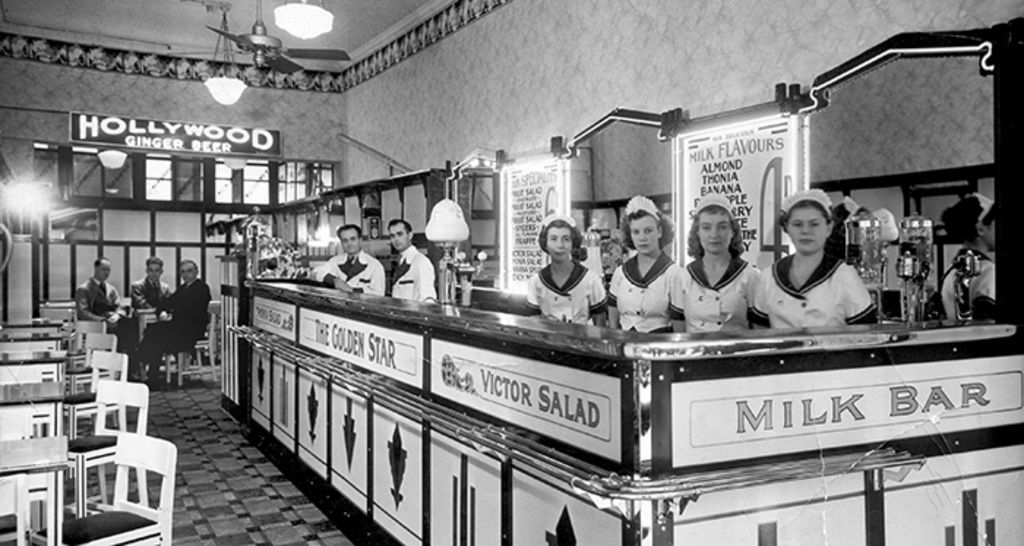 Celebrating Australia's old milk bars, the nation's most glamorous commercial property
Exotic, fantastical and fun, Greek cafes and milk bars brought with them some of the most glamorous commercial real estate Australia had ever seen.
With their art deco interiors, surfaces of polished chrome, glass and mirrors, coloured lights, pert uniformed waitresses and the effervescence of their drinks, they helped to revolutionise popular culture and cuisine in small towns and cities across the nation.
The Golden Star Milk Bar in Hay Street, Perth, in the mid 1930s. Proprietors Stavros and John Coufos are in the centre of the photo, with Stavros on the left. Photo: M.Coufos
And now those signature institutions, which first arrived on these shores in 1903 – developed from the apothecaries that used to serve soda or milkshakes to customers to drown the bad taste of medicine – are being celebrated in a new book.
"They had a huge influence on Australia in their time," says Macquarie University historian Leonard Janiszewski, an expert in Australia's milk bar culture, and the co-author, with Effy Alexakis, of Greek Cafes & Milk Bars of Australia.
Marion, left, and Julie Canaris at the Star Milk Bar in Darwin, NT, in 1948. Their parents Michael and Evangelia Canaris were originally from the tiny Greek island of Kastellorizo. Photo: Supplied
"If you were well-to-do back then, you'd eat in a French restaurant while the blue collar workers would eat in the oyster saloons.
"But they revolutionised the way we ate. They embraced everyone, regardless of class. And they introduced a diversity of food.
Partly hidden by soda fountain pumps at the Astoria Cafe in Newcastle in the late 1940s is proprietor Jerry Kolivas. The cafe was an excellent example of the popular art deco architectural style of the 1930s and 40s. Photo: N. Raftos
The Legend Cafe in Bourke Street, Melbourne, around 1956. Photo: I.A. Nicolades
"They served fresh fruit, American-style chocolates and American-style ice-cream as well as the milk shakes, flavoured sodas and hamburgers."
The Greek cafe was essentially an evolution of the British-style oyster saloon or bar of the late 19th and early 20th centuries, the American-style soda or sundae parlour which started in 1910, and the American milk bar which had emerged by the early 1930s.
As such, they also brought with them a dash of Hollywood-style fantasy we'd never really experienced before.
The Niagara, for example, still powering on in Gundagai in NSW, 400 kilometres south west of Sydney, has a fabulous blue dome feature, painted with stars.
The sign outside the Olympia cafe and milk bar on Parramatta Road, Stanmore. Photo: Dean Sewell
The Belle Vue Cafe in Warwick, Queensland, has its famed historical mural.
The Olympia Milk Bar in Sydney's Stanmore has the original 1939 etched glass plates behind the back bar, beyond its 1960s interiors.
And all had reflective surfaces, so customers could see themselves within their striking surrounds.
The Niagara Cafe, pictured in 1938, was known as Australia's wonder cafe, still operates in Gundagai, NSW. Photo: J. Castrission
"They were all about fantasy and food, fantasy and food," says Janiszewski. "In Bingara, NSW, the Roxy Theatre complex was established in 1936 by three Greeks who created a wonderful art deco building, with a milk bar, known as Peters or The Roxy, next to it.
"It was part of a tradition that always had the milk bar by a picture theatre, so people could go before or after a film to continue the fantasy.
"At the time, America was a very exotic place and the most advanced western country we knew yet few people could ever travel there.
"So these milk bars and cafes put us in an environment we could never hope to be in ourselves, and with the kind of glamour we couldn't replicate anywhere else."
The Victoria Cafe, Newcastle, pictured in the 1930s, was one of more than 60 major projects undertaken by shopfitter Stephen C. Varvaressos between 1932 and 1942. Photo: J. Varvaressos
The former co-owner of the Niagara Cafe in Singleton, Peter Comino, agrees. "They were beacons of wonder and delight," he says. "They offered the comfort of what was familiar with the dazzle and sparkle of something new."
Their contribution was also recognised by some of our leading artists, too. In 1949, Russell Drysdale painted his work West Wyalong – described by a former curator at the Art Gallery of NSW as one of Australia's 10 greatest paintings – as a dark, deserted main street, with only one light on. That was the Greek milk bar.
By the 1930s, around 4000 milk bars were operating in Australia and, at the height of their popularity, from those '30s to the late 1960s, they were everywhere, particularly in rural NSW, Queensland and Victoria.
The Golden Gate Cafe at The Entrance, NSW, in 2002. Pictured are Lola Raft with her husband Dennis, right, and her brother, John. The Golden Gate is still operating and run by John Adilinis. Photo: Supplied
They were particularly popular for their quick service, long opening hours, low prices and as places for both formal and informal meetings, and entertainment.
Today, most have gone, or been converted into convenience stores. In Melbourne and the rest of Victoria, the stores and take-aways still often serve milk shakes, however, with old-style dispensers.
Janiszewski and Alexakis's book came out of a touring exhibition organised by the Australian History Museum, Selling an American Dream: Australia's Greek Cafe.
Crethar's Air-Conditioned Cafe in Lismore, NSW, in 1939. Photo: M. Crethar
It showed the cafes as being a "Trojan horse" for the Americanisation of the nation's culinary and cultural traditions, introducing American commercial food catering ideas, technology and products, and influencing the development of cinema and popular music.
The book itself is the result of 30 years of research, more than 1800 interviews, many historical photographs and others taken by Alexakis.
It's helping trigger a new flood of nostalgia about the milk bars and cafes, a resurgence of interest in the few originals that remain and a fresh appreciation of what's been lost.
Loula Zantiotis at the Busy Bee Cafe, Gunnedah, NSW, in 2002. Photo: Effy Alexakis
Katoomba's Paragon Cafe in 2007. It was established in 1916 by Jack (Zacharias) Simos as the Paragon Cafe and Oyster Palace. Photo: Effy Alexakis
"I think there is a lot of nostalgia there from the older generation," Janiszewski says. "But the younger generation have a real curiosity about them, while some have a cult following.
"There are some things about them, like the little bits of exotica and memory and fantasy and the customised items they offer, that the corporate food outlets of today could never match."
Greek Cafes & Milk Bars of Australia, by Effy Alexakis and Leonard Janiszewski, can be ordered from cafesandmilkbars.com.au for $49.95.